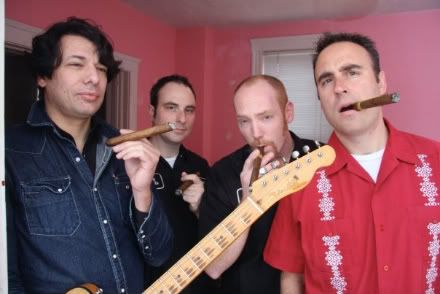 The Whiskey Daredevils
recently returned to Detroit to record their seventh record over the course of a weekend. Following singer Greg Miller's studio status updates over Facebook regarding their Greatest Hits Vol. 2, we thought we'd check in with Miller and see how things went for the Cleveland-based cowpunkers. Below is his report...
The Whiskey Daredevils
entered into Shiftmake Studios in Detroit last weekend to record their seventh full length CD. Now, Shiftmake Studios is no normal studio. Frankly, it's not really a studio at all. John Smerek, long time band pal and recording whiz, took a bunch of vintage gear over to his wife's small brick photo studio in a bombed out building not far from the MGM and Motor City Casinos. The idea was to capture the band doing what we do best, playing our songs live and capturing the energy and feel we have on a stage. See, the studio is a strange place. It's very easy to get bogged down in headphone mixes, guys in separate rooms, and never ending overdubs. The problem is that recording a band in that environment is usually so completely opposite from what that band usually does, you get the expected result: a lifeless bland recording.
John is really good at what he does. If I wanted to, I could drop some impressive names of people he has recorded like Kid Rock, The Breeders, Reckless Kelly, the Detroit Cobras, the Deadstring Brothers, and a bunch of "cool" bands that you probably like. However, I won't bore you with that. What I will tell you is that he knows what the fuck he is doing. That is good, because we don't. Sure, we know how to play the songs we wrote, but we need someone that can make us sound like we normally sound. This is easier said than done. Recording is really tricky. You move a mic an inch one way or the other, move a guitar effect too far, don't take the time to get a real drum sound, blah blah blah, and you have some real problems friend. The band should worry about giving their best performance, and the engineer should worry about capturing what is going on. That's what John does better than anyone I know.
So here we are in Shiftmake with a case of beer, and standing in two rooms. One has John in a wooden chair leaning over the board. I am sitting about two feet behind him laying down a scratch vocal. A scratch vocal is when the singer goes through the song so the band knows where they are while they are playing it. It's usually done into a cheap microphone, and you have no intention of keeping it. Meanwhile the band was set up with Krusty against the near door right next to Leo on drums. Gary had a guitar fort set up in the corner with his Marshall and Peavey set up to crank out his sound just the way he likes it. All the guys can hear each other's amps, and reach out and touch Leo's drums if they want to. This is great, as it will capture a warm sound with everyone bleeding a bit into each other's mics. The downside is that there is no overdubbing. If it is a good take, and the bass player flubbed a note, that's too bad. It got picked up on other mics, so you gotta live with it. You can't ignore that mistake? Better get back in there for another take. Bottom line? You better know the songs and play them well with this set up.
I will tell you this. I have made 16 full-length records between the Whiskey Daredevils and
The Cowslingers
. I have never seen a band play as well in the studio as Ken/Leo/Gary did that first afternoon. These guys nailed 14 takes. Let me repeat this. We did 14 basic tracks in one afternoon. Most bands take 4 months to do that. Fuck those guys. They should learn how to play. These guys delivered the goods. I will also go on record and say Gary had the single best day in the studio of anyone I have ever seen. He did all 14 tracks, did 13 guitar solos and flourishes, and nothing took more than two takes. It was unbelievable. When you hear this CD, you will say "There is no fucking way that guy did that in one take". I am here to tell you that he did. Deal with it.
We went over to
Motor City Brew Works
after the session and drank some of their pale ale and nut brown. This was a good idea. We had worked so fast that no one realized how hungry we were. They make a mean thin crust pizza there from the wood oven. Pizza highly recommended, and the beer is OK. We agreed to come back at 11am and get back to work the next day.
Saturday we stopped at a downtown Starbucks and fueled up on caffeine while dealing with more beggars than Downtown Calcutta. I especially liked the guy that spoke out of his throat hole. Made me want to get a couple yogurts and enjoy one with him. "Scuse me Sir! Sir! Can I axe you something?" Yikes.
I then went in and knocked out all of my vocals that day. Every single one of them. I won't know if they are any good until the mix I suppose, but that was it. Gary did some acoustic guitar on some songs. Leo sang some backups. Then the record was done. It was 9:35pm. Two days in the studio. 14 tracks.
Sunday Gary and I went back to the studio to make sure everything was good. I discovered I missed a lead vocal, and did it. Gary did his last guitar solo. We listened to everything. We left an hour later. We'll mix it this week.
It was easily the smoothest recording session I was ever a part of, and probably the best. If I were you, I would look forward to getting this into my music collection. Even John said, "the tracks are killer", and he works with some actual big time musicians. I'll let you know how this thing comes together. The plan is we release it here in that United States on
Shake It Records
in Cincinnati, and in Europe on
Munster
. We will take a couple of the songs and place it on a 12-inch vinyl only record with a career retrospective on Knock-Out from Germany. There are no clunkers on this thing. We took our best songs from 23 originals, and played them out live for a month. After road testing them, we went in and did this. I think it's going to be really good.
-- Greg/Whiskey Daredevils
Related:
Whiskey Daredevils Headline a Halloween Hootenanny (
Charleston Gazette article
),
CD Review
: The Golden Age of Country Punk,
CD Review:
Introducing the Whiskey Daredevils,
Introducing Greg Miller of The Whiskey Daredevils
,
Q&A w/Greg Miller of The Whiskey Daredevils