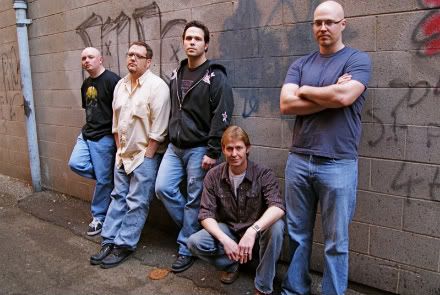 Ten Carp Lie (above) will be joined by Threefold Theory and Alexis Cunningham Saturday at the V Club
Reposted from
The Huntington Herald-Dispatch
Ten Carp Lie
singer Kevin Brendler and
Threefold Theory
singer-guitarist Scott Niles talked about their bands over the phone like they make their music these days: together.
Their Huntington-area melodic hard rock bands have gigged out around Charleston and Huntington (and beyond) for years (since 2002 and 2004, respectively), a lot of times playing shows together. But after a herniated disc sidelined he and 3FT back in 2008, Niles has since joined his friends in Ten Carp Lie, and they're three songs into their sophomore release, recording with Jason Mays of Ashland, Kentucky's Split Nixon.
Threefold Theory will join Ten Carp Lie Saturday night at
the V Club
, with
Alexis Cunningham
opening.
Niles described the process of getting into Ten Carp Lie after being a friend and fan for so many years.
"I was more or less not really actively playing with Threefold Theory, and whenever TCL would play a show, my wife and I would go see them play. And they'd invite me up to sing with them on one of their songs, and it was a good time for me. In 2009 they invited me to come jam with them, and it just clicked. After a couple of jam sessions they asked if I wanted to join full-time."
Brendler said Ten Carp Lie's sound these days is a little heavier than a few years back; "Fade," "Ridiculous," and "Mad" available on the band's Facebook page, are the result of working with Mays in the studio, and for Brendler, a natural, exciting evolution in the band's sound.
"We've got those three in the bag. Recording with Jason Mays is a dream. He knows what he's doing in the studio. You can hear from the first three songs, he's given us a product we haven't had before. Everybody really seems to like the new material we're doing."
Over the phone, Niles conferred with his nearby wife, and was reminded just how big of a Ten Carp Lie fan he was, and still is.
"Oh yeah, that tells you how much I love these guys; I asked them to play my wedding reception," he said laughing. "It was amazing. They made the reception, I'll tell you that much."
The feeling between the bands is mutual, Brendler said.
"It's a blast," the singer said of sharing a bill with Threefold Theory. "One of my favorite bands to go out and see was Threefold Theory. I love doing shows with them; we have the same kind of vibe, it meshes real well."
While both bands seemed to have had their high points a few years back, with TCL opening for acts like Tantric and Saving Jane, and 3FT playing with Fuel and Seether, both Brendler and Niles still love making music and rocking out together. They both have everything in its proper perspective after a decade or so on and off in their bands.
"I consider the band thing my golf," Brendler said. "I tell my wife I'd be gone longer if I played golf. It's my only real hobby. It's something I've done my entire life. I've been on hiatus before and hated it. It's painful, physically. I'll do it as long as people keep coming out and we keep getting shows."
Niles said after his own literal physical pain in his neck, he's stoked to be in Ten Carp Lie and Threefold Theory these days.
"For a while, I couldn't physically play music, and like Kevin said about being on hiatus, it was painful for me. Being able to recover and make music again, I am so happy. It's worked out for the best and I'm so lucky to be able to do it. I'm definitely blessed to be able to do it and for people to be able to enjoy it.
"It's not always easy to be easy to be in two different bands," Niles continued. "But the way our groups work, it's been easy since 3FT doesn't play that often. I've become close friends with them, and writing with these guys, everything seems to be built from the ground up, and the three new songs are just amazing, they're great. For me it's the best of both worlds musically."
"They're my best friends, they're my buddies," Brendler said of his musical cohorts. "We get together and go to a bar and play music. What more could you ask for?"  
If you go:
Ten Carp Lie, Threefold Theory, Alexis Cunningham
Where:
The V Club, 741 6th Ave., Huntington (304) 781-0680
When:
Saturday, May 14, 10 p.m.
Cost:
$5
Info:
www.vclublive.com
photo:
Haley Marie McClelland