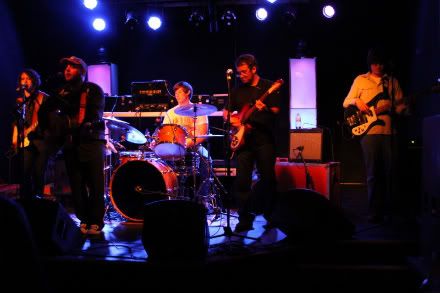 By
Dave Mistich
When a band is named after a iconic Vox guitar amplifier a prospective listener should have some idea of what they're in for. It's a rig whose tubes and speakers shaped rock history with a little help from a few guys like Keith Richards, Pete Townshend, Peter Buck, and Brian May. Think crisp and clean, but able to conjure serious bite and raw power—an apt moniker (and metaphor) for the Huntington-based power-pop quintet, AC30.
Firing away by opening with one of the singles that's been getting the band some local buzz, "I'm Free," Ryan Weaver's vocals matched the timbre of the band surrounding him—a sound somewhere between soothing and refined rowdiness; something even the most conservative, anti-rock grandmother might not only tolerate but thoroughly enjoy.
But it wasn't just Weaver featured on vocals. The other front three members stepped up and handled leads, sometimes switching between verses and choruses. Bassist Ian Thornton, guitarist Doug Woodard, and the slick-fingered local hero Bud Carroll were all capable vocally. But it was drummer Alex McCoy, whose surprisingly high range on backing vocals, that deserved MVP on the mic.
Even though it was impossible for the crowd to be familiar with the songs (this was only the band's third show), the response indicated that they will be welcomed time and again. There was a lot of dancing from the crowd; the kind that signals that rock and roll does fantastic things for people. There were also immediate howls and applause from the audience once the band finished a song.
There was only one flub the entire night, and it wasn't even while the band was playing. Coming out of stellar version of Big Star's "September Gurls," Woodard had difficulties tuning, essentially killing the momentum built up by the set until then.
Carroll apologized to the crowd, stating that it was necessary to get things perfect, and confidently proclaimed their next song was "the best one we've got." And he wasn't lying. "She's The One" epitomized the groups layered sound. Bluesy lead licks, vocal harmonies, and a driving rhythm—morphing into a collective of pop sweetness.
After finishing their set, the V Club's crowd quickly demanded an encore and rightfully so. With a bit of conversation amongst the band, The Temptations' "I Can't Get Next To You" was settled upon as a finale and the already dance-ready crowd got moving at a pace unmatched by prior tunes.
The choice of covers, an instrument switch (between Thornton and Woodard late in the set), and even the sonic shifts within their own material prove the group to be extremely versatile, a band capable of executing the most difficult pop arrangements with grace.
While Carroll and company's playing is impeccable, what really grabs hold is how near perfect their own songs are. There's an eerie feeling evoked by AC30's material, making one wonder whether Lennon-McCartney were arranging songs by Tom Petty and The Heartbreakers (or vice versa) but spiced with a fierce attention to the vocal harmonies, which in places might be suited for The Staple Singers or some legendary Motown session group. Throw in the fact that each member contributes to songwriting, and it's frivolous in trying to find a weak link anywhere within the group.
AC30 is a weird trip through pop music history, one with slight twists and turns but always staying inside the lines on a carefully built, meaningful road. These history lessons handed down from bands and musicians are increasingly necessary in a world where digital singles with short life spans somehow trump the power of classic records, let alone discographies that have formed the map that is the canon of lasting pop music. The gentlemen in AC30 would probably tell you that themselves.
And, so, one can only guess the mission of this band. However, it'd be hard not to believe it's giving a nod to those who've held onto some strict ethic and obsessed with the smoothness and universal emotion that pop can bring.
video:
Chris Harper