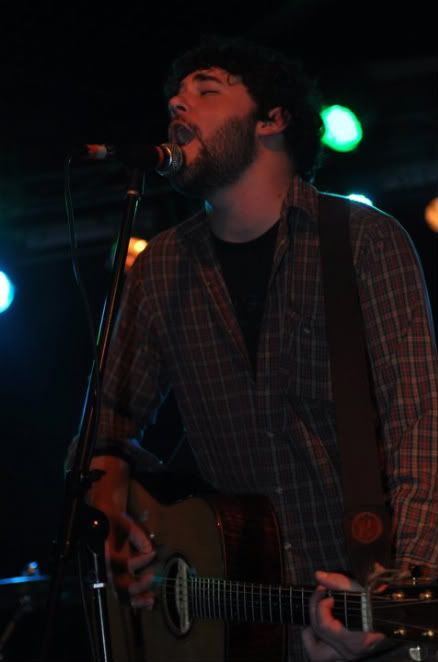 In anticipation of their upcoming shows tonight and Tuesday night at the V Club, we caught up with the creative force behind Huntington's
Wine & Water
, Cody Lynch. He talks with WVRockscene about starting the (until recently) solo acoustic project with his cousin Barrett Lynch, promising changes and developments in the group, new music, and the state of mainstream rock radio these days...
WVROCKSCENE:
How did you start out and form Wine & Water?
CODY LYNCH:
I guess W&W started with me as pretty much a solo gig, as for years I had been writing songs, and playing them out here and there. One day on a whim, some years back I recorded a song with a friend of mine, wanted to post and release some of the stuff I had been working on, so I used a name I had come up with while on a camp/float trip in the mountains, and started a Myspace. Nothing came of it for the most part, just a few solo shows here and there.
Some years went by, I was busy doing other stuff and playing drums with Down Goes Frazier, when fairly recently (maybe a year or more ago) Barrett and I had been getting back together playing on some old jams we knew and things we had written in the previous years. I should mention, that for years, Barrett and I had written/played together and he would lay down leads to things I was writing or providing bass tracks, positive vibes etc., etc.
Anyway, we decided to start getting a little more serious about putting out some music and playing shows, and went with the Wine and Water thing, because basically I already had the Myspace page going, so we decided wed just go with that. Who knows, we may impulsively change it one day, but that's neither here nor there. So yeah, we got to work, bought some gear, and recorded six songs in my basement, booked a few shows, put out a CD early last fall and got the ball rolling, at least nudged it anyway.
-----
WVROCKSCENE:
You've been in Florida right? What's up down there? Are you back in Huntington yet?
LYNCH:
Ahhh sunny Florida. Yeah I spend quite a bit of time going back and fourth from there. A lot of the bands and musicians I'm into, and friends of mine live and play down there. I spend most of my time hanging around Gainesville (home of No Idea Records and a pile of great bands) Orlando, and Cocoa beach. I just enjoy the weather, the food, the friends, the drinks and the scenes down there. So I've been working on getting somewhat established and familiar with what's going on down there. I've toyed with living there, and honestly may very would be residing down there if it weren't for my bands and friends up here. I owe what's goin on up here one more good shot at least right?
So for now, I'm just going back and forth. As a matter of fact I just got home this morning from a two week stint down there. Fun stuff.
-----
WVROCKSCENE:
How excited are you about the current lineup and writing songs and the state of Wine & Water these days?
LYNCH:
It's just so hard to find like-minded dedicated musicians, at least in our neck of the woods. Of course things thing started with Barrett and I, then we decided to bring in a drummer (Dale Johnson) who came in and tore it up with us for a while, helping us shape what would be the new songs. But like i said, people have their own lives, and other things they want to do besides sell your soul to the hellish lifestyle of rock n roll, so no drummer to date has been set in stone, instead at the moment it has been more of a revolving door of whoever we can count on at the moment, still looking for that special somebody, but aren't we all? ha.
Speaking of which, I hear we may have a surprise drummer joining us for now, to be unveiled in the coming days
(Andrew Bowles of Sarasota)
, but I'm pretty sure people will be happy to see this kid back behind the kit. Dave [Mistich] and I had hung out here and there and it just kind of fell into place with mutual friends conversing back and fourth, until one night, he asked 'So man, I hear you're looking for some bass,' or something like that. I shot back with a 'yeah man,' which later he came up to the bar and asked 'So are you serious about that?' 'Yeah man.'
So we made plans to jam, did it up, and it was cool. It helps too that Dave is just an awesome dude and we have since formed a stellar friendship. He pretty much had a matter of days to learn the set list on the bass until our next show. Then literally as soon as he's getting a little comfortable with all of that, we end up having a show with no drummer, which we did all acoustic and talked Dave into playing the mandolin on a few of our songs. I'm sure it stressed him to the max to learn all that in such a little time, but he should have never told me he owned a badass mando, lol. But we got through it and it turned out quite well. We got to play with Cutthroat Shamrock that night, it was rad.
-----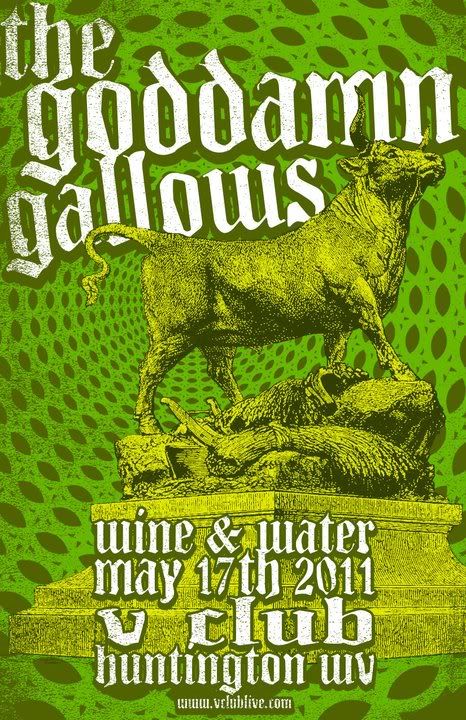 WVROCKSCENE:
You guys gonna have electric guitars for Tuesday's show with Goddamn Gallows? What's different about arranging or playing your songs with electric? Not much? Big difference?
LYNCH: So yeah, the plan is to unveil our new "electrified" sound this coming Tuesday at the V Club with Goddamn Gallows. Keep your fingers crossed. It's really not hard to arrange or rearrange songs for electric guitar, it's the same song I wrote sitting in my bedroom on an acoustic guitar, just with amplifiers and electric guitars.

I write so that these songs can be versatile and simplistic yet hold their weight in any situation from a small intimate acoustic session to an all out rock show, or a punk rock party in the basement. I like both ends of the spectrum. Usually when I'm working on a song though I have a rock and roll band backing me up in my head and drums going off in my head, which happens naturally, me being a drummer and all. but we are all really digging the new sound.
-----
WVROCKSCENE:
Friday's show with Smokestack and the Foothill Fury is gonna be acoustic, right? Would you rather have the full band, electric sound or keep it more acoustic-centered?
LYNCH:
Yeah the show with Smokestack on Friday is acoustic with just Barrett and I. It's more out of necessity at the moment, but we don't mind, as long as we are playing in some sort of fashion, somewhere. Like I said, it's all about what the moment calls for, but we are really excited about the newer electric, heavier stuff and will move into that direction. But don't worry, I wont forget about the acoustic guitars anytime soon. We'll even it out for the best of both worlds. Just whatever is right for the song, or the moment.
-----
WVROCKSCENE:
You seem (judging from yer FB page) to be into a more progressive (you call it anarchist) political bent. Is that something that creeps into your lyrics or are you just a news junkie? What are your thoughts on bands lending their seemingly unrelated music to causes either left or right?
LYNCH:
Oh so you've noticed my political ramblings?? lol. Well, yeah, I guess you could say I'm a news junkie, and i follow what's going on in American politics on a day to day basis a lot of the time. I just think it's important to be informed, and factually, too many people don't care or are completely misinformed. And yeah, my political beliefs do creep into they lyrics I guess you could say. But it's whatever, it's all open ended to the listener, you can think it (a song) means whatever you wanna think it means, I guess.
I don't try to preach, I just try to bring some things to some peoples attention. We're all in this together right? I don't mind when bands get political, as long as its politics I can agree with, lol. I mean, I did grow up listening to political punk rock bands. For instance, I agree with the Dead Kennedys, Bad Religion or more recent even bands like Ninja Gun. But I don't agree with people like Toby Keith, or whoever wants to put a boot up your non-American ass. OK next question.
-----
WVROCKSCENE:
What is up with
Down Goes Frazier
?
LYNCH:
On the subject of DGF, I may be a little vague on our situation, but we've been playing some shows recently. Nothing booked in the future for now. We've been around for a while doing what we do, it's just hard to get everyone on the same page all of the time. None the less I love that band. We actually started recording some new material a few weeks ago which we have got about halfway finished, and I'll just kinda leave it at that for now. But I'll keep ya updated if anything else happens, one way or the other, hopefully you will hear some new music from the gang. Until then go download our discography for free at
Soft Rock Renegade
, or go to our Facebook page and follow the link to it.
-----
WVROCKSCENE:
On the info section of the W&W Facebook page you talk about the commercialization of rock. What are your own thoughts on the state of radio-rock these days?
LYNCH:
Oh don't get me started on commercial rock and roll, if you can actually call any of it rock and roll. Radio for the most part just plain sucks. Either I just don't get the new pop culture altogether, or I am one of the ones who just see right through it. I just wonder sometimes if anyone else notices the correlations between bad music, bad television, bad films, bad politics to the dumbing down of society as a whole...? Oh well, they can have it, most the cool stuff stays underground anyway.
But yeah you also can't deny the impact of great bands before that were making their mark before things were so saturated. People/bands like Tom Petty, the boss, The Band, Cash, Dylan, the Animals, the Kinks, the JuJus, the Kegs, Steely Dan. I'd better stop, I'm just gonna start rambling off everything I listen to that's pre-1985, but you catch my drift. I could go on and on about this topic, but for the sake of whoever reads this, I will just quit here. Haha.
-----
WVROCKSCENE:
You recently recorded some new songs, have those been uploaded to the Facebook page? Plans on recording more or releasing a W&W CD or EP anytime soon? What's up with W&W you're looking forward to the rest of 2011?
LYNCH:
Yeah, we recorded three new songs real quick in a makeshift studio before I headed out of town. I needed some new material to toss around down south. You can hear these songs now on our Facebook bandpage. Yay for free new music. Look for us to officially release a new EP in the near future which will be on 7" unless that turns into a 10" or 12", but all that will be decided after the next studio sessions. And ya know, it should be on iTunes, and maybe even some free downloads will be available soon as well. We'll have some new news on the new tunes and how exactly to access them super soon. We are just super excited to be putting out a lot of new music, as well as grabbing some stuff out of our back catalog, doing some releases, booking shows, and getting on the road.
Hopefully the rest of 2011 is nice to us and people wanna come hang out and party with us.
Follow Wine & Water on Twitter: @wine_and_water