Sly Roosevelt performs at the V Club Friday, May 6
By
Dave Mistich
It's almost surprising how many shows there are in Huntington these days. Seemingly every night of the week offers something, be it a national tirelessly working the mid-sized venue circuit, or a local group cutting their teeth in the strange comfort of their own scene. Being the kickoff to the weekend, Friday at
the V Club
provided a bit of both, offering up a double serving of local talent warming up the crowd for Alive Records'
Buffalo Killers
.
Local complex indie rockers
Sly Roosevelt
kicked the night off with their strange yet inspired brew. Pinning down the band's sound proves to be an arduous task, even for the most seasoned audiophile, yet there are a string of elements that are simply undeniable.
There's a slight element of punk, led by a steady power chord-driven rhythm. There's also elements of jazz and funk in bass player Alex Durand's hypnotic lines. (If there's anything pressing about Sly Roosevelt's set that deserves constructive attention, it's the incredible need for Durand to be bumped up in the mix.) What's most noticeable is the fervor in Sean McDaniel's voice, which would certainly get a nod from Modest Mouse's Ian Brock.
Due to the fresh chaotic nature of their compositions, it's difficult for the band's tunes to seem familiar to a crowd yet (even despite being around since 2008), but with time and enough gigs, there's no doubt they'll become drilled into the heads of locals eventually.
And so Sly Roosevelt will remain an acquired taste for those adventurous enough to stumble upon them--a band not for passive listeners. But such a distinction might ultimately prove to end up working in the group's favor. Serious listeners crave being engaged and there's no one in town whose songwriting has that in their pocket quite like they do on the local scene.
After the sonic smorgasbord of Sly roosevelt, it was time for the hipster-approved rock of the local trio
Universes
. Led by the etherial craftwork of guitarist Justin Gardner, the band's keen pop sensibilities shine through song after song. On this night the group weaved together a set with material from their
Yeah! We Did It!
release along with new material yet to find it's way into the eternal security of a recording.
The songs from
Yeah! We Did It!
come across differently in a live setting; there's certainly no problem with recognition for those who know the songs, but they're working with very little on stage.
Sure, the group might benefit from the addition of a keyboardist to add texture in certain passing moments, but the songs and their arrangements take on a welcomed new life. There's no slick studio production to hide behind (or season), yet the band makes do nearly perfectly. In the spaces where they're needed most, bassist Josh Harshbarger and drummer Jason Reese fill things out effectively and give songs like
"Life"
and
"Vanilla Sky"
the kinetics necessary for them to soar in their raw potential sans additional instrumentation.
And it's not just the band's material that deserves noting, the fellas in Universes work the stage as if they're jockeying for the weekly crown on some variety show of yesteryear. Sure, it might have been that the crowd seemed familiar to the band, yet Gardner shouldn't ever let the comedic element of the show slip out of their routine. (Harshbarger and Reese follow suit in this area perfectly, egging their frontman on with a bouncy circus-themed bass and drum stomp.) By introducing songs with crude fake titles, Gardner and company provide a conscious relief from the depth of repeated "woe-is-me" reflections in their unrequited love-stricken anthems.
(Editor's note: Gardner's guitar was stolen from his car outside the venue following the set. Anyone with any information on the theft has been asked to contact him directly. Gardner and Universes--and the entire Huntington scene--would greatly appreciate the help.
Update 5.9.11: Gardner's guitar was recovered and all is well with Universes again.)
If the $10 cover was too steep for only a couple locals, Cincinnati's Buffalo Killers made the night worth the price of admission.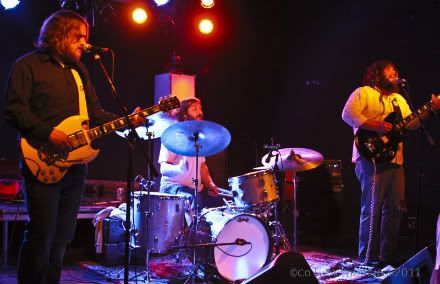 With their newest record, 2008's
Let It Ride
, having been produced by The Black Keys' Dan Auerbauch, the band digs deep into a gritty blues shuffle with a southern tinge. It's a sound that resembles some alternative version Neil Young's
Everybody Knows This is Nowhere
, arranged for a stoner-friendly three piece.
Guitarist Andrew Gabbard's tone mixed in faintly, but remains present--something deserving an attentive ear but not to the point of strain. Gabbard's brother and bassist for the group, Zachary Gabbard, brought a locked in groove driven furiously by the skyward-gazing Joseph Sebaali behind the kit.
Yet, strangely enough, a slow romantic swagger bled through the band's sound on Friday night. It wasn't obvious and maybe not even exactly necessary, but that aspect added a dimension sometimes lost in the raucous of gnarling fuzz rock. Even though the Gabbard's vocals stretch and bend around the tunes with a straining dissonance, there's a strange, visceral comfort left in their wake.
photos & video:
Chris Harper