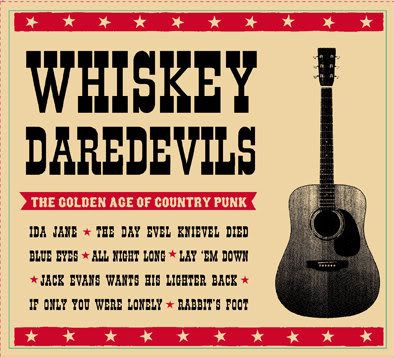 CD:
The Golden Age of Country Punk
ARTIST:
Whiskey Daredevils
Two Whiskey Daredevils reviews in the same calendar year is not too many for this here blog.
The cover of the latest Daredevils CD really tells longtime fans of theirs all they need to know. While
The Golden Age of Country Punk
-- released back in August -- is certainly a fine and appropriate enough title, with the acoustic guitar sitting there,
Daredevils: Unplugged
could've worked, too.
The Cleveland-based cowpunkers are indeed more cow, less punk on this, their sixth studio release, a collection of some of your favorite songs of theirs. Some old, some new, a few covers, but all way more country than your punk band.
Joining Greg and Ken Miller, Gary Siperko and Leo P. Love are "The Ringers" -- Paul Kovac (banjo), Bill Lestock (fiddle), and fellow
Cowslinger
Bobby Latina on guitar -- adding an authentic, distinctly twangy country feel to the Daredevils songs.
For anyone who's ever loved rockabilly -- the musical bridge between (or hybrid of) country and rock, and what the Daredevils and the Cowslingers rocked -- this CD is definitely something to get excited about.
"Ida Jane"
opens
Golden Age
with a fiddle-fied version of Greg Miller's ode to his wife's boss. While the songs sound way more country than anything you may have heard on previous Daredevils records, there's still the galloping, clip-clopping drums and triplet snare; a new twist on an old thing. Or maybe an old twist on the Daredevils musical output.
Miller finds himself reminiscing about his iconic, pain pill-popping hero on
"The Day Evel Knievel Died,"
years later. While the last Daredevils CD had Miller lamenting the fact that he "Never Saw Johnny Cash," this song, a new one, apparently, is like nothing this reviewer has ever heard the Daredevils do.
Miller briefly abandons his Elvis-meets-Glenn Danzig vocal stylings for a more nasally, delicate voice. You'd think it was a guest vocalist, it sounds so different. Slight echo on the vocals is a nice touch.
The slow, somber-yet dreamy, minimalist song ambles up with plucky banjo, Ken's bouncy bass, and near-haunting backing "oooh's" underneath Miller's pining.
"I remember when Evel died
Do you remember, when Evel died?"

"I got older, left my toys behind
Didn't think about him much til the day he died
He looked so young staring out from the TV
What happened to him? What happened to me?"
Really the best song of the CD.
"Blue Eyes"
is the Daredevils' nod to Gram Parsons, cowpunk that fits right in with the Daredevils' other songs.
Another new one --
"All Night Long"
-- is more up-tempo, standard sounding Daredevils fare, something that you could hear on any of their previous records. But with the Ringers, and their
waaay
more country approach, like not much anything you've heard the Daredevils try.
"Lay Em Down"
opens with pounding kick drum and what sounds like a big 12-string guitar sound. Big acoustic slide guitar sound under what Miller seems to find himself doing often in his songs, playing his hand to the best of his abilities, battling the devil. Cool song.
Even though you may have heard the rocked out version of
"Jack Evans Wants His Lighter Back"
the country version of the song will be a perfect theme song when you flee the police in a high speed chase in North Georgia, or somewhere in Texarkana or something. Seriously don't run from the police. But you will be rocking out the banjo, and Latina's electric guitar parts on the song.
And maybe this is a good opportunity to discuss the outsourcing of jobs to Mexico -- they took our jobs! Miller finds this out on the song, finding himself behind the counter at the downtown Taco Bell, thinking about Evans' lighter and the days of his youth.
Paul Westerberg's
"If Only You Were Lonely"
will have the ladies swooning and swaying at the bar, and possibly here is where some dude will throw a beer bottle at Miller. That seems like how it would happen. Nice electric solo by Latina.
The Golden Age
closes with the guys looking back to their Cowslinger days, playing
"Rabbit's Foot."
Miller sings, opening the song:
"Get some acid and a Willie Nelson tape/that wind it cut me to the bone. The dime is dropped, I had to make my escape/To the desert, half drunk, completely stoned. Never felt so alone."
Haunting kind of guitar tones, perfect Route 66 kind of music maybe. Latina's distorted, reverb-soaked guitar parts on the song really mirror what Siperko played on "Thicker Than Wine" on their last CD. But this time at least Miller is able to escape with $500 and his lucky rabbit's foot -- not taking the rap for his friend's cocaine, ending up in a Mexican prison!
So, even though time has passed from the days of The Cowslingers, up to the current Daredevils, it doesn't seem like a whole lot has changed, musically or thematically, for these dudes.
Not only do they nicely redo a lot of songs their fans already love, the Daredevils, on
Golden Age
(released on their own Drink N Drive label) capture a real country music atmosphere on the recording.
After welcoming in new guitarist Siperko before recording
Introducing The Whiskey Daredevils
, this is a great change of pace CD for the Daredevils. With the Ringers, and the different take on songs, this is definitely a CD Daredevils fans will want to add to their collection.
Let the golden age begin.
mp3:
"The Day Evel Knievel Died" by Whiskey Daredevils
Powered by Podbean.com
Related --
CD Review:
Introducing The Whiskey Daredevils
,
Introducing Greg Miller of The Whiskey Daredevils
, Our
first Q&A
w/Miller