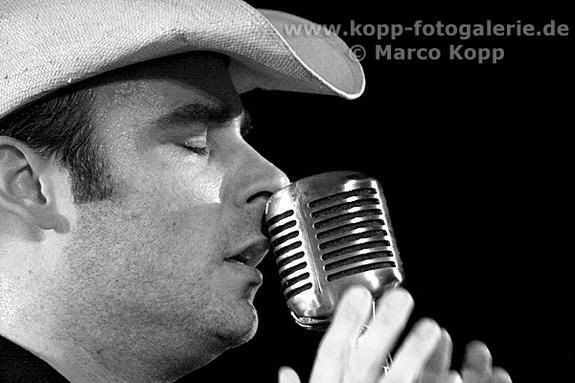 We caught up with Greg Miller, frontman for Cleveland-based rockabilly outfit The Whiskey Daredevils, in anticipation of their show at The Empty Glass 7.26 with Huntington's Black Knots and The Big Bad.
WVRS:
So how were the shows in Europe?
GM:
Against all odds we have somehow become a viable live act in Europe. I don't really know what happened. People really like us there. At first I thought it was because of our good looks, but it turned out that our twisted take on American roots music appealed to the Euro sensibilites. Plus anytime you create a rockabilly
Butthole Surfers
cover, you're going to get a crowd. I guess Mosh from our label (
Knock-Out
) is really doing a good job over there. Or maybe the world is finally ready for Whiskey Mania...
WVRS:
Any particular horror stories from touring over there?
GM:
I wrote an extensive Tour Diary that people can check out at
our web site
. It turned out to be the cover story for the
Cleveland Free Times
. My favorite day was when we played two shows in Belgium. The first one was an outdoor festival where I was horribly hung over. Not two hours later we played a crazy biker party at a bar in the middle of nowhere. These people were savagely drunk on Belgian ale, not to mention having taken fistfuls of psychedelics. It was like driving into a smaller version of Altamont where most of the people kept their composure. Guys that can't stand are driving choppers around the Belgian countryside while we play at ear splitting volume. The guy that ran the party looked like Lemmy and as far as I know is still knocking back beers in his parking lot. Madness...
WVRS:
I guess everything on a tour like that has to be lined out well in advance itinerary-style, instead of just showing up and seeing what the hell happens? (The Daredevils way)
GM:
Thank God we were placed in the hands of the always uptight Germans. These guys handle all the details to the letter. "Greg, you guys will go on stage at 9:52 and play for 67 minutes. I told the promoter you were down to 7 beers, and he will be bringing 16 more. After the show, we can relax for 47 minutes, and then we can load out to go to the hotel. It is 14 minutes away."
WVRS:
Is your drummer really the expert cultural guide for Europe? Sounds like he made some friends, huh?
GM:
Leo usually has no idea what is going on in the larger sense. This aids him in unfamiliar circumstances. He is not fazed by not knowing where he is, who the people are that he is partying with, or where we are going to sleep. It's almost a zen approach. He is like a cultural surfer. He just catches the wave. I highly recommend traveling with Leo at any time. He has a few gifts that make him ideal on a road trip such as being able to sleep on command in any location, or the ability to stay awake for 4 days straight unaided by stimulants. Plus he can always find a good port in a storm. This is Leo's World and we all just visit.
WVRS:
Your rhythm guitarist just had to quit the band, how do you see the band moving on? How close is the nucleus of you, yer brother, and Leo?
GM:
Ken, Leo and I are definitely a unit. We know what we want to accomplish, and are all on the same page. By sticking together we have been able to accomplish some pretty great things. With the music we have made, we have been to Europe 5 times. How cool is that? We have been rehearsing with Gary Siperko from
The Mofos
to join the band, and we expect to start playing shows with him shortly. If that doesn't work out, Ken/Leo/I will find someone else that shares our idea of what rock n roll is and how to play it. As long as I keep having ideas, and people have some level of interest, we'll keep playing.
WVRS:
Did Leo & Bobby end up getting voted best drummer & guitarist for Cleveland?
GM:
Yes they did, and they are in fact the best in NE Ohio. Maybe anywhere in the state. Well, at least they were 6 months ago. Maybe someone else snuck up on them while we weren't paying attention. The best part of that whole thing is to watch the acceptance speeches they made. Bob's is already legendary and will be hard for any one to top. We think that whole thing is funny, because music is clearly not a competition. Although if there is a chance at a plaque, we are going for it!
WVRS:
You just played the Rock n Roll HOF with
Lords of the Highway
, how did that show go?
GM:
Surprisingly well actually...It was horribly hot, but a nice crowd of people that don't normally go to club shows came out. There were plenty of fans that were older. A bunch of parents that brought their kids. Then there was this mix of young people that had attended the Mt Dew Tour nearby. I met some cool kids from the Czech Republic, and we both lamented there was no good pills in the area. The Lords played really well that night. I thought we killed. Good time all around.
WVRS:
You've played a lot of shows at the Glass, how are you guys received there?
GM:
I love playing the Glass, although I would like to publicly say it is time for a remodel in the men's room. It's weird that there are little insects that buzz around in there in the dead of winter. However, it does match up with the rock paradigm...The worse the men's room, the better the club. I really like the people we meet in West VG. Really interesting folks with artistic ideas and open minds. I like that there is a mixed crowd of people in the club. I hope everyone leaves their air conditioned homes to come out to this show. It should be really good. The Black Knots are the real deal.
WVRS:
You got some new Daredevils clothing made up? Will any be on sale at the Glass?
GM:
We'll bring all the goods left over from the Euro 2008 tour. We've got some cool new work shirts and limited edition Leo t-shirts. It's Leo's terrifying passport photo with his name typed out below it. It's the feel good t-shirt of the summer!
WVRS:
Will you have any Whiskey Daredevils ironic trucker hats?
GM:
You would think a marketing machine like us would have made some up, but alas, I feel the ship may have sailed on the Ironic Trucker Hat.