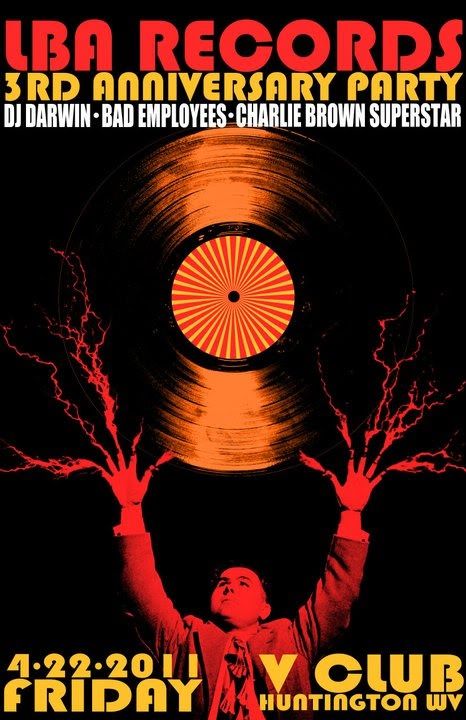 Longtime and/or regular readers of the blog will notice how much we've loved the electronic flavor of Huntington acts like Bad Employees and Attack Flamingo. We caught up with the man who originally helped get their music out, LBA Records' Neil Nessel, in advance of the LBA Records third anniversary show tonight at the V Club.

In the Q&A the Huntington native and Sarasota, Florida resident talks about getting the LBA ball rolling, how his work as DJ Darwin helps relate to his stable of breakbeat, house and ambient-type artists, and how Huntington may end up one day being compared to Austin, Texas...
WVRockscene:
You're a Huntington native, HHS & MU grad, what motivated you to move to Florida and when? Work, or what?
Neil Nessel:
I did graduate from Huntington High School and Marshall undergrad and grad school majoring in Biology. I had been working DJing in various clubs and at Jeff's Bike shop for years and was having a good time doing both, but then I met a woman at Jeff's who was on vacation and from Florida so I rolled the dice and followed her down to Ft. Myers. That worked out for about one year and a half as I was working in agricultural research and teaching biology at a small college there, but I missed the music and started working more on production then. I would visit Huntington quite often (three or four times a year) to see my old friends at that time.
-----
WVRockscene:
I read that the idea to start LBA was hatched at the V Club, is that right? What motivated you prior to that night to form LBA and what was that conversation or brainstorming session like, and how excited were you after talking to Brett and Andy from BE?
Nessel:
During the time in Florida, I had done a remix of a pretty well known breakbeat artist DJ Viro and entered it into his contest and got an honorable mention for it. A friend of mine had started a label recently with Viro as he had started a music distribution company. I was doing more and more production and wanted to be invited to my friend's label and this didn't happen soon enough for me and started thinking about starting my own label.
On one of these trips to Huntington, I met up with Andy and Brett [Fuller] at the V Club and asked Andy what was going on with his music. I had been kind of following his progress through out the years and was surprised that he hadn't released any music yet. It clicked that I could start the label with Bad Employees music as well as mine and Brett's. I also had a few other people in mind and ended up contacting them and it snowballed from there. I was pretty excited because I knew that I would put everything I had into it because, first off, it is music and secondly it would be my own company.
-----
WVRockscene:
Most people who are into electronic type music can kind of point to a group or time period when they really got into it; whether it be a DJ or group, what acts originally drew you into this kind of music?
Nessel:
I was into all kinds of music growing up but got a little bored and started looking at other types I hadn't really explored before. First, I tried listening to Classical music but it didn't have the energy that I needed. Then I noticed that early electronic music was starting to be used in basketball games and TV commercials. This was cheesy rave music. It piqued my interest because of the high energy that it had but I wanted a more artistic form of the music. I started buying Fat Boy Slim and Crystal Method CDs and got into Big Beat and then House music after hanging out at Gyrationz (the old Gumby's building) and listening to Brett and other DJs play there. Being a curious person, I started going up to the DJ booth to see how they played the music and asked a bunch of questions which the DJs gladly answered. I then took the step of buying a CD DJ set up and playing the amateur nights on Wednesdays. I went on from there to get several residences in clubs after this.
-----
WVRockscene:
You not only run the label but you're a DJ (Darwin), does bringing your experience as a DJ making this kind of music help you relate to these kinds of artists?
Nessel:
I think being a DJ playing for thousands of people a week gives you more perspective on what is and what isn't good quality music and what people will like. I had also been involved in music by playing trumpet for years and singing in a band. My mother was in the music business throughout her life so that influenced me too. One successful quality about our labels is that the artists retain all of the rights to the music and can make any type of music that they want i.e. they are given complete artistic freedom to explore their art. Many other labels dictate music, artwork, touring, etc. and take the music rights and we don't do that. We are artists first and foremost and I think all artists can relate to that ideal.
-----
WVRockscene:
Speaking of relating to the artists on your label, and especially people you've known as friends or acquaintances like Brett, how smoothly are you able to transition between handling your business as Nessel Music and the friendship type angle?
Nessel:
I have a laid back personality pretty much but am very detail and goal oriented and it has worked pretty well for me all my life. I haven't had to be the "label boss" to any of my friends but have for some other artists and I think honesty in both directions is all that is needed for everyone's success.
-----
WVRockscene:
Anything in particular you're looking forward to getting out on LBA or artists you'd look forward to working with?
Nessel:
I have several new artists from Europe that I am excited to be releasing their music soon; Luminar Ax, whose self-titled album is out May 20th, struck a chord with me as I was working on getting it released. LUMINAR AX is a conjoint dark ambient - electronic project between American singer and poet Dove Hermosa and Czech composer and instrumentalist Vladimír Hirsch. DJ Gabriel from Bulgaria and Vladimir Lovkov from Moscow are two artists who work at top clubs that I have recently signed and look forward to their releases as well. It seems all of my A&R lately is in Europe, we have three A&R people there in Paris, Basel, and London and they are doing a great job but none in the US except myself. I'd like to sign more Huntington artists.
-----
WVRockscene:
Not only do you work with artists from all over the world, but specifically you've worked with some of the cooler electronic acts from WV, what are your thoughts on the talent level in general of the electronic artists you've worked with from WV?
Nessel:
That was one of my goals for the label; bring some validation to Huntington's artists as well as expose more of the mainstream to their art. I think the music industry is in flux right now with the indies exerting much more influence than in previous years due to the technological advances and availability of the internet and software so people are exposed more to the alternative due to this change. I see the trend continuing and hopefully more artistic music (and acceptance) is the result.
-----
WVRockscene:
West Virginia is generally thought or perceived to be a few years behind the cultural trends. In this case it may apply to music; when I interviewed Andy and John of Bad Employees dudes
for the Herald-Dispatch
, they mentioned a kind of skepticism or outright hostility that they encountered when starting out in and around Huntington as a mainly electronic act. That's what is so neat about having something like LBA Records help get their music out. Between the late 90's and now would you say or think that acts like Bad Employees, DJs, or sample-based artists would be more welcome around Huntington as the times have kind of caught up with these kinds of acts?
Nessel:
I think the talent level is pretty high in Huntington and have described it as distilled to others. I'd love to see the city become more like Austin, Texas, perhaps have their own version of SXSW. That would be something I'd love to be involved with. The production value of both the Attack Flamingo and Bad Employees albums from Huntington was inspiring to me. It's one of the things that keeps me going in this tough business.
-----
WVRockscene:
So many people who run small labels have a kind of "If I knew then what I knew now," type story. From starting out three years ago to now what's changed in how you handle LBA operations or yourself in general?
Nessel:
I started this business with a 3-5 year plan and it has pretty much gone how I thought it would at the 3-year stage. Most labels are here and gone the next year as most people are impatient for success. I am here for the long haul and want to eventually pass it on to my daughter who is an artist as well; studying trombone, piano, and vocals. I am really concentrating on getting our music placed in movies, TV, and commercials, and am working with a team in Los Angeles to do so. This is a great revenue stream for artists as well as great promotion for their work.
-----
WVRockscene:
How much are you looking forward to coming back to Huntington for this show?
Nessel:
I am looking forward to coming back to Huntington since I haven't been back in a couple years. Familiar faces as well as the new ones are good to see and having a party celebrating the Huntington music scene is definitely exciting to me.
--- The LBA Records third anniversary show tonight at the V Club in Huntington includes DJ sets from Joesph Spurgeon (Attack Flamingo), Brett Fuller (Charlie Brown Superstar), and DJ Darwin, with Bad Employees also performing...