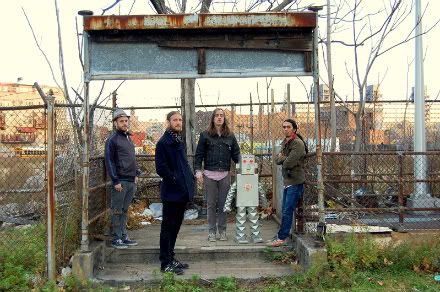 The New York City-based indie rock band The Glorious Veins (L-R: Lee Grasso, Matt Howels, Paul Pangman and Wiggy Colmenares) return to Huntington Thursday night for a show at Shamrocks Irish Pub
Reposted from
The Huntington Herald-Dispatch
With members from Wisconsin to London to the Philippines, and back now to New York City, The Glorious Veins are a veritable United Nations of rock and roll.
It's rare to see a band with a guitarist from London, and a drummer from Cebu City, an island in the Philippines, but even more rare to have the band members meet on Craigslist.
Together for just over three years or so (guitarist Matt Howels and drummer Wiggy Colmenares hadn't moved to the U.S. until 2007) the indie band, with four U.S. tours and South by Southwest already under their belt, is excited to get its recently released self-titled debut album out and play more shows.
And when they say album, they don't mean CD, they mean an actual vinyl record, part of the retro trend audiophiles have spearheaded. Of course, like so many other bands these days, before they dropped their vinyl debut, they went ahead and gave it away online for free, or, whatever people wanted to give to support the band.
The Glorious Veins return to Huntington Thursday night for a show at Shamrock's Irish Pub.
Guitarist Matt Howels, originally from London, steeped in the blues and having played in several bands across the pond, described meeting singer and songwriter Paul Pangman, who had moved to New York from Wisconsin to attend Columbia University.
"I think that even at our first meeting we knew that we'd work well together musically," Howels said of the early collaboration of the nascent Glorious Veins. "His vocals and my guitar playing have always meshed in a good way."
Howels said recording and releasing the debut Glorious Veins album was a hard fought reward in itself.
"It's very cool to know that people are digging it and appreciate our music," Howels said of the praise and warmth with which the debut record has been received. "We put a lot of sweat and soul into it."
The decision to release the record at "pay what you want" prices on Bandcamp was one that put financial and artistic ethos up against each other.
Not surprisingly, with influences ranging from Talking Heads to Arctic Monkeys, describing their sound as "bluesy post-punk dance rock from Mars," the rock and roll ethos won out.
"Making the album available online prior to releasing it on vinyl was a great idea," Howels said. "The most important thing to us was getting our music out there. The album was definitely downloaded for free more times than it got paid for, but we found that there were a lot of people out there who really dug it and were willing to donate a little money when they downloaded it. I'm pretty sure we made fans that way, and we made money that went towards paying for the vinyl pressings.
"I think there was definitely an artistic element to it as well," Howels added. "We were saying 'Look, we want our album to look and sound as good as possible, and only vinyl will give us that,' Screw CDs."
"There's more music being made today more than ever before," drummer Wiggy Colmenares said. "Digital recording made it easy for many to just do it on their own. Just imagine how difficult it is to get people to listen to your stuff, let alone buy it from a band that they never heard before.
"We depend on our friends to spread the word. In return, we give the music away for free. If they want to support, they buy a physical package or give whatever. Or better yet, come to one of our shows and hang with us. At this point in time, when we all still got jobs, it's more important to us that people have our songs rather than us making a buck from them. We work day jobs to be able to do what we love."
Making music and touring the country is what these guys love, Colmenares said.
"Just being able to travel, visit different places and meeting different people is already amazing to me. I wish I could be playing every night."
Having drawn members from three continents, meeting on an online forum, with so many fans after such a short period and having made it work, Howels said a mixture of pride, thankfulness and hard work sums it all up for the band.
"I am a little surprised, very proud and forever grateful that we managed to pull something special out of the crap shoot that is Craigslist. We're all settled in. We're in it for the long run."
If you go:
The Glorious Veins,
Sly Roosevelt
,
The Good Fight
Where:
Shamrock's Irish Pub
, 2050 3rd Avenue, Huntington (304) 523-5825
When:
Thursday, April 28, 9 p.m.
Cost:
$5
Info:
thegloriousveins.bandcamp.com/
A Part Meant
from
Brendan K. Russell
on
Vimeo
.