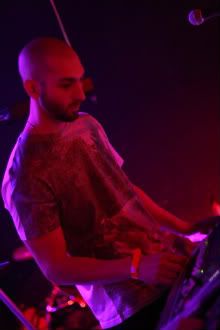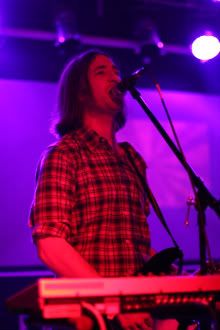 The Huntington-based electronic rock duo Bad Employees (Andy Rivas and John McComas) have made a name for themselves since starting out in 2005
Reposted from
The Huntington Herald-Dispatch
Talking to Huntington's
Bad Employees
over a video chat, it was easy to pick up on the duo's chemistry, and, the chip on their shoulder they feel as a local electronic rock duo.
Together since 2005, Andy Rivas and John McComas, friends since their days as classmates at Huntington St. Joe, have been working hard making a name for themselves at Huntington bars like Shamrock's Irish Pub and The V Club.
Bad Employees play Shamrock's Saturday, September 25 with Morgantown indie rockers
FOX Japan
.
Rivas, the techno-influenced studio technician, and McComas, the guitarist and singer, have formed, as Rivas called it, "a Kraftwerk-rock and roll mesh," and have been winning fans the hard way.
With their format; a synth dude, a rocker guy, and a video projector, it wasn't easy winning fans over originally, McComas said.
"People, especially in less urban areas, don't want to like you off the bat because they don't see a drum set," he said. "It's been like that since electronic music started. Depeche Mode were booed a lot in England, early on. Human League had their equipment spit on."
"Yeah they'd throw fruit or vegetables at their stuff so they had to put glass over it," Rivas added.
"We never had anything like that happen," McComas said. "But people sometimes would walk out, or shake their heads."
Rivas said verbal abuse wasn't rare in those early days. "Some people would just straight up talk s--- to us while we were setting up!"
A more recent, contemporary comparison to Bad Employees might be the recent collaboration between techno stars The Chemical Brothers and psychedelic rockers The Flaming Lips.
Rivas described his feelings seeing those two acts together.
"It was cool because I was like 'Yeah, we're on the right track,' but it sucks because people don't pay much attention to the little guy."
"The little guy," in this case being Bad Employees, can trace their formation to a trip the pair took to see Chemical Brothers in St. Louis in 1999.
"We were both blown away," Rivas said of the experience. "I was mystified and curious as to what these guys were doing. I'd never seen anything like it. Then when I came back, I had saved up some money and bought an Akai MPC sampler/sequencer/drum machine."
Between 1999 and 2005, Rivas honed his skills, and McComas played drums. While they hung out and jammed together, it just wasn't the right time to form a band.
Since 2005, they've established themselves in Huntington. Branching out for shows in other parts of the state, though, hasn't been easy.
"We get put to the side quite a bit, compared to some of the more straight ahead rock acts," Rivas said, speaking carefully and deliberately. "And I'm still amazed how difficult it is for us to get shows booked in Charleston, Morgantown, or Shepherdstown. We've played with a lot of these bands, they know who we are."
"The club owners will say, 'We don't want you because you don't sound like the other bands.' Or the promoter will say we're too different," McComas said.
"We've basically stopped trying," Rivas said with obvious frustration. "It was easier for me to book a show in New York City than it has been to book one outside of Huntington here in West Virginia."
Rivas said a goal of Bad Employees is to simply pack up and take their act to New York City.
But in the meantime, Rivas and McComas have been working on songs for a follow-up to their debut CD, "Looking For Werk," drawing inspiration from their recent DJ sets.
"We realized we loved it when people would start dancing," McComas said. "We'd get out in front of our equipment and start dancing with them. Now we're getting even more into dance oriented music. Still putting our own spin on it, and actually more pop than we were before."
"And, we're not really DJs," Rivas said. "Most people in electronic music start out as DJs and then move into producing. For us, it's the opposite. It's way more exciting when it's something you made, as opposed to playing someone else's record. It's like, 'Yeah, we made this.'"
So not only have they made good music together, they've made a name for themselves since those initial shows, overcoming the hecklers, McComas said.
"We were so nervous, and we overcame, nothing broke down. We didn't mess up, and we celebrated. It was a great feeling because we realized we could pull this off."
Reiterating their dedication and seriousness about their music ("a fun way of being serious," McComas said) and their unique combination of techno and rock, McComas said it's special.
"I feel like any musical idea or creative spark can be realized," he said. "I can wake up with a melody in my head, and within a week we can make it happen with our combination of instruments."
"And usually," Rivas jumped in, "take it a lot further than what we'd initially imagined."
If you go:
Bad Employees, FOX Japan
Where:
Shamrock's Irish Pub, 2050 3rd Avenue, Huntington (304) 523-5825
When:
Saturday, September 25, 9 p.m.
Cost:
$5
Online:
www.bademployeesmusic.com, www.myspace.com/foxjapanband
--- photos:
Taylor Kuykendall