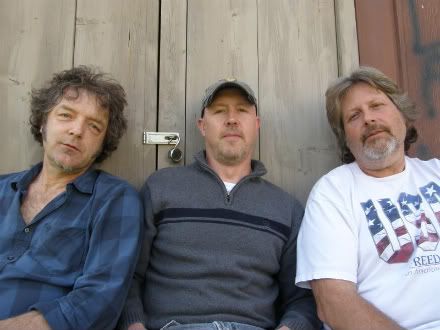 Blue Million (L-R: Alan Griffith, Andy Lewis, Gary Cash) returns to The Empty Glass with a new CD Saturday night
Reposted from The Charleston Gazette
CHARLESTON, W.Va. --
When it comes to rock and roll, things have come full circle for Alan Griffith.
The Madison native and longtime Charleston resident was first exposed to the rock and roll of the late '60s and early '70s as a youth, then went through a more recent folk and Americana period with The Cheapbeats. Now, he's back to playing the blues-inspired riff rock he grew up on in his longtime three-piece
Blue Million
, which performs at The Empty Glass on Saturday.
"I was playing a tennis racket in front of the mirror before I ever played guitar," the singer and guitarist said, recalling his first experiences with rock and roll and his fondness for Led Zeppelin, Jimi Hendrix and Cream.
"My older brother Mike loved it because he was into music but he couldn't play. He said, 'If you want to play like those guys, you've got to learn to play the blues.' And I went back and learned all the blues I could."
By the time he was 16, Griffith was hooked on guitar, and 35 or so years later, he still is. He's also still a huge fan of Led Zeppelin.
"I was always so in love with Led Zeppelin I and II," he said. "Like when I heard 'Heartbreaker' way back when, I thought, 'That's the coolest damn rock guitar, drums and bass recording I've ever heard.' So that's what got me."
It's Griffith's addiction to the big riffs of an electric guitar that pulled him back into Blue Million. Together for about 15 years at this point, the band recently released a new CD.
"I missed the riffs that I loved when I was 16 or 17 when I fell in love with rock," he said. "Everything on the new CD, it's obvious it's late '60s, early '70s blues influenced. When I write I have that in mind.
"I love acoustic and folk, but there's nothing like a big, crunchy Les Paul. And there's only one way to get it, and that's to plug it in."
Plugging back in is exactly what Griffith did after a few yeas as a folk rocker in The Cheapbeats and as a solo artist. But even before Blue Million, Griffith got his feet wet in the '80s in straight-up rock bands like The Stanley Lewis Band, where he was influenced by college rock, U2, REM and especially Lou Reed.
Griffith's folk period was introspective and largely somber with influences ranging from the old (Woody Guthrie) to the new (Josh Ritter). His CDs "230 Second Avenue" and "Now and Then" were permeated with an air of depression, isolation and sometimes bitterness.
"I know," Griffith said, drawing the phrase out in a combination of embarrassment and acceptance of the bad times that influenced the songs. "'230 [Second Avenue'] was made during the divorce. Nowadays I've got a better handle on things. I don't know what it was, the primal scream or whatever, but I was letting a lot of s--- out at that point. That period was a real low point for me."
But now he's back to a plug-in-and-go rock and roll mentality with his old friends in Blue Million.
"Me, Gary [Cash] and Andy [Lewis] have played together forever," he said. "The cool thing about these guys is we all have pretty much the same influences; we're all on the same page musically."
Even if he turns the page again musically, though, Griffith doesn't plan to stop playing any time soon. In fact, he says he plans to do it "until I drop. Really."
"It's never been a fad for me," he said. "The one thing I'm most proud of is that I didn't quit. There's always been a project going. It's quite a feat to start playing guitar at 16, and at 52 you're still playing.
"It's one of the greatest things for me. People fish and golf into their old age. I do this."
The Nanker Phelge and Blue Million
WHEN:
9 p.m. Saturday
WHERE:
The Empty Glass, 410 Elizabeth St.
COST:
$5
INFO:
www.bluemillionmusic.com or 304-345-3914
photo:
Patricia Ansley