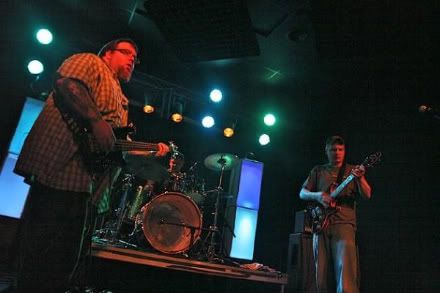 In our normal role putting stuff together for legitimate press and/or news organizations, we got a little bit of a scoop on two pretty cool Charleston-area bands, as they prepare to record new CDs.
We first heard from Roadblock, talking to him about
Empty Glass Records
, and about
The Scrap Iron Pickers
progress with their new CD.
Roadblock said the band has about four new songs ready to go, and here's the scoop; they're working on getting
Bud Carroll
on as a part-time member -- as a drummer! The Pickers have been writing material with Matt Wolfe on guitar (you may remember he had a guitar part on Byzantine's
Oblivion Beckons
) and depending on Bud's availability, he'll either sit in on drums, or be switching off with Wolfe to no doubt jam on guitar.
If you heard the Pickers
Redeeming Metal/Union
CD, you'll remember Carroll's contribution; it's not a huge surprise, just one of those promising developments we hear about.
Maybe you've already heard about it. Why didn't you tell us? Now we think you don't like us.
If you're interested in helping fund the Pickers' next CD, you can pledge some money towards their sophomore CD (
see right
), which, given what you just read, sounds even more promising. It's not a donation and they're not begging; you can get anything from the Pickers new CD, tattoos, or even cooler stuff.
Of course at this point you've heard of
Aaron Fisher and 101 Productions
in Sissonville. Well, he's started up a rockin' alt-country band called
Ghost Fleet
, and they're recording their debut EP, likely finishing it up as you read this sentence. Hey, it's always good when you're in Aaron Fisher's band; at least he knows a good producer.
But the band sounds cool, from what we've heard on their site. Fisher threw this little blurb at us to tease the public.
"Ghost Fleet is close to wrapping up our self-produced debut EP release Jesus is from Texas. We've been hard at work writing, arranging, and recording this thing. We're all just itching to get this out to the people, and start playing like crazy. With the recent addition of Jason Bays on lead guitar, we feel that we've stepped things up a notch. The music is a little bit of everything, we are proud of it, and hope people respond well to it."
Fisher added that Ghost Fleet should have content online and copies of the debut EP available at its shows at the Parrot and Glass August 13th and 14th, so look for that and look for something more on these guys from us around that time.
--- Pickers' pic:
Toril Lavender