Anytime
J Marinelli
comes to town, it's roundup time, so let's crack that whip, and get the lasso out! Yeah, Marinelli is swinging through Magic Town Friday night for a show at
123 Pleasant Street
. He'll be joined by
Depresbyterians
and D.C.-based
George Karos
, as you can clearly see from the flyer to your right.
We recently went back and forth with Marinelli on Facebook about the July 19 123 show with Lexington's
Idiot Glee
("some call it "Chillwave" - I call it weirdo Beach Boys lysergia recorded on a broken boom box. Or something,") and
Tiny Fights
("if Joy Division and Swell Maps had more of a glitch/noise fixation,") Marinelli summed up excitedly.
Dave Bello
opens that show.
"Both come highly recommended from me," he said. "Both consist of ultra nice dudes who do LOT for the Lexington music community through booking shows and through their involvement with
WRFL
."
"At any rate, I'd really like to see this show work out for these guys, especially Idiot Glee, whose James Friley is an individual for whom I have a massive amount of admiration because of what he does for Lexington's underground music community."
"Plus, Idiot Glee, I believe, are about to blow up (as in: get hugely popular, at least in an 'indie' sense.) Morgantown is their last show before a UK (yep, merrie olde England) tour with WOMEN (a killer band on Sub Pop records.) Couldn't happen to a nicer dude.
And Marinelli's upcoming-but-as-yet-still-unreleased record
Pre-Emptive Skankery
would be out sometime soon, he assured the editorial staff here on a conference call.
"[
Skankery
] will be out soon," he said. "It was recorded and mastered ages ago. I'm still waiting on the cover art (which I've seen some early versions of,)" so, the best things come to those who wait. Since we're on the Marinelli kick, why not check out Marinelli footage from his February show at The Sound Factory, "shot" by someone who doesn't talk to people or go anywhere.
"Rebel Without Applause/Hey Pinkerton/Hand Grenade Heart"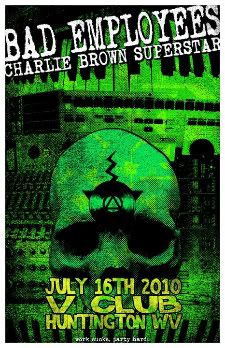 Out Huntington way,
Bad Employees
will join Charlie Brown Superstar at
The V Club
Friday night. Andy Rivas (who we can only assume had pants on) filled us in on Bad Employees' recent werk when we caught up with him about Enoch.
"BE have taken time off to work on a new album. Starting with this show we will be bringing out these new tracks live, but not all at once, as we want to book more shows from now on, try out these new songs on people, and finish the album over the next couple of months."
So look forward to new Bad Employees stuff. Cool.
In Charleston, the Brooklyn-based Americana/alt-country band
Yarn
comes to The Empty Glass with their critically acclaimed new CD
Come On In
. If all goes according to plan there should be a thing on the group in Thursday's Gazette.
So, no you know. And something something something something.