We recently got to catch up with Olive Hill, Kentucky's
Sasha Colette
in advance of her upcoming shows. Winning praise far and wide for her own slice of Americana, and in particular, her voice, she's been ultra-busy recently, finishing up her new CD and celebrating her birthday. Overcoming her own doubts, and life's own ditches in general, she's able to stay positive, and above all, very nice.
WVRS:
So did you have a good birthday? Get to do anything awesome or take it easy? How old are you now?
Sasha Colette:
Well, Birthdays were good when I was young, which, I'm still relatively young, but the past three birthdays have been surprising tearjerkers for all the wrong reasons but it definitely gives me the interest and the push to get some creativity flowing. Music is pretty much the only thing that is stable even when birthday's aren't. One thing I can say is that my mom always loves my birthday and that's all that matters.
What did I do for my birthday? After other plans fell through miserably, I went to the drive-in in Winchester, leaned my seat back, put my legs out the van window and dozed while watching Despicable Me and Inception. Worthwhile! Oh to now be 22. This is supposed to be my golden year, being 22 on the 22nd of July. Jose Oreta the bass player of the band informed me of that. We'll see!
WVRS:
You mentioned maybe getting close to wrapping up the new CD, when will it be ready?
SC:
We have eight songs recorded for the album and we have recently decided to put two others on it; "Saint's Marching Drum" and "The Blues" so the record can be considered a full-length album. With that said, I imagine that we've got a little more than three weeks to go. It's going to be a Fall release I'm sure, but as far as a month, my best guess would be September.
We're thinking of having "Saint's Marching Drum" as the title track to the album, it's quite the encouraging type and this album has been surrounded by nothing but encouragement whether it be from good friend and business confidant, Adam Harris or from the producer of the album,
Bud Carroll
. Those guys have been total believers in what has been the musical product of my life thus far. I really appreciate them and their opinion so when they say I should keep the faith when things are looking low or that a certain song is the way to go, I know it's just me being my worst enemy again and that I just need to step back with a fresh view and take it from there. There's a lot to be said in life when you're able to keep the faith.
WVRS:
So you're from Olive Hill, all your life? What role growing up in Eastern Ky. do you think made you want to make the kind of music you do?
SC:
I have lived in Olive Hill all my life until recently. I've became a professional camper for the summer, that's what I'd call it; I'm in a moving limbo but so far that's been one of the many stories of my summer!
Sooner rather than later, I'll be settled down in Morehead, Ky., I think, running around in the woods, playing in the creek, spending time with my great grandma eating big bowls of cereal on the front porch, hearing simple melodies in church, seeing people struggle, seeing people who seemed like they didn't really have much to worry about and seeing people get old; all those things helped me to grow up knowing that it's up to me; what I want to be, what I want to do, where I want to be, who I want to be, there's no reason why I can't achieve anything I desire to. Everything is possible with the right mind frame.
Life can be a gut kicker sometimes, but I'm pretty sure I've probably given life a couple low blows so there's no reason I shouldn't get one from time to time. Some things are just more challenging than others. I'll admit so far with this album I have had a few moments of tears out of frustration and doubt among other things, of course I've questioned what I'm doing investing all this time and money into music, but the answer is always that if I didn't I'm pretty sure I'd lose the spark that makes me feel like I'm worthy of this poetic life that I've been given.
As far as influences go, I grew up listening to Top 40 radio and can fondly recall dancing to "I'm Too Sexy" by Right Said Fred back in the day. Neither of my parents play music, though my dad is a big fan of Billy Joe Shaver and my mom can be caught listening to anything from Rod Stewart to the latest hot bassy single! I have a fondness for Billy Joe Shaver, he's had a rough road which makes his music that much more unstoppable. I get inspiration from all kinds of music, hip-hop that stems from the Gangstarr style, the sounds of The Beta Band, the timeless spirit of Tom Petty and Bruce Springsteen; those boys really make me want to find some cool shades and play some kickin' electric guitar. Then there's Tom Waits, who always fits a road trip. I think a lot of him.
WVRS:
You recorded with Bud Carroll, how cool was that?
SC:
Working with Bud has brought several things to light in my recording and songwriting knowledge. One of the first that come to mind and touches with both recording and songwriting would be bridges. Most of my songs do not have a bridge and Bud, along with a lot of other folks, dig a bridge that can take your whole song and rocket launch it into an energetic jam that everybody can go with.
Working with Bud was very encouraging for many reasons. If he's working with you, he believes in what you do because there's a passion behind it and if you're passionate about it, Bud is gonna put his best into it, as well. We recorded all the tracks in a live take kind of setting. We played tunes over and over until we got the take with the "magic" and it's a cool feeling to play a song and have it groove so well that after the last note is played your automatically saying "Yeah, that's the one."
Bud's ability to suggest different chords, beats or rhythms that can trademark a song is uncanny. His ear is so versatile. He came up with the riff to one of the more edgy tunes on the album, "Mercy Moment." The song really has a stomp and drive sound to it and it took Bud a matter of seconds to come up with a really busting, tell-it-how-it-is kind of riff. We were all making jokes about that song in general. It has such a grime to it that it sounds like Swamp Thing should be trudging through some dirty water with a mission.
This is the first time I've ever enjoyed recording. There has been very little stress in the process, me and the guys were generally stoked each day before and even after we were done. We always came out very satisfied. Bud has the ability to create such a great atmosphere because, like I say, If you've got the passion, Bud will double it and relieve you of any doubt you have. His coffee's not half bad, either.
WVRS:
So Bud plays guitar on the new CD? How awesome is that? Will he play live with you on any of these upcoming shows?
SC:
Bud played electric guitar, keyboards, pedal steel and did the programming on the album. That is him on "Victory!" His style has a way with feeling its way through a song, adding that much more soul. Before the guys and I came in to record, Bud and I got together, and I played some songs for Bud that I really enjoyed the production of. Some of which were Jesse Sykes & The Sweet Hearafter with LLL, Nick Cave & The Bad Seeds with Breathless and Samantha Crain with Scissor Tales. He got the idea of the sound I was hoping to find and sculpted out a style with each song that I couldn't have been happier with.
Bud will be playing a show with us this weekend at Shamrock's on the 29th billing with
The Fox Hunt
, then we have LiveMix Studios on the 30th with
John Lilly
and span
Jon Glen Wood
, and later that night we'll be heading over to The Empty Glass to bill with The Fox Hunt and for the 31st, I'll be doing a solo set for a benefit in Lexington that's helping
Dames for Dogs
. Busy weekend! Bud will only be at Shamrock's, though. Whenever the album comes out he'll be doing some more shows with us as well.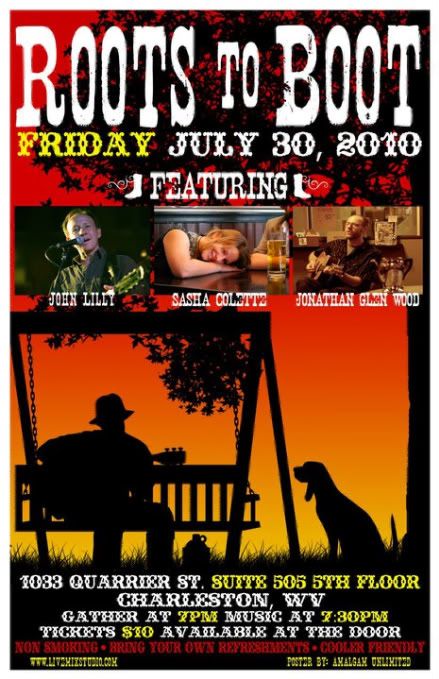 WVRS:
You've got this songwriter night booked Friday for LiveMix with John Lilly and Jon Glen Wood; lookin forward to that?
SC:
Absolutely! I admire both of these men for not only their style but their ability to sing a melody that puts fire to the coals. Jonathan Glen Wood uses descriptions and story lines for his songs that I find myself wishing I could demonstrate myself! His style is like the story of dusty boots that traveled some long weary miles to end up on some Kentucky porch beside a screen door. Sunset and all.
I like John Lilly's general stance in any form. His music is consistently proving that a musician can always be a creative engine no matter what weather is raging or what crowd you're yodeling to. He has so many regulars at his shows because he's such an ace of a person plus one heck of an entertaining artist! To co-bill with these guys I feel is a very big honor just being among such great songwriters and more over to be playing with such close friends.
WVRS:
Adam Harris told me that he thinks the LiveMix show is a good way to introduce people not part of "the bar scene" to your music. You play bars and coffee houses, do you think either "scene" as it were is more amenable to your music, or are you just able to make fans wherever?
SC:
I have to say that usually scenes aside from the bar are always more drawn to the music we do, seeing as how it is singer/songwriter material for the most part. The older more chill crowd has always been more apt to appreciate a show more so than the folks in a general bar.
We aren't usually out of hand, our shows have traits of straight up performance melted together with musical and lyrical improv of the rooted kind. We do have good luck at most all venues as far as expanding our fan base goes. There are people in every crowd who will truly enjoy your music, whether they make it to another show or not, they still put their stamp of approval on the night and that usually means drinks or handshakes all around! As you can imagine, we have no problem with that!
WVRS:
What, if any expectations do you have for getting the CD out and touring; great expectations or more laid back? You started off the year with a broken shoulder and now you've got the new CD coming out, with praise from all over. Got to be excited, right?
SC:
I spent a large part of the first of this year on the couch with a banged up head, shoulder and spirit. Making this record has been not only what my year needed, but what I needed. I now feel that no matter what happens with all the chatter about the album, at least I know that all is soon to be well and once again, life has shown me that it's always on the up and up. I know that the collection of music that is going to be featured on the record will be easier to push to venues in more out and about territories that we've skimmed through in the past. I think there's a lot on the album that will be appreciated from a recording stance now more than ever for us.
All this praise definitely has me excited, it's cool to have this kind of reaction from so many people. Like I said, life is always on the up and up, so we can only go up from here and that, I believe, is going to be a lot of fun for all of us.