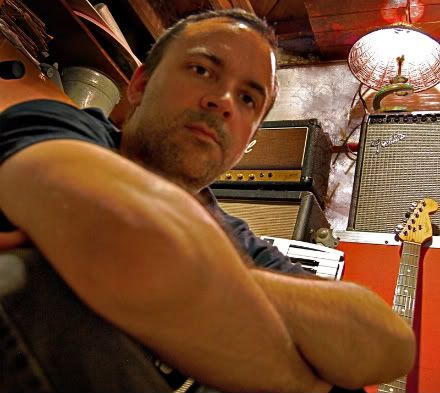 Singer/songwriter
John Lancaster
is no stranger to the local music scene as he's performed in multiple Huntington-based bands. He's released a new solo album called "Phantom Moon."
Reposted from
The Huntington Herald-Dispatch
HUNTINGTON —
John Lancaster
is no stranger to the Huntington music scene.
So, when it came time to record his debut solo CD, the former singer/guitarist for Chum, these days married with kids, didn't have time to mess around.
He enlisted an all-star lineup of guest musicians both near and far and used available technology to record the heavy, melodic, richly textured 14-song "Phantom Moon."
Lancaster, more recently in Huntington bands like Earth To Eros and with his old Chum friends in Hyatari, said he has been looking forward to releasing the CD. Answering questions over the phone thoughtfully, yet excitedly, you might even say he's tired of talking about it.
"It seems like this project has been in the works for so long, and it's really been a small circle of friends who've even heard anything off of it," he said. "I'm excited to get it out and put it in someone else's hands for a change, you know? It was a lot of fun to make though. I'm curious to see what people think about it."
There's already been praise for "Phantom Moon" on social networking sites. Songs like "Liars" and "This Fire Has Just Begun" have been well received, and Lancaster said it's appreciated.
"It's exciting. It makes me want to get it out even sooner. When I post certain songs on ReverbNation or MySpace, people don't get a sense of the whole thing, though. It's cool, though, to give just a little taste in advance, especially since I've been talking about this record so long, like 'I really have been working on this, I swear,'" he said, laughing.
He worked on "Phantom Moon" with some big names from the Huntington music scene and beyond, including Bud Carroll, Matt Wolfe (Byzantine/Scrap Iron Pickers), Jude Blevins (Hyatari/Satchell), and old friends and band mates Barry Smith and Rusty Knight from Guru Lovechild and E2E.
"It's an honor," Lancaster said of the lineup. "When you get a little older, you don't have a lot of spare time. But with technology you don't have to book a studio and arrange everybody's schedule; they can work on their own time, and e-mail me the tracks.
"People like Dug Pinnick from King's X, he's not from around here. It was probably my favorite part of the whole project, getting to work with these people," he said.
Another neat experience for Lancaster was being his own boss when it came to writing, allowing his more authoritarian tendencies to take over.
"I liked the fact that everything was my decision. It must have been the control freak in me," he said, laughing again. "I knew that I had to do the best I could with it, since it's my name on it.
"I used the opportunity of doing the solo record to try to blend whatever influences were hitting me at the time," he added. "Sometimes, when you're in a band, you're like 'I want to try such and such,' and it may not fit, because you've painted yourself into a corner with a kind of label for your music."
Lancaster spent long hours recording on his "modest" setup in his basement, as his kids have taken over the attic where he once recorded, he noted with amusement. A few of the songs that make up "Phantom Moon" grew out of, and branched off from, his more recent work with Smith and Knight in Earth To Eros.
"I started demoing stuff with the idea that I'd maybe do a solo record, maybe two or three years ago," he said. "And, I sat on some for a while, because at the time we were doing the Earth To Eros thing. When that went down, that's when the idea for a solo record really started to surface, because I was like 'I've got all these songs here.'"
From the basement, the nascent songs were taken to Route 60 Music in Barboursville, where Smith added bass and recorded main tracks.
"With the technology, you can record pretty much anywhere, so we took advantage of that," Lancaster said.
He applied the same do-it-yourself recording ethic to starting his own label, High Fidelio Recordings.
"In this day and age, the idea of having a record deal is not appealing to me," he said. "That's why I started High Fidelio, to put my own material out on in the future. We'll see what happens with that. It's fun."
With all the time and effort Lancaster and friends put into "Phantom Moon," and the anxious wait to get it out and the uncertainty of what the future may hold for him, musically, Lancaster said that's what it all adds up to for him: fun.
"Playing music, originally I did it for fun," he said. "Now, it's kind of come back to that."
--- Lancaster pic:
Laura Gregory
Lancaster on the web:
You can hear more from artist John Lancaster at www.johnlancaster.com, www.reverbnation.com/johnlancaster and www.myspace.com/johnlancastermusic. The album is available at www.johnlancaster.com and Route 60 Music in Barboursville.