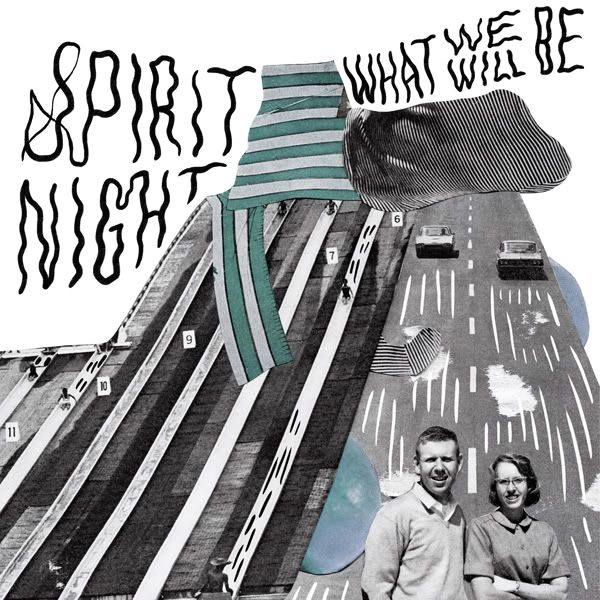 CD:
What We Will Be
ARTIST:
Spirit Night
If Shepherdstown's Dylan Balliett doesn't do anything else with the education he received at WVU, he'll at least have something to show for the time he spent in Morgantown.
Together with his friend,
FOX Japan
drummer Pete Wilmoth, calling themselves
Spirit Night
, the ex-
Russian Tombstones
members have released one of the best CDs we've heard in our time here at WVRockscene.
The songs, whether you call them ambient acoustic or twee pop, or, as a few reviews do, compare the sound to Beat Happening, serve almost as Dylan's soundtrack to his years as a college student, and all that entails.
Friends, females, drugs, peeing in Gatorade bottles, machine guns with bunny rabbit ears, and just not knowing what the future holds after school; it's all here. And like most great records,
What We Will Be
seems to flow nicely as a whole, from beginning to end, with uptempo catchy pop favorites of ours like
"Bear Costume"
and
"Brains"
allowing the more mellow, reverb and ambient feel of other songs like
"Don't Miss Me"
and
"125"
to sink their hooks into yer noggin.
Balliett sings on "Bear Costume"
"Of all the boys living in your body,
The one I love, I never get to see.
He's hiding out of sight down on his knees
In a crowded room
Thick with black balloons."
The echo-laden ambience of the touching "Don't Miss Me" is a nice example of the kind of "Keep It Simple" approach to the harmonies and lyrics in Dylan's songs. "125" has a mingling room full of people sample overtop of acoustic, making you check if about a dozen or so people showed up unannounced while you were hanging insulation, listening to the CD.
Balliett sings, evoking for us a great line from the Foo Fighters song "Everlong"
"I will give you all that I have and some that I don't.
I won't let go until you do. I hope that you won't."
"Stage Lights"
has the mellow ambience overtop Dylan's acoustic, as he transitions away from a relationship.
"Brains" is our favorite song on the CD, as Dylan rocks the acoustic, belts out the lyrics, and Wilmoth comes in with pounding, driving drums, half-way through the two-and-a-half minute long hit. This is a CD that we've listened to over and over recently, and this is the song that we listen to over and over again. Every great CD needs a song like that, and this one will definitely get inside the old noodle.
Just because Dylan and Pete are the main players on the CD, the songs have a much deeper, richly textured feel than you'd expect from two dudes on a four-track.
Wilmoth's contributions as a percussionist alone are clearly on display. It's not just a kick, snare and cymbal; with all the bells and whatnot he breaks out, he is his own drumline on
What We Will Be
. Synth and samples (and sometimes a glockenspiel) are laid on top of the catchy acoustic songs Dylan has composed over the past few years, with rockin' results.
The duo are also joined by some notable Morgantown rockers whose names you might recognize. Most notably as far as the contributions, are various members of
Librarians
,
It's Birds
, and
David Bello
. Sean Gibat (
BAM
, Shoe) joins Spirit Night on the Eastern, sitar-sounding
"The Medicine,"
with trippy sounding reverse cymbal rides.
What We Will Be
was mixed and mastered in Pittsburgh by
Dave Klug
, who has worked with It's Birds and Librarians, among others. He even provides synth on what seems to be the title track,
"What I Will Be,"
and while we won't compare the arrangements on What We Will Be to what is on Librarians' recent
Present Passed
, the atmospheres and ambience Spirit Night is going for may seem similar to what's on the recent Librarians CD. Maybe. Grat job on his part.
"Green Street,"
with guitar provided by It's Birds (and ex-Russian Tombstones) George Zatezalo, evokes the trippy yet rockin' 60's.
"Gone Down"
is probably the prettiest song on the CD, if we had to award a title for that, as Dylan sings:
"But it's still snowing now out there down beneath the trees.
You can see it now, it's falling faster than the leaves.
I'm warm in this winter breeze."
The CD builds to a climax and finishes nicely on
"The Last Cigarette,"
just over two minutes long, it seems like a great end to the CD.
Not only can you download the CD off
Spirit Night's bandcamp site
, there, you can also read the lyrics and read about where and when the songs were recorded at, and who may have sit in with Dylan and Pete on the jams.
So, not only are the songs great, these two dudes, with the help of their friends, have put together a great CD and put it all up online for free, with all the info you'll need on the songs. Kudos to them. Oh there are physical copies available, which we recommend you pick up.
There are CDs that we actively seek out because we know pretty much what to expect and think the acts rock. Then there are times when people contact us about their music.
Although we had heard about Russian Tombstones, when Dylan emailed us about this CD, we had no clue how much we were going to like it. It's times like these when we are able to spotlight an act that we didn't know anything about, but ended up in love with, that we are glad we do whatever it is we do here.
If WVRockscene married one band this year, it would be Spirit Night.
--- Related:
Spirit Night Q&A Pt. 1
mp3:
"Brains" by Spirit Night
Powered by Podbean.com