How many times can you say you've seen a war hero who's also a rock star? Or vice versa?
Well, If you were at Live on the Levee in Charleston Friday, you could say you did. Huntington's
Jeff Ellis
was treated a hero's welcome home, and joined by his friends
Bud Carroll
and the Southern Souls, rocked songs off his last three CDs, as a complete full-band, five-piece lineup.
It sure beats being in Iraq, or Kuwait, or wherever he's been spending most of his time in recent years, as part of his duties in the Army Reserves.
Over the past four years or so, with
A Front Seat For the End of The World
,
Covering the Distance
, and his most recently released CD,
The Forgetting Place
, Ellis, joined in the studio by Carroll and the Souls, has been winning fans, and would have, regardless of the fact that he's in the army.
But it wasn't a surprise to see Ellis being
interviewed by local TV news people
before the set, and signing autographs of his CDs; not a surprise at all.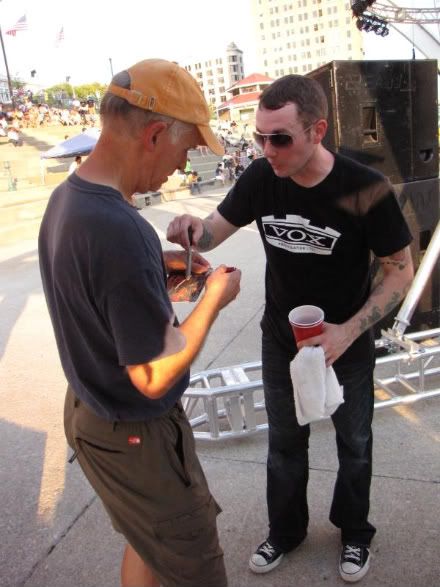 photo:
Chris Morris
Nor was it a surprise to see people paying $4 or something for a can of Miller Lite or whatever swill they were serving. Hey, everybody has to make money, right?
So as what seemed to be a few hundred people trickled into Schoenbaum Stadium, braving the sweltering heat, around sometime after six it was time to play some music. I had to listen to Jim Strawn talk about how awesome it is being at Highland Hospital, thinking of how many times the Highland Express van could've been called on my hind end.
Well, after all that drivel, Ellis, with his black Chuck Taylors and with Carroll and the Souls backing him, busted into
"If He's So Good To You,"
off
The Forgetting Place
, and in case you didn't know anything about Jeff Ellis or Bud Carroll, you'd know that together, they merge their rock powers to from something akin to Devastator in Transformers.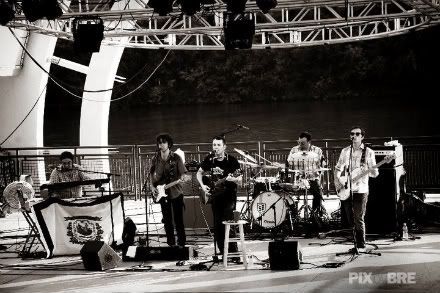 photo:
Brianna Atkins
With Ellis out front, Carroll on lead, this is something that you'd see on the bigtime. Americana, alt-country, bluegrass (especially with Carroll on slide guitar) and heck yeah -- rock and roll, this is great stuff.
So many bands that get famous these days, well, they suck, and it's a waste of time to listen to 'em, honestly. But these days it's becoming less and less of a secret how talented these dudes are in their own right, and, combined. Tom Petty'd do well to have these guys open for him someday.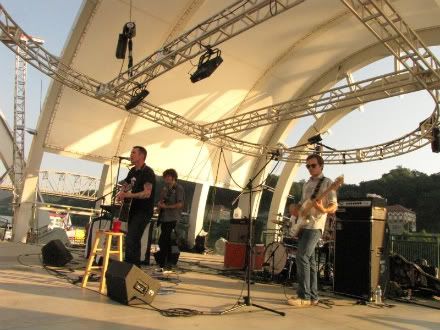 photo:
Chris Morris
After that the band rocked probably the best song off
Covering the Distance
,
"I'm Not Leaving This Time,"
and, be it about going back to the desert or just being able to make a relationship work, the song rocks; the organ really rounds the sound out, like on a lot of his songs.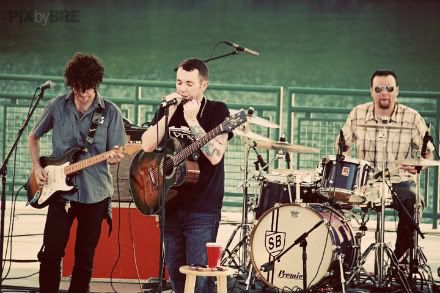 photo:
Brianna Atkins
It was around this time that my handwriting and notes started to become some sort of illegible chicken scratch; I blame this on the recent spate of earthquakes. But I
can
tell you Ellis, and by this point the hot, sweaty Souls ran through killer versions of what I think was
"Fade,"
(?)
"Russell and Honeybee"
and
"When You Come Back Around,"
before closing the set with
"Red, Red Sky"
off
Front Seat
.
It's neat to think about how much great music Ellis and the Souls have teamed up to make over the past few years. From
AFSFTEOW
, through the more rockin' Americana of
Covering the Distance
, into the folksy, bluegrass kind of vibe of
The Forgetting Place
, if you stacked all these releases up, and mixed up the songs, you'd still have a coherent Greatest Hits CD type thing.
Then there's the fact he's writing a lot of the material in the army overseas, and Ellis can still put out all this great material. Prolific.
photo:
Brianna Atkins
Unfortunately, I didn't get to stay and see Carroll's set, as my presence was quite abruptly requested elsewhere. I already know he's a force of nature on guitar, but it still sucked that I had to leave. I really, really had to go. It wasn't up to me.
But it was great to get to see Ellis run through a nice representative sample of what he's been doing the past few years, and see him so warmly received.
--- Related:
The WVRockscene Roast of Jeff Ellis
and Bud Carroll:
From "I Don't Believe You" to "When It All Hits You"