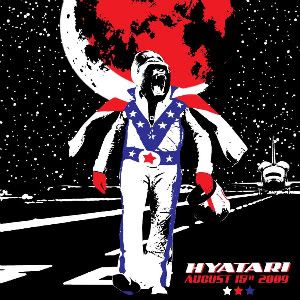 Some of our favorite recordings of all time are of the live bootleg variety.
So, it was with great excitement and anticipation when we heard Barry Smith talking about working on a live
Hyatari
recording on Facebook.
Fast forward a few days, and somehow, we get hooked up with it.
Just as being on Facebook has its perks, finding out about stuff, sometimes, we're glad we started this blog, because we get hooked up with cool music.
We cannot disclose at this time the party that leaked the recording to us (we'll call him J. Blevins) but we were so happy to get it we actually, finally, downloaded a piece of software that allows us to convert .rar files.
But what about the friggin CD?
Well, here at WVRockscene, some of us can't get along half the time; some of us are more into doom, some prefer sludgy, elemental-yet melodic drone rock -- you know, the kind Hyatari smelts into existence like so much slow forming lava. But, regardless of who here is who is way more doom or drone than the other, we, generally speaking, love music without words.
So, this open air recording, captured by Smith at Hyatari's August 15, 2009 show at the Thirsty Whale in Huntington, won't let you down due to poor vocals. Heck, the band doesn't even need a mic, period, as over the course of the five songs and 30 minutes or so set list, there's no "Let's make some noise!" or "Can someone bring me a beer?" although we're sure that's implied.
Joining
Hyatari
onstage for this show is ex-
Chum
band mate
John Lancaster
, adding to the sound. Basically, for people not familiar with Hyatari's sound, it might best be described as sounding like Trent Reznor's instrumental soundtrack to a movie about the slow process of tectonic plate shifting. Slow and heavy, yet melodic enough with cool progressions and chord changes that it isn't unlikely it would in parts evoke instrumental NIN.
Between Chris Tackett (bass) and Mac Walker (guitar) maybe the wild card in Hyatari's sound is Brett Fuller on "sounds," as credited on the CD. Whatever he's doing as far as synth or noise or programming, it makes Hyatari great.
The CD opens with the title track off their most recent CD,
They Will Surface
and "By The Throne." On a few song you'll notice drummer Jude Blevins jamming more ad-libbed, rocked out type fills. Killer.
Songs from
The Light Carriers
, "Harvesting Sod," and "Collapse" round out the short set before closing out with the really beautiful, apparently unreleased up to now Seam cover, "Autopilot," maybe evoking crashing into Mars on a terraform mission or something. Whatever you do,
do not
click on the link to the download of the song on Jude's MySpace blog thinking you'll be redirected to Hyatari's site, because we weren't.
But, look, again, we love getting live bootleg recordings. Especially when it's from bands whose CDs we rock out on a consistent basis.
They Will Surface
has, much to our dismay, ended up with a scratch on it due to repeated plays, and is in constant danger of skipping.
Whether you're more into
Light Carriers
or
They Will Surface
, we think Hyatari fans will agree, this was something worth putting out. Maybe some jerks will say something along the lines of asshole ball, whatever, screw them. And we'll definitely look forward to maybe more Hyatari output.
Kudos are in order first to
Barry Smith
for doing a good job on the recording;
Jimbo Valentine
for going back and reworking his flyer art for the show into the cover art for the recording, and finally to Hyatari's drummer for leaking this to us.
WVRockscene is not the local music blog equivalent of Wikileaks, but hey, we'll take this kind of thing any way we can get it. This is the kind of thing we'd buy for $5 or so at a Hyatari show, to kind of document the event, as it were. We'd love to see more bands be able to cut live recordings and turn 'em into CDs, especially when we love the bands so much.
We don't know whether or not Hyatari indeed even plans on making this available, either online or in physical form. But, if you're into the music these dudes make, holler at 'em and pester 'em to do so; it'll be well worth it for this live recording to surface, somehow.
--- Download:
Hyatari Live at The Thirsty Whale 8.15.09