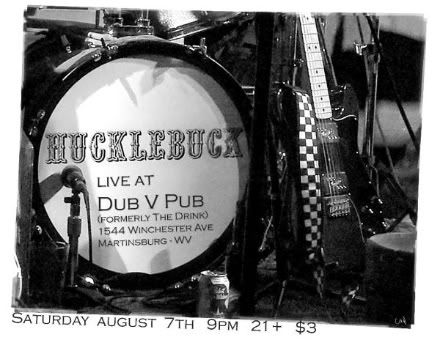 Danny Cumbo, bassist for the Sharpsburg, Maryland-based Americana/roots act
Hucklebuck
, recently hollered and was saying we should check out his band, talking about their soon to be released CD Bender. We listened to a few tunes, made sure Cumbo's story checked out, and thought we'd throw a few questions at em in advance of their show Saturday at the Dub V Pub in Martinsburg...
WVRS:
So you guys are based in Sharpsburg Maryland, but a few of you have ties to West Virginia, right?
Jonathan Helta:
Two of us live in West Virginia, two of us live in Frederick, Maryland, and one practically lives on the border in Sharpsburg. Borders tend to matter more when you live further away from them. West Virginians are our neighbors despite the invisible lines.
WVRS:
The band formed, as it says on your MySpace page, out of acoustic jam sessions, right? So you guys are all friends even pre-dating the formation of the band?
JH:
Yes, and that's probably why we still play. It's really lucky to have the best of both worlds, good friends and good players. It keeps it fun.
WVRS:
It says on your MySpace that you work hard but don't take yourselves too seriously. Obviously you want to have fun playing music, but do you think that some musicians and/or bands sometimes take themselves too seriously?
JH:
Ego and personality can take over and unfortunately it ruins it for the rest of the band and the music can suffer as a result. Why put yourself and others through that? It's just poor human skills.
WVRS:
You've got a few songs off your soon-to-be released full-length debut,
Bender
, finished. Where did you record at and when will it be ready to drop?
Danny Cumbo:
We started recording at
Echoes Recording Studio
in Sharpsburg back in December 2009. What was originally meant to be a 4 or 5 song demo turned into Bender. The first weekend of recording drum and scratch tracks started snowballing and we just kept blasting though all of our songs, recording one after another. Next thing we knew, we had the foundations of 12 of our originals in the can. We whittled that down to 10 that we kept, and that's when the process slowed down, as we started going back and adding all the guitar and vocal tracks. Our last meeting with the engineer was on August 2nd and it should all be finished and ready to send out for a first run of CDs shortly.
WVRS:
Between forming the band out of acoustic jam sessions, picking up more of an electric backing, and the recording of the debut, how much do you think the band's sound and approach to songwriting has progressed since you started a few years ago? Were you able to bring a fun atmosphere to recording or was it all business?
DC:
Naturally, the songs have all developed and evolved over time, but before we hit the studio, we spent a lot of time rehearsing and taking notes on exactly how we wanted some of the songs to be structured and sound when we recorded them. As the songs developed, they went from three guitar players all strumming the same chords in unison to say, Jarod [Brechbill] holding down the fort on rhythm parts while Jon did a lot of lead and JJ bringing in some slide guitar licks. It gave the songs a lot of new dimensions. We definitely approached the studio with 'fun atmosphere' in mind while trying to be mindful that we are paying for every hour we're in there.
WVRS:
You've got this show out in Martinsburg, and some of you are from WV. How well are you received out there in the Eastern Panhandle, and how much do you like playing WV in general?
DC:
We love it. We used to play at a place called Moods in Hedgesville that is no longer open and had some of our best crowds there. We started seeing a lot of familiar faces every time we played there and are excited to be playing in the area again. We hope to see a good mix of new and familiar faces out there in the crowd when we play the Dub V Pub on August 7th.