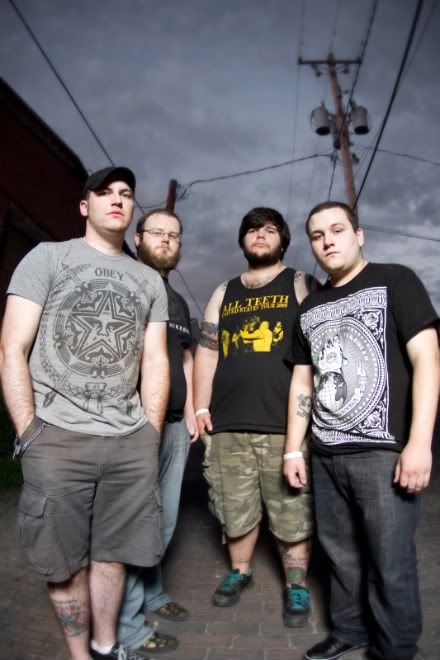 Black Seas (L-R: Dana White, Bobby Midkiff, Dwayne Hinkle, Cody Gore) looks to follow up on the success of Holden Caulfield, and represent Huntington
Reposted from The Huntington Herald-Dispatch
"Oh, hey I just walked in the garage and realized my PA was still on from last night's practice," Dana White noted, talking on the cell phone about his new band,
Black Seas
.
White answered questions on his day off. But it's been a rare day off over the past few months for White, the ex-
Holden Caulfield
and current Black Seas singer, as he is now the proud parent of a baby boy.
So, White doesn't have all the time in the world to dedicate to rehearsing, touring and shows. But White says his wife, Brooke, who played bass in the original incarnation of Black Seas, Heart Holds True, is super cool when it comes to him being in a band these days.
"Brooke has always been real supportive of me. She's wanted to see every band I've ever been in succeed. But it does change things a little," he said of parenthood. "I have to think about 'How are we going to do this when we go out of town? 'Is Brooke going to be okay with watching Christian?'
"We actually had a show the day after Christian was born," White said. "Normally I wouldn't have agreed to that; the show was supposed to happen before, but he came early.
"It was a house show and it was like five minutes from the hospital, and I kept telling everyone, 'Call me when the band before us starts playing,' and lucky enough for me Brooke and the baby were asleep, so my sister and me get in the car and rush to the show."
It's just one example of how White has to manage his time and his daily life now as a parent.
Few, if any, West Virginia bands over the past decade have been able to develop and sustain the loyal fan base the way Huntington's Holden Caulfield did, both in-state and all over the country. After eight years, though, the members of Holden Caulfield went their separate ways.
But White and his good friend Bobby Midkiff, who played guitar in Holden Caulfield, weren't ready to stop. Now, White leads Black Seas with Midkiff and ex-
Most Ill
members, bassist Cody Gore and drummer Dwayne Hinkle.
Black Seas plays
Shamrock's Irish Pub
in Huntington this Saturday, August 14.
White said Black Seas, together in its current formation for a few months and influenced heavily by Mastodon, is working hard to get its name out, be it at a bar, or some dude's house.
The band has begun working on a concept record titled "Destined to Never Feel at Home" about White's own hometown of Huntington.
Lyrically, from Holden Caulfield to Black Seas, White said writing about his life and hometown is what it's all about, the good and bad.
"This EP is about living around this area all my life. And it's time to do a little more, and see a little more, but this is still home. It's about watching the decline of our town. On the surface, if you drove through here ten years ago, and you drive through here now, it looks like things are getting better.
"But then, you start comparing the crime rate between just five years ago and now, and it's dramatically worse. And it's because of the influx of drug dealers from certain cities, mostly Detroit, it's no secret, everyone in this town knows it.
"It just kind of like goes into; there's this problem, we need to fix it, and we have to fight for our home. But it comes back to it's mostly our fault because we didn't do anything about it before. 'Oh my gosh!' And it kind of just ends there."
You can hear one example of how important Huntington is to White and Black Seas on their song "Long Live The Jewel City," on the Black Seas MySpace page.
Black Seas enlisted engineer and co-producer Ethan Howard from Black Bird Studios in Nashville, who has worked with Kings Of Leon and Rush, to work on the new album.
White said he knows that Black Seas is not Holden Caulfield, but regardless, he's still awed that the fans are still there.
"We're doing it for the love of the music and making friends. I don't necessarily want to be as big as Coldplay, but if I could play music for a living, my gosh, I'd love that."
And, ever the fortune cookie aficionado, White described what one made for Black Seas might say.
"Things might get horrible, but you can't stop trying."
If you go:
WHAT: Waking Lions, The Fearful Jonah, Black Seas, Towers of Veritas
WHEN: 9:30 p.m. Saturday, Aug. 14
WHERE: Shamrock's Irish Pub, 2050 3rd Ave., Huntington 304-523-5825
HOW MUCH: $5
ONLINE: www.myspace.com/black_seas and www.myspace.com/luckypub
--- photo:
Chris Moore/
Obsolete Images