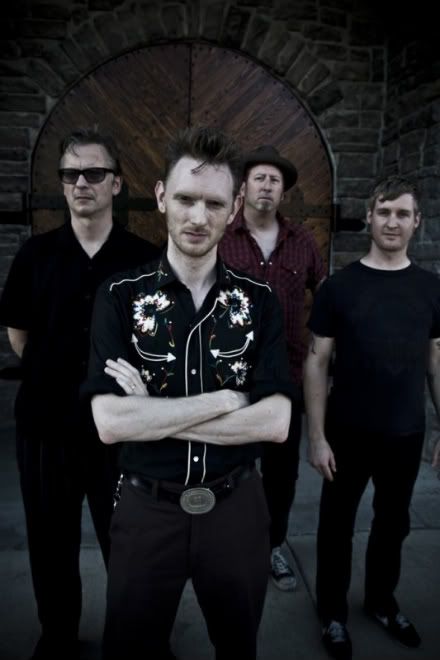 The Legendary Shack Shakers (L-R: Duane Denison, J.D. Wilkes, Mark Robertson, and Brett Whitacre) bring their version of "Agri-Dustrial" to The Empty Glass Friday night.
You know you're a badass when Jello Biafra and Hank III call you the best rock and roll front man in the country, your onstage antics are compared to Iggy Pop and Tom Waits, your lyrics evoke William Faulkner, and you are referred to as "Colonel".
J.D. Wilkes and the Nashville-based
Legendary Shack Shakers
roll into
The Empty Glass
in Charleston Friday for a night of "Southern Gothic" insanity.
The singer and
filmmaker
brings his Shakers' hybrid of blues, punk & country to town as part of their show-per day U.S. tour, maybe with their recently released CD
Agri-Dustrial
.
Check out the Shakers online to hear the tunes, and check out the trailer for Wilkes' critically acclaimed documentary about Appalachian and Delta culture,
Seven Signs
.
If you're one of these people who hate "new country" with a passion, these guys sound like they're right up your alley.
Pic:
Joshua Black Wilkins