Two dudes, one well-mannered party: Fuller Condon (aka "The Councilman") and Andy Bean bring their gentlemanly act to Huntington Friday.
If Tenacious D were around 80 years ago, they might have sounded like
The Two Man Gentlemen Band
. The Long Island-based duo (Andy Bean: tenor guitar, banjo; Fuller Condon: upright bass) have that same kind of interplay and hilarious lyrics permeating their 1920's sounding version of Vaudevillian Hot Swing.
Great harmonies, pretty much a shared singing and songwriting role, dressed in the attire of the time, and, again, the irreverent, downright funny lyrics and catchy tunes make these guys a pair of characters, for sure.
On their new 13-song CD
!Dos Amigos, Una Fiesta!
(
Serious Business
) Bean and Condon, on songs like
"Chocolate Milk," "Me, I Get High on Reefer," "Franklin Pierce," "There's Something In My Trousers"
and
"The Leisure Class"
display their chemistry and musicianship, putting their own contemporary spin on an old thing.
Not only were we transported to a long forgotten era, we had more than a few laughs along the way.
In advance of their show Friday at
Shamrock's Irish Pub
, we caught up with Andy Bean over e-mail to learn more about
the Gents
, the new CD and to see if these two guys really are gentlemen…
WVRS:
You two seem to have quite the chemistry together making music; how long have you two known each other/how did you meet?
Andy Bean:
The Councilman and I met at an audition for a college rock band. We both passed. This was about 10 years ago.
WVRS:
What appealed to you guys originally to play this particular style of throwback music?
AB:
We like old records a lot. So when we went to make music together it came out sounding a bit old fashioned. It wasn't really intentional; just how it happened. But what we do never seems particularly throwback to us because we're playing our own tunes. Most of the groups out there doing this sort of style play old standards. We're playing new songs that sound old.
WVRS:
You guys were buskers in NYC? How would you say that made it easier for you guys to have a warmer interaction or chemistry with audiences at shows?
AB:
Since most people on the street, in a subway station, or in a city park tend to ignore street musicians, we learned how to handle rejection very well. This is a valuable skill to have as a musician.
WVRS:
You got to open for Dylan and Willie last year, how cool was that?
AB:
Pretty darned wonderful. The Two Man Gentlemen Band has tasted the big time. And we liked it.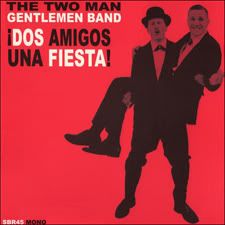 WVRS:
So this is your sixth full-length release; do you think this is going to put you into the leisure class?
AB:
If "The Leisure Class" is defined as one step above the abject poverty common amongst touring musicians, than yes, we hope so.
WVRS:
As far as press and just the public's response to the new CD, what's it been like so far? All-around thumbs up?
AB:
Hopefully thumbs up. We're very fragile. I don't know if we could handle too many negative reviews.
WVRS:
What do people need to know about Franklin Pierce that they might not? Is there some kind of conspiracy you've uncovered -- The Pierce Affair?
AB:
He was widely considered our drunkest and handsomest president, a fierce combination.
WVRS:
Playing the kind of music you do, touring around the country, is there any kind of music you like to listen to that might surprise your
fans? Like Slayer, or techno or something?
AB:
I listen to Van Halen's "Hot for Teacher" once every few days. Other than that, it's mostly 20's and 30's music.
WVRS:
Will you have copies of the new CD available for sale at the Shamrock's show?
AB:
Yes we will, for sale at very reasonable prices.
WVRS:
You've played Shamrock's a few times, how have the shows there gone? A party?
AB:
We've been handed a jar of local moonshine every time. So yes, it's always been a party.
WVRS:
If someone at a show was going to buy you dudes a glass of wine, do you have any particular favorites, or will you just drink anything?
AB:
We are too polite and well mannered to turn down any drink that's offered.