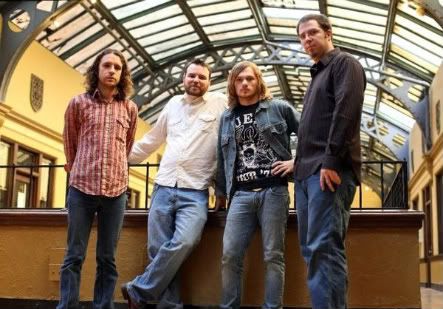 Bud Carroll and the Southern Souls play
Mountain Stage
Sunday, February 21. We caught up with Bud to find out his response to being invited to play, his thoughts and memories of the show, how he thinks the show will go, and, if this is the actual final Southern Souls show...
WVRS:
How satisfying is it for you guys to be playing Mountain Stage? How did you get the news that you'd been invited to play, and did you have to think long about saying yes?
BC:
I can't even describe it. It's been a life long dream of mine to play Mountain Stage. Sitting in the crowd watching some of my favorite bands play, I've always wanted to be up there, especially in a project of my own. I always figured I might just play guitar backing someone up, but for me to be playing my own songs on there is just unimaginable, dream come true shit. Today your heart, tomorrow the world!
WVRS:
How important do you think Mountain Stage is, to not only the artists who play it, but the state as a whole?
BC:
You can go anywhere and say the words Mountain Stage and people will know what you are talking about. For example, I played a show in NYC with
the Carpenter Ants
opening for
Andy Friedman
, and Andy introduced Mike Lipton as the house guitarist for Mountain Stage and 75 percent of the crowd cheered.
Shit,
Ray Charles
,
The Replacements
, hell I remember hearing the
R.E.M.
show on the radio when I was a little kid. Gaston Caperton (West Virginia governor at that time) declared it R.E.M. day! Especially with terrestrial radio being such a pile of shit these days, more people are into
NPR
. At a certain point in my life I realized that anytime I got into one of my friend's cars and there wasn't a CD playing it was on public radio. It's up there with Car Talk, well, not quite.
WVRS:
Any particular favorite moments or shows you remember from Mountain Stage?
BC:
Seeing
Derek Trucks
,
Dr. Dog
,
Buckwheat Zydeco
,
Robben Ford
,
G.E. Smith
,
Buddy Guy
and a laundry list of my other heroes and favorites on there. The best though was probably getting to meet
Sonny Landreth
back when I was 12 and him giving me a guitar lesson. One of the best slide guitarists in the world and he just didn't think twice about taking time out of his day to show me how he did shit. It really stuck with me, I'll never forget that.
WVRS:
"Big Coal" had been prominently featured on local radio; how cool is it to have a song you wrote blown up so much?
BC:
P.S. Jimmy and I co-wrote that! I better get my .002 cents, my BMI statement has been pretty low the last few years.
WVRS:
We've heard about you helping local bands record, how's that been going?
BC:
It's been fun, every time I do it I learn lots of stuff that I can apply to my own records. Sometimes it's shitty; bands always expect you to be able to make them sound like something they aren't, and I don't play that game. You have to have your songs together and be able to play well. I'm not in the cut and paste business; I only work with bands that I respect and that have good songs.
I just try and do the best with every situation that I can. I mean, I barely charge enough money to make it worth while, but I think it's important for me to help bands make good records so that there will be a better scene here. It helps them take themselves more seriously and gives them a good product so that they can be taken more seriously by others. I see it as a community service.
WVRS:
Do you guys have any expectations about playing such a prestigious show? Will the Souls now blow up even bigger?
BC:
I expect that Steve Barker will rim the first down beat and then I'll get really pissed off and give him the death stare. Then I expect that we'll kick ass for four songs and laugh about it afterwards when we are getting wasted. Even bigger? I'm always just glad that anyone at all shows up. As far as bigger, I mean maybe we'll be a bunch of somebodys that nobody knows about as opposed to a bunch of nobodys that nobody knows about. Regardless, I can cross one more thing off the "to do before I die" list. Score!
WVRS:
So the CD/DVD release (farewell) shows went well, got much favorable feedback from
Wasted Words
and/or the DVD?
BC:
Most indie rockers don't like the CD that much, most musician music fan type people love it. I'm indifferent; it's not as good as what I'm working on now, so that's all I care about. I mean shit, it got us on Mountain Stage; couldn't have been that bad. The DVD gets rave reviews all around. If only it would have been as good of a show as it could have been if the asshole staff sound guy hadn't harshed our mellows. I still need to pay that fucker back for that shit.
WVRS:
Is THIS the last Southern Souls show?
BC:
You never can tell. See you in the funny papers!
Bottle Rockets w/Lucero, Sons of Bill, and Bud Carroll & the Southern Souls @ Mountain Stage 2.21; 7 p.m., Culture Center Theater; $12.50 adv., $18 DOS (buy tix)