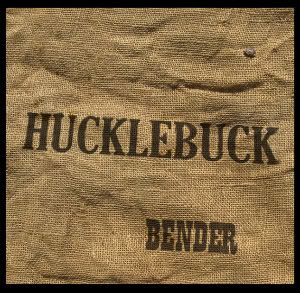 CD:
Bender

ARTIST:
Hucklebuck
The cover of Hucklebuck's debut CD
Bender
looks like it could've came from somewhere around the WVRockscene home front. Not that we have that many burlap sacks, but recently we seemed to be getting invaded by those Asian stink beetles or something.
The Sharpsburg, Maryland-based Americana five-piece, together since 2008, released their debut effort a month or two ago. A few native West Virginians comprise the band, which inhabits the poorly policed, mountainous border region between West Virginia and Maryland, where irregulars pass freely from state to state.
The 10-song CD features a few really good songs, like Jarod Brechbill's
"Better Late Than Never,"
which sounds like something Tom Petty might play. The songwriting mainly seems to split up between guitarists Jonathan Helta and Brechbill, with fellow six-stringer Jon James writing
"West of I-95"
and bassist Danny Cumbo (who introduced the band to us over the net) penning
"The More That I Chase You,"
the band seems to have an organic songwriting process, having evolved out of a few guys hanging out jamming.
Influenced by acts ranging from Buck Owens and the man in black to CCR, Petty and even Wilco, the band has a roots music sound a lot of people will likely dig.
J.J. James' song,
"West of I-95"
is a rollicking, jangly, twangy, Southern-sounding garage rock good time, as the band flees NYC, Boston and Philly for the mountains.
"I wanna see God's country the way it was meant to be…Get in the interstate and stomp on that gas! Head West of I-95!"
There's a killer solo and lyrics about pesky out-of-state drivers. "Sick of dodging asshole drivers, watchin' out left and right/I wanna be somewhere I can be left alone tonight."
Brechbill's songs include
"Time Capsule,"
and hilarious, curse-laden, irreverent country, maybe the most awesomely named song of 2010,
"Til the Tit Gets Stuck,"
and
"Good Stuff."
"Time Capsule"
has a pretty acoustic intro leading intro dreamy strumming about "shooting holes in the moon again," a really pretty, sappy song, with soulful crooning from Brechbill.
Songs credited to Helta include
"Early Bird," "Old State Line"
and the closing track,
"I Got Friends."
"Early Bird"
sounds like Wilco, which is a good thing.
"Old State Line"
is a rockin' good time, a standout track, as Helta sings:
I'm runnin' round the old state line, never meant to leave you behind
Hopin' that you'll be my mate, hopin' that it's not too late
I'm runnin' round the old state line

Cumbo's song,
"The More That I Chase You,"
is swinging old school country and/or western, with bouncy bass and a plucky slide guitar sounding solo. He sounds like Alan Griffith.
The band is able to capture a great bar-based atmosphere on the backing vocals and various hooting and hollering. From the sing-along choruses on the songs to people who sound like they're just hanging out drinking, rocking out with the band. Kudos to Todd Stotler at Echos Recording in Sharpsburg for a good job in the studio.
The switching up of the singers, the fact that they each seem to have good songs, the appealing sound, the regional pride in the songs, and the bar-based atmosphere Hucklebuck nails make this CD way better than we anticipated. A good time to be had, listening to these dudes. Definitely worth checking out and picking up.
Hucklebuck plays the Blue Moon Café in Shepherdstown tonite, Friday Oct. 29
RIYL:
'85 Flood

mp3:
"Good Stuff" by Hucklebuck
Powered by Podbean.com