Coupla neat shows lined up this weekend with rockin' acts that we may or may not have covered here. Wanted to take the opportunity to get the word out...
Hurricane native
Mark Bates
(pic above) returns to Charleston this weekend for shows at the Glass Friday night w/Aaron Fisher's new band
Ghost Fleet
, and Saturday at Haddad Riverfront Park, opening for the Charlottesville, Virginia-based band of brothers
Sons of Bill
, out on their "Life In Shambles" Tour.
Maybe you got to check out
the super-awesome artikel
on Bates in today's Charleston Gazette, maybe you read
our review
of Bates' CD
Down The Narrow
and want to pick it up
.
Wait, if you read one of our CD reviews and consequently wanted to pick up the CD, let us know; there's a first time for everything.
Or maybe you're just going to be out and about and like good music. That works.
Up in Magic Town, pretty neat show lined up for Friday night, as
Lake & Ocean
join
Librarians
and the Charlottesville-based indie act
Astronomers
for an evening of rock at
123 Pleasant Street
. Hey, yeah we
did review Lake & Ocean's debut EP Pull
and
Librarians' recent Present Passed
, for what it's worth; any publicity is good publicity, right? But the conveniently placed flyer below has all the relevant info.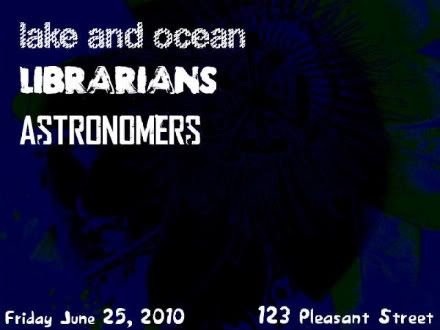 Either way, now you know.
Bates pic:
Ryan Newman