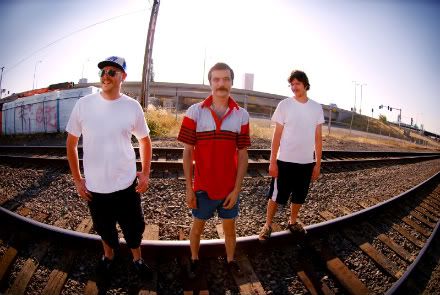 Portland, Oregon's "honk-a-delic" trio
The Quick & Easy Boys
(L-R: Sean Badders, Jimmy Russell, Michael Goetz) swing through West Virginia this weekend with a new CD and their old mustaches. We caught up with guitarist Jimmy Russell (aka Elvis O'Reilly) to try to get a quick scoop.
WVRS:
You guys got a steady string of shows lined up for this summer tour; got all your ducks lined up, everything packed and ready to go?
JR:
Yes we have brought the few things needed to survive on the road, including our road dog Daisy Mae, who has now seen most of the country through our traveling.
WVRS:
Are you based in Eugene or Portland these days? Eugene is home to the Oregon Ducks, of course. It's supposed to be a pretty rockin' college town, right? What's the atmosphere like at Eugene area shows?
JR:
The Quick & Easy Boys
started in Eugene where we all attended the University of Oregon. We started as a four-piece with one other guitar player, Ben Morse. We built up quite a bit of original material as well as covers, including mostly rock, blues, funk and honky tonk, while playing all of the local venues. It was a wild crowd in a high energy college setting.
We did that for a few years until school ended and then we moved to Portland. Around that time, Morse quit. Once we became a three-piece we developed into the more cohesive and unique group that we are today.
WVRS:
The new CD,
Red Light Rabbit
, is out, how stoked are you guys to get out on tour in support of it?
JR:
We are incredibly excited to be on the road playing in a lot of great places. It is still raining in Portland so the trip was well needed and perfect timing. We really enjoyed our last trip to Huntington playing with
The Yetti
, and we look forward to coming back!
WVRS:
It's been out in physical form for about a week, what's the response been like to it?
JR:
We have been selling our CD at shows like hotcakes while on the road. We have received many
reviews online
, mostly very positive feedback and enthusiasm.
WVRS:
Red Light Rabbit
is your second CD; for newer fans of you guys, how would you compare it to your debut,
Bad Decisions With Good People
? And being together for a few years now, how comfortable have you guys got together musically?
JR:
On the first album,
Bad Decisions With Good People
, we had a lot of guest musicians playing auxiliary parts in order to create a diverse, sonically thick sounding CD. We kept hearing that people liked the CD very much but it was different than what we do live. Having built a reputation for high energy live shows we wanted to capture that energy and subsequent performance on our newest release,
Red Light Rabbit
.
Although there are a few overdubs on
Red Light Rabbit
, we kept them to a minimum and guitars only. There were a lot of keyboards on
Bad Decisions
. On this new release we wanted to make a high energy rock n roll album! We have plenty of both CDs for sale at our upcoming shows!
We are together all of the time and are basically brothers at this point! We get along very well.
WVRS:
You guys played
the V Club
last year, how were you received there and are you looking forward to coming back?
JR:
Our show at the V Club with The Yetti last year was a lot of fun and went great! We didn't know what to expect, as you never do playing a new place, and felt a very warm welcome from the crowd and The Yetti as well! We can't wait to come back and visit friends old and new.
WVRS:
What is "Yeah Bud" all about?
JR:
"Yeah Bud" is what our crowd yells when they get good and drunk!
WVRS:
Ben Coll from The Yetti, in addition to saying how much he liked your band, said you guys had awesome mustaches. Still holding those or shaved 'em off?
JR:
Yes we do still have mustaches and they are coming in hot!
--- The Quick & Easy Boys play The V Club in Huntington 6.18 and Cantrell's Pub in Fayetteville Sat. 6.19 with special guests The Yetti.photo:
by Mosca Photo