Regular readers of WVRockscene will recognize the name Tucker Riggleman. Bassist for The Demon Beat -- and Prison Book Club in his spare time -- he's assembled a full stable of solid artists on Big Bullet Records, the DIY label he's been running for the past couple of years.

We caught up with Tucker to see what was up with everything…
WVRS:
How did the 4.24 V Club show go for you guys in
The Demon Beat
?
TR:
The show was a ton of fun and we had a great turnout. Huntington is consistently one of the very best places for The Demon Beat to play and this show was no exception.
WVRS:
Over the past few years, have there been any instances where you second guessed your decision to start your own label? Tough times?
TR:
Ha, it's funny you mention that. Right now I am finding it very hard to stay positive about things. My computer recently crashed, and it basically was the label. I feel like I'm behind on everything, but I'm really happy to see that things are still happening.
The Goddamn Hills
just finished a great record, and
Dandelion Snow
is about to put out an amazing album as well that has international press lined up for it.
Not to mention that both
Prison Book Club
and The Demon Beat are making new albums in the next few months. I guess it's inspiring to see that what started as me procrastinating from finals back when I was still in school has grown into something bigger than just me. It's a close-knit group of amazingly talented people that write, record, and press great albums, and then they go out there and play some great shows.
WVRS:
BBR has had more than a few great releases in the past few months;
The Dreadful Horoscope
,
BLACK FAG!
, and Prison Book Club back in October, how satisfied are you with what BBR has been putting out recently?
TR:
I am very satisfied with what we've all been able to do. The PBC and BF! records were completely in house, but it's still awesome to see Jake and his crew doing things out in Morgantown that we can get behind too. It's the same way we feel when
Greg Loftus
or
Stephen MacDonald
& The Okay Win, or Dandelion Snow does something great. It's really grown into an upper East Coast type of a family and we're proud of all of it.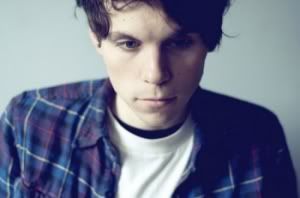 WVRS:
Dandelion Snow will be releasing his new CD June 1st, produced by Chris #2 from
Anti-Flag
; how stoked are you about that, and what are your thoughts about Harvey's music?
TR:
I am insanely stoked about that record. It's called
"The Grand Scheme Of Things"
and it's been done for a little while now, we've just been keeping it under wraps until everything was completely lined up. Roger used to be in a bigger punk band called
The Code
from Pittsburgh, and they were best buds with Anti-Flag.
It's so cool that Chris and those guys continue to support what Roger's doing. As far as the label goes, it's obviously great to have our name affiliated with something involving guys of that stature, I mean that band is huge to a lot of people across the entire world.
As for Roger's music, I think Roger is an amazing songwriter. He played with The Demon Beat in NYC last year and we both ended up really enjoying each other's music. I feel like the market gets pretty flooded with folk singer-songwriter types and it's rare to have one standout as much as I feel Roger does. There is something completely genuine about his music, plus he's just an all around great guy.
WVRS:
Then there are other BBR artists like Greg Loftus,
Roma Renegade
and
Cait O' Shea
, anything notable to look for out of them (shows, releases) for the rest of 2010?
TR:
Cait O'Shea actually just finished up tracking a new album with Adam and they both seem pretty excited about it. Roma Renegade released their new record in early February, and Greg has been laying low for a bit and doing some writing. Hopefully he'll have a new album's worth of material real soon too.
WVRS:
You had the Terminal Ballistics compilation, which showcased BBR artists, how cool was it to get that out, and will you follow that up with more comps?
TR:
It felt great to get that thing out there. It was one of my initial goals when I started up the label, and it took a lot longer than I had anticipated to get out, but I feel good about the overall result. Our Valentine's Day comp that we offered up in February is even better in my opinion, and really showcases what everyone involved is capable of doing musically. My favorite thing about these comps is that they're not greatest hits; they're rare songs, covers, or B-sides that you can't get anywhere else, plus they're 100% free. And yeah, there are definitely plans for many more comps in the future.
WVRS:
You've got some favorable press for BBR, how cool is that?
TR:
It's pretty cool I suppose because it's giving all of the artists some extra attention. Anything to help out those folks that are out there making good records and touring their asses off is pretty awesome.
WVRS:
What are your personal relationships like with the BBR artists; is there any difficulty balancing a personal friendship with a potentially professional relationship?
TR:
Haha, well there's not too much of a "professional" vibe with anything we do. We only work with our friends who are doing music that we believe in. Who wants to make records and tour with people they don't like?
WVRS:
Talking to fellow musicians and/or people in the industry, when they talk to you candidly what are some of their worries about getting their music out, the state of the music industry, or indie labels in general?
TR:
Everyone seems to be worried about the economy and all of that, but I'm a firm believer that art and music can wade through that shit. When times are hard people want to go out and hear music that makes them feel better, or get drunk and hear songs about how much things suck, but they eventually get better. It's a therapeutic type of thing, and I think that worrying about it isn't going to solve anything.
WVRS:
Are you going to be doing any solo shows in the near future?
TR:
Right now I've got May 15th lined up at The Blue Moon Saloon in Shepherdstown, but that's it for right now. I'm going to be really busy as we begin recording the new Prison Book Club record this month, then The Demon Beat album this summer. Also, whenever I find time in between I'm going to be recording a full-length album of solo material; mainly older stuff that I never got a chance to properly record. It will be pretty sparse and mainly just acoustic stuff, but these are songs that have meant a lot to me over the years and I've never given them a proper recording, so I'm looking forward to that.
WVRS:
You've been handling BBR for more than two years now, how would you compare how you handle it now, versus when you started your own label; lessons learned or horror stories?
TR:
I guess the biggest difference is that back then I didn't really know anything at all and now I might know just a little bit about what's going on. I still have no clue how to properly do any of this stuff, but at least I feel like we've gotten some good folks on our side who help spread the word about what we're doing, and if that helps our folks sell a few more records or get a few more people out to shows then it's all worth it.
As far as lessons learned, I would say be wary of outside "agencies" or "online distribution" sites that seem shady or gimmicky. Make good music, put out good records, play good shows, and the rest should fall in place. You don't need to pay someone else to do that for you, at least that's how I feel about it.
--- Related:
Tucker Riggleman Q&A w/WVRockscene Pt.
one
&
two
;
H-D article
on The Demon Beat
--- photo:
Brian Scott