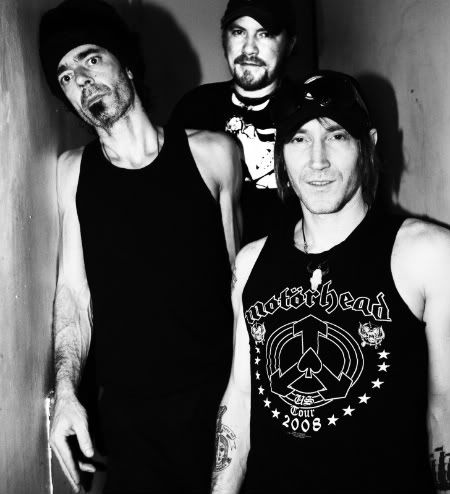 Legendary Morgantown instrumental stoner rock trio Karma To Burn (L-R: Rob Oswald, Will Mecum, Rich Mullins) returns to West Virginia with "Appalachian Incantation"
Reposted from
the Huntington Herald-Dispatch
You could say that before
Karma To Burn
could reunite, one or more members had to get reformed.
Morgantown's legendary instrumental stoner rock trio, together since the mid-90's, abruptly disbanded in 2002 when bassist Rich Mullins admittedly allowed a heroin addiction to take over his life.
Now, Karma To Burn (Will Mecum: guitar; Mullins; Rob Oswald: drums) has been back together for over a year, and returns to West Virginia this weekend with "Appalachian Incantation," its first CD in eight years and first on the Austrian-based metal label Napalm Records.
Before KTB could reunite, it took a difficult phone call between Mullins and guitarist Will Mecum to straighten everything out.
"Talking to Will for the first time on the phone was totally nerve-racking," Mullins admitted over the phone. "When you're with someone every day for nine years, and then seven years go by, it's really crazy."
Mecum said Karma To Burn's indefinite hiatus was for the best.
"It was something that had to be done," he said over the phone from Los Angeles, where Mullins and drummer Rob Oswald live. "There were a lot of personal problems within the band; chemical dependencies, things like that. If we'd have kept going the way we were going, I guarantee that one of us, if not all of us would not be here."
As painful as clearing the air might have been for him, Mullins agreed.
"You can't change the past. But looking back on it, I realize I'd be dead right now."
"All of us got our act straightened out and we definitely have a lot more clarity with what's going on right now," Mecum added.
Despite all the time off, Mecum said the band is stronger and more popular than ever, and admitted to a bit of bewilderment to KTB's increased popularity, domestically and overseas.
"We're received better now than we were back then," he said. "I don't know if it took time for people to catch up or what. The tours that we've done and the attention that we've been getting is tenfold what it used to be. I don't understand it, but I'm goin' with the flow."
"It all goes back to my theory of either your band has to break up or someone has to die in order for your band to get somewhat popular."
KTB and friend Daniel Davies, front man for the L.A.-based band
Year Long Disaster
, have had a kind of cosmic convergence of late; not only did Davies (son of Kinks guitarist Dave Davies) join KTB on vocals for a song on the new CD, Mecum and Oswald join Mullins in the current YLD lineup.
Mullins said that KTB is looking forward to recording even more with Davies.
"Doesn't it seem weird that we'd get back together with a singer?" he asked rhetorically. "It's really special because they're all my friends," he added. "It's great to be able to combine it all, and there's a lot of talent when you put the four of us together. I don't see any limits to what the four of us can do."
In addition to the collaboration with Davies, KTB recruited Kyuss singer John Garcia to sing on the new record. Mecum said KTB likes the change of pace working with a singer.
"Most of the instrumental stuff, when we write it, it's four bars of this, four bars of that, then the bridge. It goes by really quick because you have to keep people's attention."
"With the vocals, you can actually play a verse, a chorus, maybe several times, and you need to for the vocals to breathe. That style is a little bit different, as opposed to kind of constantly punching people in the face with riffs. You have to let parts of the song breathe and let the vocals take over. I think it worked out really well."
The synthesized KTB and YLD lineups recently enjoyed a tour of Europe, where KTB is much loved, and geopolitical calamities followed the bands.
Mecum said Karma To Burn got to spend an unexpected extra night at the Roadburn Festival in Holland.
"We turned volcano friendly because there was a bunch of flights cancelled due to the volcano eruption, and the dust clouds over Europe. So they asked us to stay, and we got another show out of it."
The European tour wrapped up nicely in bankrupt Greece. "I hate to use the cliche 'We're big in Europe,' but we go where people want us to be," Mecum said laughing. "It was one of the best tours I've ever been on."
Where local fans of KTB want them to be is back in West Virginia, with the new CD. Mecum said the band wouldn't be what it is today without the local support, and are looking forward to playing the V Club Friday night.
"As far as letting people know that we're from West Virginia, we've made it a point to do that. And as far as the Huntington scene goes, we wouldn't be what we are today without it. We actually got bigger down in Huntington in the 90's than we did in our hometown. We did well in Morgantown, but we'd go down to Huntington and have huge shows. We wouldn't be where we're at today without breaking into that scene and having those people behind us."
"The three towns, Morgantown, Charleston and Huntington, they all rallied behind us, and it will never be forgotten. Not a lot of bands get a second chance like we do, and it's much appreciated."