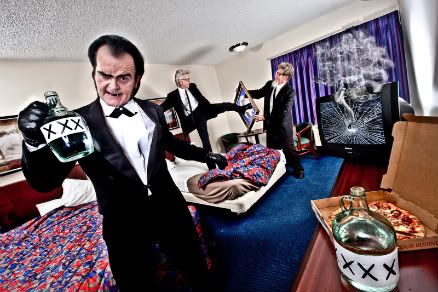 Unknown Hinson
, Bubba Bruce and Tiny Kohrs return to the V Club Saturday night, with or without the party liquor. Reposted from
The Huntington Herald-Dispatch
"Have I met you before?"

The voice on the phone, with its thick Southern drawl, was instantly recognizable; the self-proclaimed "King of the Country Western Troubadours" thought he recognized my name for some unknown reason.
I wasn't sure if it was good or bad that we'd never met, still, I was talking to Unknown Hinson.
Talking to Hinson at 2 p.m. on a weekday afternoon from his home office outside of Charlotte, North Carolina is nothing like hearing Early Cuyler, the wild redneck squid he plays on
The Squidbillies
, or the delightfully trashy, over-the-top dark parody Hinson character he (Stuart Daniel Baker) has cultivated since 1993.
He probably hadn't even touched any party liquor.
No, for Hinson, quite graciously granting, politely and professionally doing interviews is all part of the very serious business he's in; writing self-anointed "chart-toppin' hits," making his own version of honky-tonk psychobilly, recording records and touring.
He returns to Huntington for a show at the V Club Saturday night.
There's not much to write about Hinson that hasn't been covered already; his father was listed as "Unknown" at birth, working as a carnival barker, he was framed for murder and did 30 years in the pen.
"I was in solitary a good bit of that time. So I had a lotta solitude. And I think every writer needs solitude; if they're gonna write a book or a song, they gotta be able to concentrate. But I ain't bitter about it, ya know. It's a big chunk of your life, but I feel like I'm makin' up for lost time pretty good."
He's achieved cult celebrity status, making fans ranging from Marty Stuart to Hank III. He's as famous for his appearance as he is for his musicianship, stage presence, and hilarity. Ventriloquist? Yes. Vampire? Not so much.
"The vampire thing, yeah I like to kina dance around that, 'cause, it's not something I try to cultivate."
He's known to carry a little snub-nose revolver, but,
"not for any ill intent,"
he said.
"I like to fire it from time to time; it's kind of a stress reliever. Some people like to jog or whatever ya call it, some people like to work out, I just like to fire my gun, it relaxes me. I don't ever shoot at nothing or nobody."

And, despite what you see in the motel pic above, Hinson says bassist "Tiny" Kohrs and drummer "Bubba" Bruce aren't all that rowdy on the road. Really.
"They kinda tame, really. I do enough hell raisin' for all three of us."
One bit of a scoop for Hinson fans is that he's working on a new CD that should be out "hopefully by late summer."
All you really need to do to get Hinson off on one his famous tangents is to mention the state of Country music these days, and his place in it as "Kang" of the Country Western Troubadours.
"I like to think I play real Country Western music. What you hear on the radio nowadays, mainstream Country, I mean, that ain't Country Western by a long shot. All that is, is formulated, fabricated, cookie-cutter kind of stuff. I can't really tell one artist apart from the other one, I mean, whether it's a man or a womern, I can't tell. I mean, it sounds like every other record you hear on the radio, in a convenience store or gas station."

"All I see's a bunch of pretty boys in cowboy hats and tight jeans and thousand dollar cowboy boots, wearin' a little ol' Mack-Donald's microphone around they chin, and dancin' around a stage. I mean, to me, that ain't Country Western music. That's a Ice Capades mess."
What if someone else started calling themselves the king?
"It wouldn't bother me, because number one, I know they'd be a liar and a fake. I'd probably just laugh at it."
Known as a romantic, Hinson said that no husbands need worry about bringing their wives to the show Saturday night.
"I never had no trouble, and I ain't lookin' to have no trouble. Womerns, you know, they come out and they swoon and all, and that's good. But the man, they the ones that take 'em home, not me, so they the ones that get lucky."
But ladies, Hinson said he's not married.
"I don't see nobody serious or nothing. I got to keep movin' ya know."

One thing that sets Hinson apart from other famous musicians is his propensity to stay after every show to meet his fans.
"Without my fans, I wouldn't have a job, so by all means, they come first. That's why after every show, I stay there to the last person. If they think enough of me to want me to sign an autograph or take a picture, I'll be glad to stay. They're what it's all about."

Hinson though, despite the carefully constructed and cultivated persona, is a lot like the normal musicians you see and hear all the time, hoping to touch listeners through music.
"I think a Country Western troubadour is somebody who's got to sing from the heart about a real life mess they've lived through."
And all that time in solitary may have helped not only him, but his fans too.
"I think that's what being an artist is; if you can't make this mess easier for yourself, you have to do it for other people, and hopefully they see things your way. And when they do, it makes it all worthwhile."
If you go:
What:
Unknown Hinson with
Buckstone
and The Barkoloungers
Where:
The V Club, 741 6th Avenue, Huntington (304)-781-0680
When:
Saturday, May 1, 10 p.m.
Cost:
$12 advance, $15 DOS
photo:
Aeryk Pierson