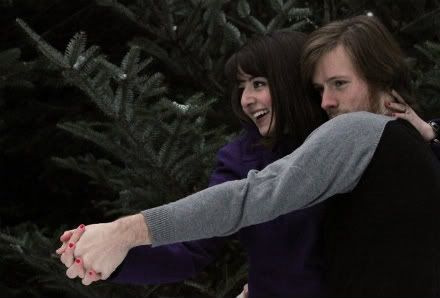 Liz Toler and Dwight Pavlovic, set to be wed in October, will share their love of art Friday at The Blue Moose Café in Morgantown, followed by music from Toler's band Bonfire
Readers of the blog here may remember
our recent chat
with the Morgantown-based "cupcakewave" band
Bonfire
. In addition to getting some recording done recently, Bonfire is set to play a pretty cool art show in Morgantown Friday at
The Blue Moose Café
.
It is an extra special show for Bonfire drummer Liz Toler, as she and her fiancé Dwight Pavlovic will unveil some previously unseen collages at the opening reception of Tiny Scissors, starting at 6:30, followed by a Bonfire set starting at 8 p.m. We caught up with Pavlovic over email to see how art and music collide…
WVRS:
How did the idea to have a split art/music show come about? How welcoming of an atmosphere does the Blue Moose Café offer for this kind of event?
Dwight Pavlovic:
Having the band play wasn't actually our idea. The suggestion came from Eli Pollard, who helped us organize the show. I told Liz and everyone thought it was a great idea. It surprised me to think that it's not a more common occurrence in town – I know that most cities with active art or music scenes pretty commonly make the connection, which only makes the prospect more exciting for us. The Blue Moose is definitely the most relaxed venue for artists and music in town and given the high traffic, it's a great place to imagine having your work displayed.
"Engaging Christ" by Dwight Pavlovic

rockscene:
You put together a mixtape for 40 oz. Clothing, and Liz designed the cover. Putting together this Tiny Scissors show, what, in your mind is the nexus of your art and music? Whether it's the mixtape, what you do with/for
Crash Symbols
, Liz designing flyers/art, or Bonfire playing the show?
Pavlovic:
I think for both of us the nexus of our work is in those sorts of creative intersection. I've had a lifelong interest in media and culture, so the idea of making all of our activities communicate in some way is very meaningful to me. We made and hung the flyer for the show together, and both of us regularly collaborate on a variety of activities – I recently released a cassette that she designed packaging for and we're preparing to collaborate on some t-shirt design commissions.

"The Angry Prow" by Dwight Pavlovic
 
rockscene:
In your artist statement on
the Tiny Scissors Facebook description
it says you and Liz make your collages from the same supplies, but they end up obviously different. How cool is it to be able to share that kind of creative experience with your fiancé?
Pavlovic:
Unbelievably cool, naturally. It's one of our favorite things to do when we both have the time and energy and it's ended up being a serious part of our extraneous projects. I think it's great for both of us to be able to collaborate creatively and influence each other's development as artists.

"Seedy Gold" by Liz Toler

rockscene:
Couples are known to sometimes squabble; has there ever been a time where either of you gave thumbs down to the other's art project or are you just wholly supportive of each other?
Pavlovic:
Wholly supportive. It's made easier by similarities in our taste, but that kind of squabbling – in my mind at least – defeats the whole purpose of the activity. Although we try to give each other input, when we collage together, we aren't necessarily there to critique each other. We both have favorite pieces by the other, but I'm not trying to make Liz's collages more like mine and she's not trying to make mine more like hers.

"Party Dress" by Liz Toler
 
rockscene:
Are these collages of yours posted on your Facebook page going to be featured? Are you trying to sell your art or just show it?
Pavlovic:
Some will be, but we've done a lot of new work that hasn't been shown anywhere yet, Facebook or otherwise. All of the pieces will be for sale, at as-of-yet undetermined prices, so God willing we'll be able to sell a few!
"Big Tongue Candy Mountain" by Liz Toler

rockscene:
Featuring/showing your art in public must be just as personal as playing a song, is this Tiny Scissors show even more personal since you and Liz are an item?
Pavlovic:
I think it might seem more personal if Liz and I collaborating struck me as more of an admission to be made, than as an advantage. It's a point of pride. How many people can exhibit artwork with their fiancé? I'm incredibly proud of all the pieces we've framed for the event, hers and mine… so it's personal in the sense that people are getting to see things we've made in private, but we're just excited to get some new feedback.

"Tiny Scissors" show flyer by Toler/Pavlovic

Tiny Scissors starts at 6:30 p.m. Friday, January 28 at The Blue Moose Cafe (248 Walnut St.) in Morgantown. Admission is free. Free coffee will be served, along with beer and snacks. For more information call the Blue Moose at (304) 292-8999