As part of our "Cassette Days" series,
Todd Burge
talked with us about his time in the Morgantown-area band
63 Eyes
. Pictured below are some tapes Burge has managed to hold on to, with brief descriptions from Todd.
Hear our mp3 interview with Burge at bottom...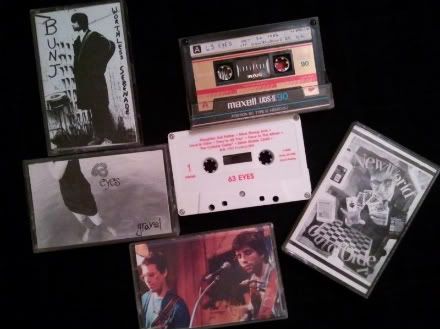 (Clockwise from top left)
Bunj
-- "Worthless Serenade"
This was a cassette only release post-Larries, pre-63 Eyes. Landed me a recording contract that took me places...places like, nowhere and then back...ha
63 Eyes
first Underground Railroad show Oct 30, 1986. Recorded from the sound board.
Todd Burge
-- "New World Out of Order" (1991)
My second solo release, on cassette only. This was a recording of tunes written around the time of the first Gulf war, thus, the play on Bush's "New World Order"
Perry Kirk, drummer for 63 Eyes at the time, did the cool cover photo. It isn't a double exposure and of course, not photoshop; he stapled stuff on plexi-glass
Owen Davis and Todd Burge
-- "Live at Maxwell's Morgantown" (1992)
Owen Davis is my musical hero.
63 Eyes
-- "Gravel" (1993?)
A cassette only release, recorded at the recording workshop in Chillicothe on the same board used on John Lennon's "Double Fantasy." That didn't make the recording any better, but it is a cool thought to me. Might release this one next year.
(Center)
63 Eyes
self-titled cassette (1996, I'm thinking??)
Various songs from unreleased and compilation recordings.
mp3:
"Cassette Days" 63 Eyes interview with Todd Burge
Powered by Podbean.com
--- Related:
Charleston Gazette article
on Todd Burge, and
our review
of Todd Burge & The Odd Urges' CD Distraction Packed
See also:
Greetings (From the Inner Self)
--
Justin Johnson kicks off "Cassette Days"
--- bumper music:
Billy Matheny & the Frustrations