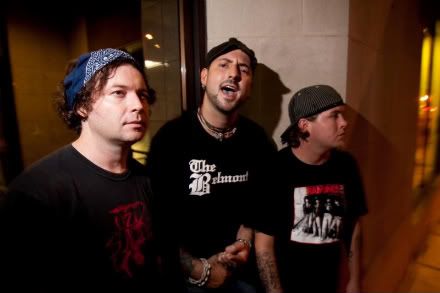 Huntington's Black Knots (L-R: Greg Gatlin, Jerry Lee Queen, Jason Church) return to action this Saturday night at Shamrock's Irish Pub
Reposted from The Huntington Herald-Dispatch

HUNTINGTON --
Anyone who's ever interviewed
Black Knots
singer and bassist Jerry Lee Queen knows that you'd better be recording it. Don't even try to dictate his responses; even the most seasoned reporter would have difficulty keeping up.
Queen talks about his band in about the same fashion as they play: a mile a minute with, to borrow a phrase, undisputed attitude. Answers to individual questions turn into short stories about the Knots, and long-winded rants and/or diatribes about the state of rock and roll these days.
It's Queen's own integrity and love for rock 'n' roll that has kept the Huntington-based Knots together since 2001. The group will play at 9 p.m. Saturday, Sept. 11, at Shamrock's Pub, 2050 3rd Ave., Huntington.
Despite a few lineup changes, Queen and guitarist Greg Gatlin have formed the nucleus of the Knots for the past six years, releasing "Hellbent To Kick It Out" in 2007 and "Guitarmageddon" last year.
Now, the band, influenced by the likes of Danko Jones, Zeke, and Turbonegro, has downsized into a three-piece.
But, the Knots are still sitting on their third record, "None More Fresh," waiting on a good time to release that, and are working on a fourth full-length in their spare time.
Queen described the Knots redefining themselves as a three-piece.
"Greg and I, we made a decision after losing (Captain) D and then Bobby (Balboa). We're changing the general idea of the Knots into a three-piece. So there's no more worry or trust issues that reflect badly on me and Greg.
"We've always written songs planning on there being two guitars. Then, when you start breaking that down, there's nothing more asinine than writing and recording something you can't play live. It hurts to watch. Rock and roll live is what it's supposed to be all about.
"Now, instead of writing songs assuming there's going to be a rhythm guitarist, we just write knowing we don't have to count on one being there. So there's not a chance on things being hollow."
The longtime Knots fans are still there, too, Queen said.
"As a three-piece, we're getting a lot of love lately. People are like, 'You're still going?' But it's like that because we have such a solid base."
Jason Church, the Knots' new drummer, has been a breath of fresh air, Queen said.
"Our new drummer is killin', he's someone who really seems to want to put the work in.
"(Captain) D played with us for about six years, so someone new coming into a band with a catalog and on a label, it can be intimidating. But Church kills, he's awesome."
Queen said having their own label, Oil River, has always been an asset for the Knots, despite any lineup changes.
"The big thing with us, the thing that has kept us going is, we're completely self-sufficient. We don't have to pay to record, why? Because we own our own gear."
And Queen said rehearsal space isn't a problem, either.
"We practice at Knuckles Sandwich, downtown. Since I own the restaurant, after all the businesses let out, we just move some chairs, set up and jam. It's great."
And as for the Knots' sound, what once was old is new again.
"The whole metal indie thing cracks me up. For the longest time we caught a lot of crap about having tappin' and big leads and double harmonizing stuff. So now it's like 'Dio's cool again? It was always cool to us, whatever.'"
The Knots are well into their fourth album, Queen said, having fun rocking out.
"Right now, we're having a whole lot of fun, the new guy is super stoked. It's just been fun like it hasn't been for a long time.
"People have counted us out for so long, they're like 'Oh, the Knots will never die,' but it's what me and Greg love to do. At the end of the day, if you ain't smilin', you ain't rockin'.
"We never tried to be something we're not; we write party anthems and play songs about having a good time because that's what we're about, you know?"
And it's his friendship and working relationship with Gatlin that has helped make the Knots what they are, Queen said.
"Greg is my brother. He means the world to me. We play, we work; we take it very, very seriously. Realistically, I'm in my favorite band. I put "Hellbent To Kick It Out" in the other day and was like, 'God this album rocks.'
"This is my world. This is my band. I'm 29-years old. I'm at peace. Good rock and roll, it never gets old."
--- photo:
Most Exalted
If you go:
WHAT:
Black Knots,
The Demon Beat
,
Pat Pat
WHEN:
9 p.m., Saturday, September 11
WHERE:
Shamrock's Irish Pub
, 2050 3rd Avenue, Huntington 304-523-5825
HOW MUCH:
$5
ONLINE:
www.myspace.com/blackknots, www.myspace.com/thedemonbeat, www.myspace.com/patpatwv