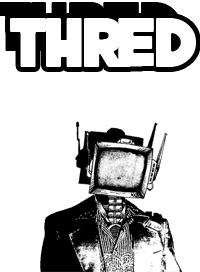 Our good friends in Morgantown funk act
Thred
have just recorded five new tunes, and have presented their fans with a bit of a contest. You can pick between any of five options as to how the band gets their tunes to yer ears. We came across this fun sounding MySpace bulletin from the band and thought we'd repost to raise awareness.
"So, we're finished recording five new songs. Our big question to everyone is, what's the best way to get them to you? Here's some options we're considering.

1. $5 five song EP.
2. Digital Downloads (.99 a piece)
C. Sit on 'em until a full album can be completed.
4. Only sell them at shows, still put a couple on a full-length.
5. Burn them, if I can't have them, NO ONE CAN!

In our personal opinion, this stuff is the best stuff we've done, and we want to get it out to you guys ASAP, so let us know what you think would work best."
Holler at the band and check out some tunes on their site. If you want, comment here about how you yourself might be more likely to get tunes these days. Whatever. Thred rocks from what we've heard.