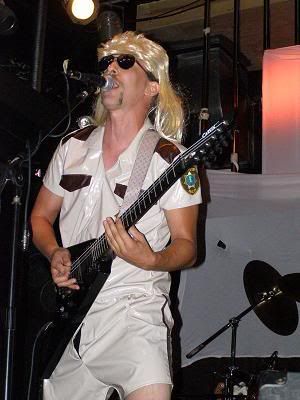 Catch the sensation
that is literally sweeping the nation!
The Burt Reynolds Death Metal Experiment
!
When we first came across TBRDME we could hear (and see) first hand how insanity and genius go hand in hand in the form of Michael "Skip" Cromer.
Look at how he dresses (that's him @ Adamfest '07), and to hear the stories of his hijinks with
Byzantine
, you'd think he's lost his damn mind.
Maybe you're right.
But after being given "The Definitive Collection Vol. II" by Rod from
Caustic Eye
, we knew we had a confirmed case of rock stardom.
You will rock with
"Envy"
and you'll laugh with
"A Pirate's Life For Me"
and
"Teenage Love Ballad"
and on other songs, you'll just be confused and/or bewildered. But be prepared to hear the prototypical, quintessential rock star! Oh, the band? They got killed off and now Skip uses an mp3 player live, and makes all the music himself.
From what we've read on his blogs and in his super-awesome new fan club (click banner below made by Rod) there is a new release, "Outdated Format" on the way, including TBRDME on 8-track, vinyl, and cassette, plus a TBRDME action figure and video game! If there's not a documentary in the works, then something is wrong with the world.
You want to rock with Burt right now? Listen to
"Finding Emo"
on the Caustic Eye profile. TBRDME should be six letters you remember. We think you'll agree that "he is one of a kind" after hearing his stuff...and if you don't agree, you may get slapped by Burt himself!