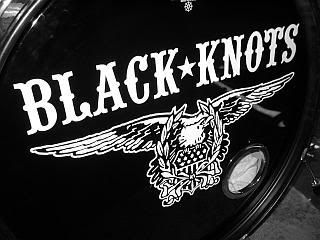 Huntington's Black Knots recently went into seclusion
to work on new material for a new CD. Set for summer, the CD will followup the Knots' "Hell Bent to Kick It Out" and will be the first with new guitarist Bobby "Balboa" -- you know who he is, he's not fooling us! We just saw him out with Guy Parker the other weekend. As far as new Knots songs, they're working them into their live set, according to Captain D, their drummer. Check out cool pics of the Knots in seclusion at their Myspace profile...
So, to recap:
New Black Knots CD, songs, pics and shows...