You don't have to paste pics of yer favorite one-man band together to have yer pics posted on
Andy
&
Brian Pickens
' Morgantown music group on flikr...
If you're out and about up Magic Town way, catching any number of cool acts, like, say
The Hackensaw Boys
tonite at
123 Pleasant Street
, and you happen to have a camera, you too can be there to document the event by snapping band pics for the
Morgantown music flikr group
.
Like Brian, you may be able to snap a cool pic of
Staggering Cardoons
frontman Chris Herrington (with beer) at their recent CD release show:
Like Andy, who's taken tons of awesome pics, you may catch
Lake & Ocean
(below) out, and catch 'em with all these cool, blurred lighting effects: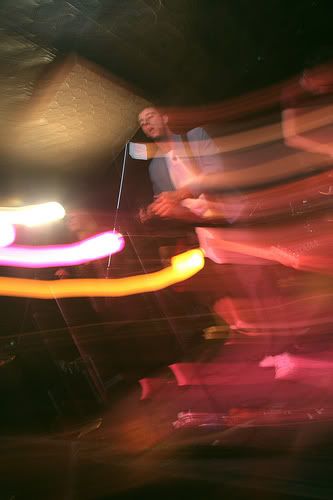 But it's not just Andy and Brian out there at the show; there are more than a few contributors to the Magic Town music flikr group. If you want to be part of the scene and submit pics to the group, these dudes are super cool and now there's a rockin' place to post & host 'em.
Marinelli panorama:
Andy Pickens