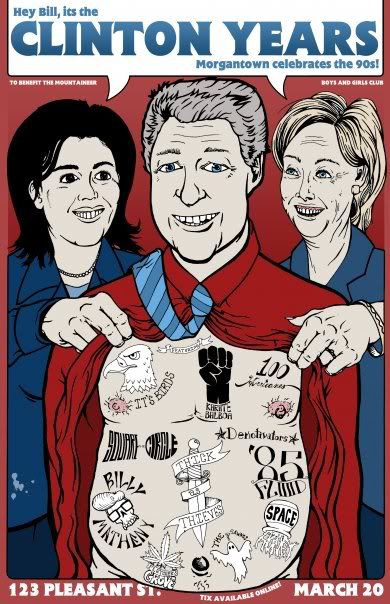 This Saturday night a who's who of Magic Town luminaries will come together at 123 Pleasant Street to relive the glorious nineties, playing some of their favorite songs to help raise money for the Mountaineer Boys & Girls Club.
'85 Flood
frontman Aaron Hawley, engineer of so many benefit shows up there, told us what he thinks about this one…
We're really excited for the show, for a wide variety of reasons! '85 Flood will be covering a couple tunes that had a big impact on me back in the halcyon days of the mid-nineties, so that'll be fun.
I don't really want to reveal too much about who's playing what, but I do know there's going to be a large and diverse cross-section of 90's music represented. From really innovative, underground rock like
Dinosaur Jr.
to cheesy ball country artists like Garth Brooks, to MTV buzz clips the whole gamut will be presented. It's going to be a blast!
It's a great opportunity to support the Mountaineer Boys & Girls Club. I worked for the MBGC for about five years when I moved back to Morgantown and it had a profound influence on me. It was an eye-opening experience that really taught me to appreciate what I have in life and made me realize how important it is to offer support to those who don't. Some of the kids at the Boys & Girls Club are some of the most entertaining, engaging and inspiring people I've ever met, regardless of age.
From a show standpoint, I love the big tribute nights since they serve as a sort of 'State of the Scene' by getting a lot of bands together for one night only. This year we're playing with a lot of band's we've played shows with in the past and a lot of bands who we haven't. I'm particularly excited to see what
Fletcher's Grove
and
Square the Circle
have in store. They're a couple of bands who haven't had the easiest time cracking into the Pleasant Street scene, so I'm excited to have them get up in front of a full house and do their thing.
Also on the bill is a band called The Sawngs who will be making their debut at the show. The band has
Mikey Iafrate from the Priesthood
, Walt Sarkees from
the Morgantown Rounders
, Chris Russell from
the Argument
and Aaron Crothers from
the Emergency
, so it's a pretty all-star lineup to begin with, and I know they'll deliver the goods.
I'm also pumped about Karate Balboa. It's another All-Star group featuring Joe White from
8-Bitz
, Ryan and Jeff from
Descension Rate
and Kevin Post from the Emergency. For 80's night they came out and did three songs featured in 80's movie montage scenes, hence the name Karate (as in Kid) Balboa (as in Rocky). For this show they're doing three more songs that are thematically-linked, though I don't want to spoil the surprise.
And as for that sick flyer, it was done by Brian Pickens, of course.