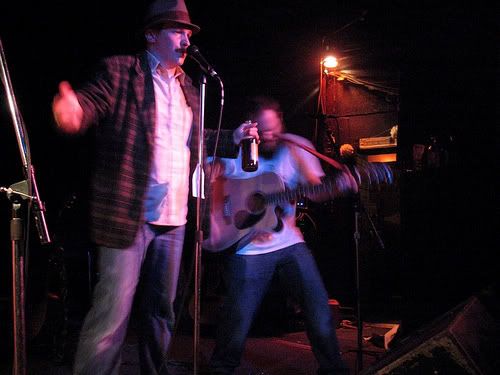 Our good friend Brian Pickens snapped this pic of
Staggering Cardoons
frontman Chris Herrington and Erik Rieder at 123 Pleasant Street Thursday night, as the Cardoons released their debut CD
Thundermug
. We're still looking forward to hearing the CD, which the Cardoons got just in time for the show.
If you recognize the name Brian Pickens from somewhere, maybe it's from his time in
Thred
, or, if you look up at the top of the blog here, at our WVRockscene banner, he made that for us. Yeah, nice.
Check out Pickens' pics of other notable Magic Town acts on
his flickr page
, see his pics of the Cardoons
here
, and, look for the Cardoons CD for us. They play McClafferty's Irish Pub in Morgantown on St. Patrick's Day; good deal.