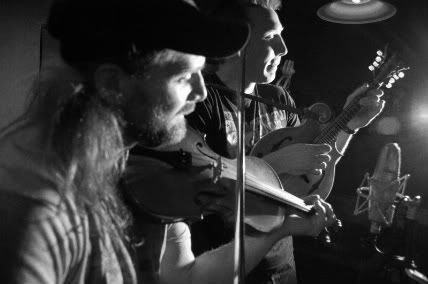 Fox Hunters
Ben Townsend, on the fiddle, and Matt Metz, on the uke, are illuminated by a fan's camera flash as they play to a capacity crowd at
the Blue Moon Cafe
last weekend.
The band has deep roots in Shepherdstown, from their days as the fondly remembered metal band
The Red Oranges
, known for their high-energy and musically intricate songs. A punk-metal energy continues to infuse their music, even as they tackle proto-bluegrass and American roots music with The Fox Hunt.
Their fans reflect this, and if one was to watch their shows from a distance, and with earplugs, it could easily be mistaken for an underground rock show. For evidence, I present
the following video
from last weekend's Fox Hunt show in Shepherdstown.
--- Michael Theis