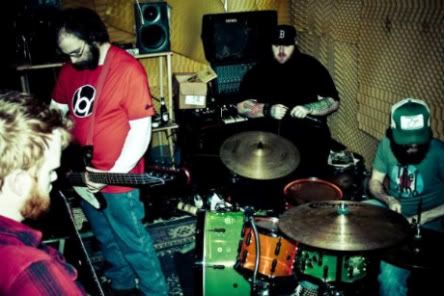 Together for just a few months, having played about a dozen shows, the Huntington-based doom band Wizards of Ghetto Mountain prepare to record their debut and play the V Club 1.29 with fellow Huntington rockers Satchell and Beast in the Field from Michigan.

We caught up with the band -- singer Chuk Fowlord (aka Tip Kissinger), guitarist Garrett Babb (aka Lindsey Slohan), bassist Luke Belville (aka Dr. William Weird) and drummer Bob Caution (aka Chong) -- to see where they are as a band and what is up in general...

WVRS: How long have you guys been together as a band?
Chuk Fowlord:
Oh man not long. I don't remember exactly, lol. When the Wizards of Ghetto Mountain started we were originally gonna call ourselves wizzzardhedd. Bobby asked myself to start a doom stoner band. I told him I was down. I suggested Luke Belville because of my work with him in Killbot, another doom band we were in called Thick Mistress, and my graveyard gypsy folk project Sister Scripture. We set out to find a guitarist. We had one practice with Travis Lemon. It was great. He's an awesome guitarist but, his job prevented him from joining on a full-time basis.
We then auditioned Garrett Babb from local punk rock band Beer for Blood. He fit like a glove and we asked him to join. We then auditioned a second guitarist, Bob Burrito. I was in a thrash crust band called
Warhel
with him. Our styles clashed so we told him we were going to find somebody else. I suggested Matthew Walters, former guitarist of the
Black Knots
. Garrett and Walters clicked and he was asked to join the band. Walters played a few shows with us but, it didn't work out…now we're gonna stick with just Garrett on guitar and record our debut album for Ulja Factory records outta Pittsburgh
Garrett Babb:
I'd have to say we've been together for a solid 4-5 months now. I was playing guitar in a small project with Bobby; a quirky, cartoonish punk sounding outfit and it was fun, but wasn't really heading in any solid direction. So, I run into Bob downtown one day and he asks if I would like to jam with Chuk and Luke and himself that following weekend to see what we could create. I agreed, showed up drunk, and started writing. Our first practice was a blast and we agreed to meet again the following week. Been doing it ever since.
Bob Caution:
Chuk and I had talked about doing this since February of last year, and finally found some players that were interested in jamming.
WVRS: How have your shows gone so far; how have you been received?
CF:
The shows have been amazing and the reception to the band has been great since our first show. Each show has gotten bigger and more people have been coming to check us out. We haven't even played 20 shows yet but, we have a three record deal, have shared the stage with national acts
Black Tusk
on Relapse Records,
Black Cobra
on Southern Lord,
Treasure Cat
, who has the guitarist from
Karma to Burn
, and we're playing Jan 29th with an awesome doom band,
Beast in the Field
. We were on the bill to play with
Weedeater
February 4th, but Dixie Collins blew his toe off cleaning his shotgun, so that's cancelled. I dunno man but, we seem to be doing great for an up and coming band.
GB:
Our shows have gone over pretty well. We haven't played 10 shows yet, but we're getting there. Some nights have been sloppy, but we are getting tighter and more into our niche as musicians performing as a sonic force. Our first show was excellent. We weren't really ready to play but we agreed to play for a friend's birthday bash. It was at
Shamrock's
here in Huntington with
Beyond All Hope
,
The Transmissions
, and my old punk band from college, Beer for Blood. Our set was recorded and it still gives me goosebumps when I hear it. I think to myself, 'Wow. This is exactly what I'm inspired to do with music right now in my life.'
I hope audiences like us. After our last show, an older fellow came up to me, I could tell he was a huge ZZ Top fan. You know how some people have that look? Anyway, he says to me after a firm handshake: "Man! Great set, brother! A lot of your guitar shit reminds me of Randy Rhoads!" That made my night. I bought the guy a shot.
BC:
Shows have all been stellar. We've already gotten to open up for a couple of national stoner rock acts, which has really been great. People seem to really dig us, we get a fair crowd at shows. Let's hope that continues!
WVRS:
How often do you guys get to rehearse?
CF:
Bob lives in St. Albans but he commutes to Huntington to jam with the Wizards. We practice at
Castle Brownskull
studios and I would like to thank Paul "the sex viper" Weaver for making sure we have a place to jam. He's been an asset to the scene here and in Charleston for years and is a great dude. We practice and get together to write every sabbath bloody sabbath. Hahaha. We just think it's the right day of the week to jam.
BC:
At the moment, we're rehearsing at Paul's house, (y'know from
the Dig-Its
), and so I drive up each weekend. Not so bad, I got a fuel efficient car!
WVRS: From the footage on your MySpace page, you guys sound hard and heavy; what bands have most influenced ghetto mountain?
CF:
Oh man
Black Sabbath
,
Witchfinder General
,
Sleep
,
Melvins
,
Saint Vitus
to name a few.
GB:
Kyuss
. Weedeater.
The Stooges
.
Tweak Bird
. Black Sabbath.
Luke Belville:
For me, personally, the influence comes from the progenitors of hard rock. You wouldn't have to try very hard to hear a lot of Geezer Butler, John Entwistle, or John Paul Jones in my style.
BC:
Well, definitely the harder-hitting classic stuff; Zep, The Who,
MC5
, The Stooges, and Black Sabbath of course. Also, stoner rock and sludge bands like Sleep, Boris, Weedeater, Nebula. Shit, Luke and myself like to throw some of our prog style in the breakdown parts of some tunes, and we dig Yes, King Crimson, Mahavishnu Orchestra. We've all got influential bands we draw from.
WVRS: When/where are you guys going to record?
CF:
We plan on recording a our first full length and having a 7-inch, CD package and a free downloadable EP. We are about to get into pre-production with
Bud Carroll
, who is producing our record this month at his studio.
BC:
Bud Carroll is supposed to produce. Our label rep Darrell set us up with him and we're stoked he's gonna be involved. We plan on having nine songs on the initial CD, three or so available for free download. Also, the release of a vinyl 7-inch is in the future as well.
WVRS: Have any of you guys seen or heard Satchell?
CF:
Yeah. Satchell rules. We've played with 'em. Mr. Jude is cool as cool can be. Great drummer and you just can't go wrong with a fat
Orange stack
. Satchell's tone kills.
GB:
We played with them once before and have a few shows coming up with them in the future. Super nice guys with amazing equipment and talent. VERY loud, just how we like it.
LB:
We played with them when Black Tusk and Black Cobra came into town. I felt like a swing band or something because the other bands only had one or two members and we had five at the time.
WVRS: Looks like the 2.4 Weedeater show was cancelled, what happened?
CF:
Dixie Collins was cleaning his favorite shotgun and blew his big toe off so the show got cancelled. I am soooooooooooooo bummed about not playing this show. So bummed.
WVRS: So you guys got on Ulja Factory records?
CF:
Yes we are. They are an up and coming indie label outta Pittsburgh. Label rep Darrell Workman is an old friend of mine. He got ahold of me on Facebook and told me he heard I was doing some music. I sent him the link to the "Sabbothiom's Ascent" video on YouTube and we went into negotiations with the label and eventually signed.
WVRS: If the Wizards had any hidden agenda in their lyrics, what might it be?
CF:
If there was an hidden agenda in the wizards lyrics it would be bringing Chuk Fowlord weed and hot chicken nuggets to every show. I really enjoy chicken nuggets and would appreciate them being brought to me at shows. Hahahahahaha.
BC:
Hahaha, what's the old adage about sex, drugs and rock-n-roll? Oh yeah, that's it. I dunno, I guess it's all about the fun. That's what music's always been about for me. I ain't in this business to make money. If I was, I'd have quit a long time ago.
GB:
We are the smoke chalice conquerors.
LB:
I'd like to think that the underlying philosophy of the Wizards is the elimination of worry and the elevation of the self through extremely loud sonic vibrations, but the lyrical content is more Chuk's call.
WVRS: How does being in the Wizards compare so far to previous bands you guys have been in?
CF:
Speaking for myself I have been in bands for the better part of 10 years. This band, these guys, are the coolest I have played with. There is a special magic going on and I have a feeling about this band that I have never felt in any other band I have been in. I really look forward to recording albums and touring the world with these guys. There's no central authority figure in the band; it's total freedom. We all write and contribute songs and song ideas. None of us is afraid to speak our minds. We have a great working relationship and these songs are amazing and seem to manifest themselves effortlessly.
LB:
Not much of a difference for me, except this band's instantly more productive.
BC:
I love each and every project I've been in. This is the first one that's been signed to a label, so that's a great goal to have achieved! The ride ain't over yet, ask me 10 years down the road!
--- The Wizards of Ghetto Mountain play The V Club in Huntington 1.29 with Beast in the Field and Satchell
--- Related:
Weedeater press release
on Dixie Collins shotgun accident
--- photo:
Vanessa Bragdon