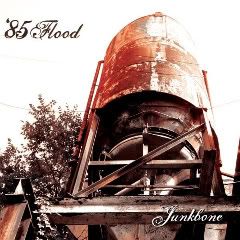 CD:
Junkbone
Artist:
'85 Flood
On their sophomore release
Junkbone
Morgantown's hi-octane lo-fi four-piece '85 Flood strings together 10 bluesy, danceable bar ballads on a more than solid follow-up to last year's
Toolshed Shangri-La
.
Where
Toolshed
had a few great songs,
Junkbone
highlights the progress the Flood has made in the songwriting and arranging department.
Opening with
"Florentine Memory"
and frontman Aaron Hawley's gravelly, raspy vocals and following with the uptempo rock standard
"Sex Drugs and Rock & Roll"
(written and sung by bassist Dusty Hays), then throwing down the slower, somber
"Living With Your Ghost,"
(with cool slide guitar & lead parts) '85 Flood, over the first three tracks, sets the stage for the entire CD.
"Slow Night In Stripperville"
is simultaneously a hilarious booty-shaking good time anthem, and a warning to any females who fear they may end up dancing for pervs dressed up as Santa, making it rain with dirty dollar bills. Seriously, it's one of the cooler songs on
Junkbone
.
"Coal Whistle Yell"
seems like a theme song not just for the Flood, but the state as a whole; at least anybody who's ever known anyone who has worked in the mines. The song is at once uptempo and depressing, written from the perspective of the cradle-to-grave coal mining family life.
Hawley sings, his voice perfectly fitting the hardscrabble subject of the song:
"Don't you see this ain't the life I chose?
You can say it's just me, I suppose
If you stay here and toe that line
Send me right back down into that mine
Every day -- of my whole life"
The beautiful memorial
"Some Things"
helps close out
Junkbone
before finishing with the anthemic sing-along
"Be Here Now,"
each examples of how the Flood has progressed in the year and a half since
Toolshed
; increased sharing of songwriting (and performing) duties, with killer guitar parts and touching lyrics about the sublime parts of life,
Junkbone
-- recorded at Mark Poole's Zone 8 Studios in Grantsville -- all-around is a good window into where this Morgantown staple is now.
Related:
Our chats with Hawley
here
and
here