10.15.2009
'85 Flood releases Junkbone tonight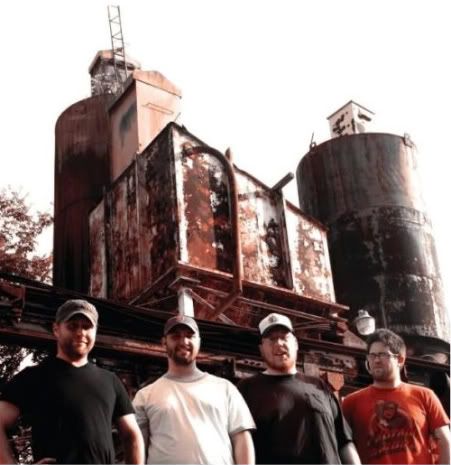 '85 Flood
releases Junkbone Friday night at
123 Pleasant St.
As his band prepares to release
Junkbone
Friday night at 123 Pleasant Street in Morgantown, '85 Flood's Aaron Hawley is straightforward about the Flood's sophomore release, and his band's progress since releasing
Toolshed Shangri-La
.
"Putting out Junkbone is just so exciting," Hawley said. "We can't wait for everyone to hear it because we think it's just so much stronger than the last record."
A staple of the Magic Town scene for a few years now, the Flood helped ring in the 2009 WVU school year at 123 recently with their friends in
The Greens
, with new tunes from
Junkbone
.
"Man, it was great. I mean, really really good. The best show we've had at 123 in a while. Big crowd, but more importantly, everyone was receptive to what we were doing and totally dialed in. People enjoyed our 'surprise cover' and Adam's new tune "Not Good Enough" just killed it. That one is rising to the top of the stack rapidly. Just a really great rock song."
Hawley noted the Flood's growth since
Toolshed
is readily apparent in all aspects, from songwriting to recording.
"When we did Toolshed, we'd been this acoustic band for about a year, and really quickly added electricity and drums, and Charlie [Meeks] left and [bassist] Dusty [Hays] signed on. We felt this need to go in and record really quickly so we could show people where were as a band. The majority of those songs had been written without any kind of band in mind, let alone the one we had become."
"Now, it just feels like the songs are more developed and we're a lot more comfortable as a band. One of the best things about this record is that I really think it sounds like us. The first one was the product of a weird transition, but Junkbone is really representative of where we are right now."
As '85 Flood has progressed, Hawley noted the increasingly shared songwriting duties between Hays, VanScoy, and himself.
"Sharing songwriting duties has been great, and being in a band with such strong musicians as Adam, Mike and Dusty is an enormous blessing. When we got going, I had this backlog of songs that we could whip together pretty quickly and suddenly have a record and a live set. Since then, we've shared duties pretty evenly and the new songs everybody's bringing to the table are all better than the last. I've always loved bands like The Grateful Dead and The Band and the Drive By Truckers where the lead vocal is passed around. I think it gives the band the opportunity to develop a more rounded personality as opposed to just what I might have to say."
The Flood recorded
Junkbone
where so many Morgantown bands seem to go, Mark Poole's Zone 8 studios.
"Mark is such a great guy, and an absolute treasure that Morgantown is very lucky to have. Playing in bands can put you in some uncomfortable situations sometimes, but with Mark everything is just so relaxed. He's got such a great ear and he wants you to sound your best and really tries to make that a reality. Honestly, I couldn't imagine recording anywhere else."
Hawley said he was also excited to have
the Sam Lamont Band
and
Clint Sutton's Slop Models
sharing the bill as openers.
"Sam is a great friend who has played with our band throughout all its incarnations. His group right now is so good, and in a way that we just don't compare to. Their playing is so relaxed and laid back while they deliver these great tunes and make you move. Ray Cook is Morgantown's most underrated guitar player and Sam's rhythm section are total pros. The final product is fantastic and we've been looking forward to having these guys on the bill for a long time."
"Slop Models haven't played out in over a year and we're honored to have them on this show. Clint Sutton is a phenomenal songwriter, and his self-titled record is probably the best local record to come out of Morgantown in the last five years…Mark Poole is taking over the second guitar for the Models, and it's exciting because of his involvement in making the record. Just having him play the show, even as a sideman, is a great thrill. Trey Curtis of Librarians and Big Ass Manatee holds down the drums, so it's really a group of A-List musicians."
Having grown up in Morgantown, Hawley said that the Flood's place in its music scene is special to him.
"Morgantown is a very special place. There are always great bands here. Adam and I are from Morgantown originally and I know we were both influenced by the fact that we could go see rock n' roll shows at a young age. The first time I ever set foot in 123 was back in the days of the Nyabinghi and I went to an all ages show that featured a band from my high school. That's an empowering thing to begin with, and then you add this influx of college kids who come in and bring their bands, it's a really great breeding ground for rock n' roll. Also, you factor in great institutions like 123, and U92 and Zone 8, and all of a sudden you have a great place to play music. Morgantown has so many great bands, it's a fun place to live and a great place to play music."