Despite the tanking economy, Brian Carr says business at
Pawnshop Skateboards
in Chesapeake is good these days. Carr, who owns and operates Pawnmax and its in-house skateboard operation, explained why over email.
"Oddly in this economic time business is really good! From the actual pawn shop store business is good when the economy is good and bad so it's definitely a win/win situation."
Carr, a skater himself, is old enough to remember when skate parks and shops were lacking in the area. "Parks here were non-existent in the 80's. They did have a really good vibe in Huntington with Iguana Skatepark and shop back then, but the Charleston area? Nada, Zilch!"
Over the past few months Pawnshop has been making inroads into helping invigorate the local skate community. From selling all sorts of cool boards and gear (like their own line of decks and the
Steve Caballero
re-issue we bought last summer) and having their own team to helping promote local music, the shop opened their 16,000 square-foot
skate park headquarters
across the street from the store last Saturday, and will hold a lock-in this Friday the 13th.
"…insert the Jason Voorhees chant here," Carr said.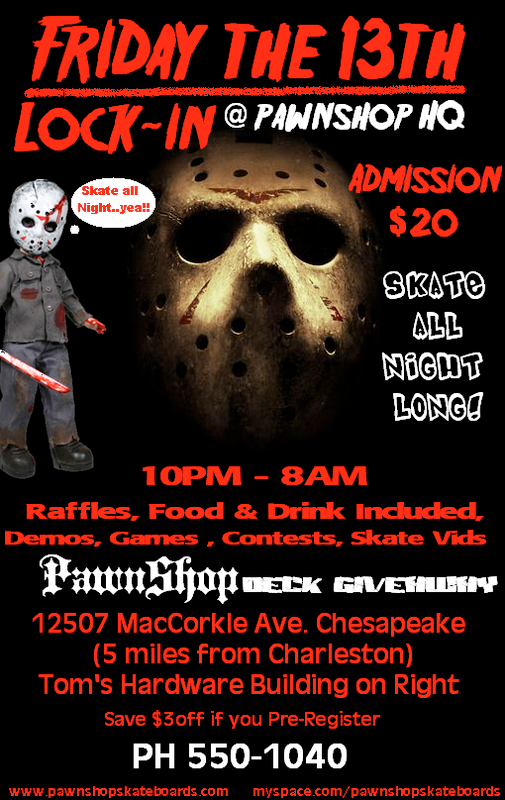 But seriously, folks, the Pawnshop skate park opened with a resounding success, with about 50 people showing up during the course of the day, for what Carr called "a fun experience."

The lock-in, with Carr keeping up the Friday the 13th horror theme, "…will be secured for the time of the lock-in (10 p.m. - 8 a.m.) and anyone under 18 cannot "escape" unless their parents come to get them. The lock-in is limited to 30-40 people and once that amount pre-pays or comes in, the doors will close. So pre-register early!"

We thought we used a lot of exclamation points, but we'll let Carr drop 'em because he's rightly excited about what he's done with the shop, and now the park. Fittingly enough for a pawnshop, Carr said he put the thing together for a good (read: low, low) price.

"I was on a skateboarding blog a couple of weeks ago and posted a response to a skate park thread. People were asking how much does it take to open one up. When I told them I have spent less than 7k my email box filled up. I was told by several that a building my size would easily command 75k+ to build a park. I am very savvy when it comes to figuring out ways to make things happen on a shoestring budget and this park was definitely one. Saving money by doing most of the work ourselves with the help of friends and the community really keeps the cost down. Bartering helps as well; getting free angle iron in exchange for posting company banners in the building was another example. It really came together nice and somewhat cheap."
So not only is Carr keeping skateboarding alive and well in West Virginia, he's bringing back the barter system; just in time for the collapse of our economy. Oh, and he also gave us a bit of a scoop about one more cool thing.

"We have created the biggest contest this state has ever seen and will be hosting it around April. It was going to be a secret until March but I will let the cat out of the bag. It will be called King Of The Hills. The only requirement is that you have to be a West Virginia resident. This is to put West Virginia on the skateboarding map. It will be featured in skateboarding magazines, it will have celebrity guest judges and a huge cash and prize purse for the winners."

And all humor aside, for people in our age bracket, it's great to see Carr and Pawnshop doing what they're doing.

"Oh man that's what this is all about. Giving these young kids what we didn't have. Times are different now; we're on the scene and have firm control of the wheel. 2009 should be a wild ride."
--- For lock-in or contact info for Pawnshop, see above flyer