Billy Matheny
didn't want to see the Mountain People's Market Co-Op in Morgantown close, so he and his rocker friends decided to do something to help. Next Friday, they'll rock
The Blue Moose Cafe
to raise money
and
awareness to help this locally (and, co-operatively) owned Morgantown institution.
"The people who work there live down the street from me," Matheny said. "I would much rather give them my money instead of giving it to whoever owns Kroger...I simply didn't want to see it close and it's really great that the community and other businesses have stepped forward in the Co-Op's time of need."
Matheny's bandmate Haley Slagle said the Co-Op's fare is a big part of her life, and that, in this day of lead-based cardboard dumplings from China and Salmonella-tinged tomatoes, she doesn't want to see it close either. "Eating organic and eating local are a very big part of my life. Without the Co-Op, I'm not sure where I would get my food. The Co-Op really focuses on trying to get local produce, meat, eggs and cheese. I really believe in being as close to your source of food as you possibly can. Without the Co-Op, we would be eating food from who knows where."
There have already been a few benefits, with Wild Zero Tattoos raising some serious cash money to help recently.
123 Pleasant St.
in Morgantown will host a benefit show (as they have done so many times) in early August.
Aaron Hawley and his
'85 Flood
bandmate Dusty Hays will perform some stripped-down acoustic Flood tunes and some Hawley originals at the Blue Moose benefit. Hawley said the benefit was a no-brainer. "Besides the obvious benefits of organic and locally grown produce, the Co-Op also served as a meeting place for a lot of cool, like-minded folks. I also appreciate it because as a Townie, it's one of the few institutions that's been around this town longer than I have. I remember the Co-Op from when I was very, very young."
Hawley, who, like Matheny, has been involved with putting on benefit shows mainly at 123, seemed rightfully proud of the area bands who pitch in to help righteous causes. "The benefit shows that go on in Morgantown are one of the coolest things about this scene. Most musicians here are very aware that they exist in a tight-knit community here. Everyone wants to pitch in and help out and nobody lets their egos get in the way."
Matheny admitted to a kind of shock and awe at the power of the 123 Benefits. "All of those benefits raised over $1,000 for their chosen causes and it certainly opened my eyes to successful music benefits. Given the size of the Blue Moose Cafe, I don't think raising that much money from the cover charge alone would be possible, so we've asked local businesses to donate gift certificates (Thanks to Bead Monster, Inner Life Yoga, Ancient Wisdom Yoga, Black Bear Burrito, The Warner Theatre, Carvel, The Hotel Morgan and Leanna Richman) or gift baskets for a raffle that will be going on throughout the evening."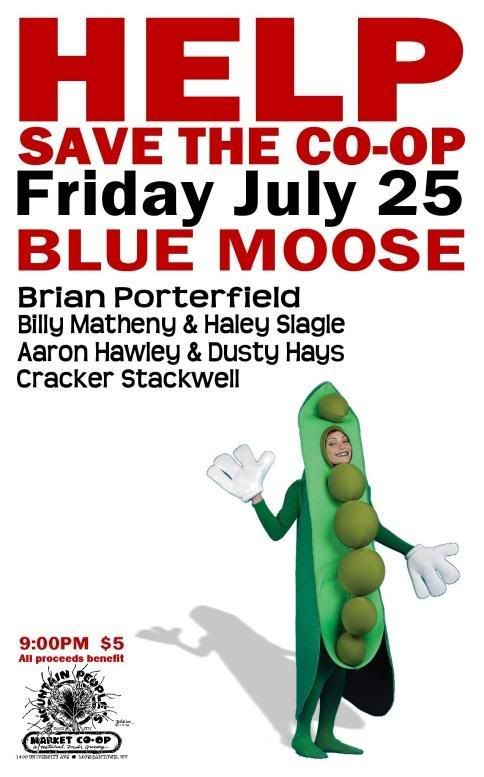 So these rockin' acts from Morgantown will again rock for a good cause. They all say that the Co-Op is too important and has been there too long to
not
help.
"The Co-Op closing would be a damaging blow to the town itself," Hawley said. "I would hate to see places like the Co-Op turned into Sonic Drive-Ins," Matheny summed up.
Related DA articles:
Saving the co-op
Local business raises money for co-op