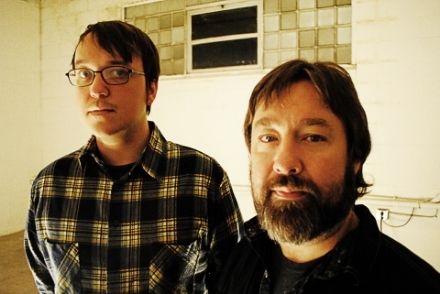 photo: Jordan Hudkins
Right where they belong: Tucker Riggleman and Paul Cogle have found a new home for their creative output in Bishops. After releasing their debut full-length in 2012, the duo returns with a new EP, Feel Alive, released in March.
Before The Demon Beat, before Prison Book Club, Tucker Riggleman was kicking around Shepherdstown area bars and coffee shops playing solo acoustic shows, singing his own songs. Late nights at Shepherd University, playing music and sharing songs with PBC band mate and The Fox Hunt's John R. Miller helped Riggleman come into his own as a performer.
The Demon Beat would emerge as one of the region's better bands, and Riggleman would later share singing and songwriting duties in Prison Book Club, the Shepherdstown-based alt-country band, with his good friend Miller. But it was only after teaming up with veteran musician and engineer Paul Cogle (Vox Populi, Alt 40, Fabled Sons, Black Blizzard) to record some demos that Riggleman's songwriting efforts would emerge as his own band.
After recruiting Demon Beat singer-guitarist Adam Meisterhans and PBC drummer Andrew Ford, Bishops, birthed out of Cogle's Falling Waters studio, released its debut self-titled full-length in 2012.
Bishops will release its new EP, Feel Alive, digitally March 5, and will perform at Gene's Beer Garden in Morgantown Saturday, March 23. WVRockscene caught up with Riggleman and Cogle for Spotlight West Virginia to learn more about the project and the new EP, which finds Riggleman and Cogle striking out on their own...
WVRockscene:
The new EP,
Feel Alive
, how excited are you two about the material and getting it out to fans and friends? From original demos and rehearsals to now, how has Bishops progressed?
Tucker Riggleman:
I think it's safe to say that we're really excited about the new EP. I think it's a logical step forward for us. A couple of the songs started as demos where I played everything, then I brought them to Paul and he added his magic. It's a lot of fun to be able to bring in a song and have someone else hear something that they think can add to the vibe of the whole thing, and then mix it all together to get the finished product. I'm particularly stoked on this batch of songs because they're kind of all over the place stylistically.
There are a couple slow building acoustic/folk rock types of songs that get pretty triumphant at the end, there is a 70's punk rock sounding song, a straight up rocker, and one that is just me and a guitar. What I love about what we've been able to do as a band, is that we can combine these different influences and it doesn't seem too jagged or out of place. It makes sense that it's one band making all that noise.
Paul Cogle:
Yeah the EP is a really cool jam! We do stretch out a little more on this release which has been a lot of fun. Tucker's writing is top notch and one of my favorite songs ("Let go") is on it.
-----
rockscene:
How did Bishops get hatched originally? Tucker how encouraging and/or awesome has it been having Paul as a musical partner for your songwriting efforts?
Cogle:
Tucker is an awesome guy with a heart of gold. The best thing that's come from Bishops for me is an excellent friendship. Yeah, Bishops began after a lot of email pestering by me, I initially wanted to record
The Demon Beat
but our schedules never worked out. Tucker finally came to the studio to record some demos – and we just hit it off so Bishops evolved from there.
I think we hear things the same way. We love things that are over-the-top full of distortion and reverb but still melt when the song is as sweet and pure as a single voice and guitar.
Riggleman:
Paul is definitely a musical brother of mine. It's so comfortable to work with him. He's a great musician and person, but he is also an excellent engineer/producer in the way he can get certain things out of you, or maybe put you in a position to look at the song a different way and follow it down that path a little bit to see if there's something awesome you can get out of it.
Basically, the band wouldn't have happened without Paul's encouragement. Originally, Paul had me come over last year to demo some songs I had lying around. I was clueless about what should be done with these songs; I just knew I wanted to get them down for posterity's sake. Once we listened to the demos, I think we decided to get together and try to rock them out a bit, which resulted in the debut full-length. I am still very proud of that record.
-----
rockscene:
Tucker, given your past solo efforts, how has being in The Demon Beat and
Prison Book Club
expanded your own songwriting sensibilities? What's rubbed off on you, if anything, being in these other bands?
Riggleman:
I would like to think I've got a lot of the boneheaded youthful mistakes out of the way (i.e. booking a show in New York City on Super Bowl Sunday at a bar with no TV) and can focus on efficiently writing, recording, and playing shows. Doing everything on your own tends to lead to a lot of trial and error, and I wouldn't trade it for the world, but I'm just glad I got those parts out of the way when I was 21, and not now when I'm 26.
But it's not just the mistakes you learn from, but also the good things. For instance, we now have the luxury of knowing which places will be good for us to play, and which ones we should skip. The Demon Beat and PBC made a lot of friends over the years (as have Paul's previous bands) and we're lucky that a handful of them continue to follow our other projects. I think it's just like anything else, you learn more as you go.
-----
rockscene:
Just like The Demon Beat, with Adam Meisterhans recording, with Bishops, Cogle can handle production duties. How important and/or convenient is it to be able to control the means of production in both bands?
Cogle:
The only way to get the best possible recordings are for people to feel one hundred percent comfortable and I've always wanted to have a place where friends could come, relax, jam, and record – and for the most part I have achieved that. It's a private studio. I'll only work with friends. I've never recorded someone I do not have a personal friendship with. It's also really, really cool to be able to send Adam or Jordan [Hudkins] a mix to get their opinion.
Riggleman:
I think the familiarity makes all the difference. Try as they might, some producer at a costly studio somewhere is not going to know your music or what you're going for better than your band mate and friend. It's just really convenient to not have to/ rush in the studio and be able to build things up the way we do.
We have a pretty good process down, but it's still spontaneous enough to catch those unexpected moments. For instance, the last track on the EP, a song called "Easy," is just a guitar and me. I was playing it for Paul and he kind of snuck over and pressed record. Those are the kinds of takes I think you can only get while recording in an environment such as the one we have at Paul's studio.
-----
rockscene:
Tucker you're still running
Big Bullet Records
, which just released a winter sampler. How frustrating and/or necessary and/or awesome is it to be able to cut out the middlemen and run a label DIY?
Riggleman:
You know what? It's gotten a heck of a lot less frustrating once I decided to stick to digital releases for the most part: less overhead, less worrying about pressing deadlines. Everything is just so flooded these days, and I watched it happen from BBR's inception up until now.
I think we have a small group of folks who diligently check out what we do as a group, and that's really all you can ask for these days. With every band and label in the world putting things on Bandcamp for free, if you can get just a few people who actually care to click on your link then you're doing okay.
-----
rockscene:
You've got this show 3.23 at Gene's with your friends
Billy Matheny
and Tyler Grady in
Goodwolf
, looking forward to the show?
Riggleman:
I am really stoked on this one. I've only ever stepped foot inside of Gene's once in my life, and it was awesome. The intimacy and potential for rowdy rock behavior definitely increases in smaller spaces like Gene's, especially when the shows are free.
Billy and Tyler are two of my favorite musical people, and we are very excited and honored to share a bill with them. There are so many talented musicians in our state. I can only hope that anytime any West Virginia bands get noticed even the slightest that the outside world gets turned on to all of the state's awesome music.
Cogle:
The first time I met Tyler he was opening for Bishops and he just totally blew me away. Love his work! Billy and his group are top notch people (and friends from way back) so this is gonna be one of my favorite shows – I'm so looking forward to it!
WANT TO GO?
Bishops w/Billy Matheny & the Frustrations, Goodwolf
WHERE:
Gene's Beer Garden, 461 Wilson Ave., Morgantown (304) 292-1147
WHEN:
9 p.m., Saturday March 23
COST:
Free
ONLINE:
www.facebook.com/bishopswv