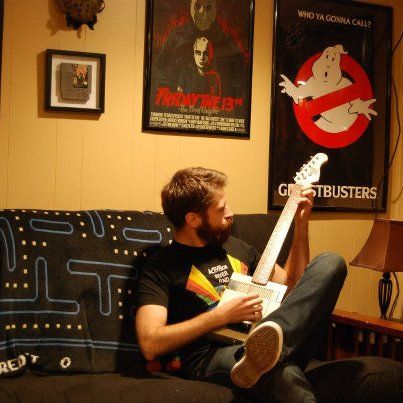 Hardcore gamer and awesome guitarist Ryan Postlethwait (aka Mega Beardo) plays his Nintendo guitar, likely working out material for his forthcoming Ledjent of Zelda EP…
Covering bands in newspapers, you gotta keep things objective -- you can't (and don't want to) go on and on about how much you love such and such act or project or how great you think they are.
You're supposed to at least act professional.
A newspaper isn't a fanzine, and its target audience awww yeah isn't gonna be anxiously awaiting the new
Mega Beardo
EP
The Ledjent of Zelda
-- just announced by Ryan Postlethwait (pictured above) in his latest and last studio update to be coming out in March!
Getting to talk to Postlethwait on the phone and cover Mega Beardo
in the Gazette
was a personal highlight of 2012. Maybe you missed that, or have yet to wake up to the hardcore truth that this guy reworking old Nintendo game music into brutal metal is one of the most awesome, innovative musical projects in West Virginia in 2013.
Ryan just welcomed Byzantine singer-guitarist Chris Ojeda up to his most awesome game lair to work on some video playthroughs of new Byzantine stuff. That's exciting to just hear about those two dudes hangin. And judging by the comments on Postlethwait's Facebook page, there may even be a Beardo full band coming soon.
Either way, we're Mega Beardo's number one fan ever, and we do look forward to hearing his
Zelda
EP. Get caught up on everything on his latest YouTube updates.