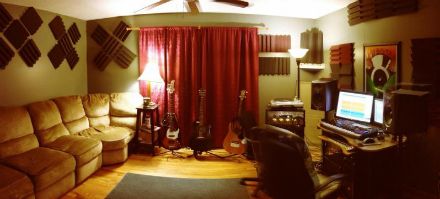 We're getting back into the swing of things here in 2013, as are our friends at
Big River Records
in Fayetteville. We understand Ben Coll has moved to Charleston recently, and Brad Kinder is under constant surveillance by us on Facebook for his hilarious and/or threatening posts, also for his super coo nature pics.
Kinder recently did a little winter cleaning at the BRR studio, and now all of us can bask in the opulence, vicariously, through this above pic. We'll be keeping tabs on these dudes as they work on
Bastard Sons of Appalachia
with
Justin Steele et al.
, and jam whatever records in the studio.
Check out the bands they've already worked with, and check out Kinder's photography page,
WV Awesomeness
, as he captures the natural beauty of our state. Here's to an awesome 2013!