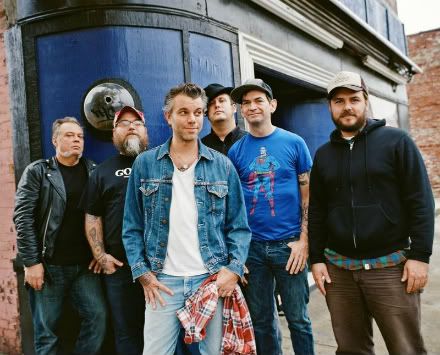 Lucero (L-R: Rick Steff, Brian Venable, Ben Nichols, Todd Beene, Roy Berry, John C. Stubblefield) performs at The V Club Tuesday night as part of its Summer "Women & Work" tour.
Reposted from The Huntington Herald-Dispatch
Given the very rich rock and roll history Memphis, Tennessee has, it wouldn't surprise anyone that the critically acclaimed alt-country band
Lucero
was influenced by it, in ways both subtle, and overt.
What may surprise some is the music they bonded over before forming 14 years ago.
"For us as a band, we all grew up punks, and we all met at punk rock shows," guitarist Brian Venable said over the phone from Carrboro, North Carolina, where Lucero kicked off its Summer "Women & Work" tour.
"When you're young, you might not realize where you're from," he added. "Everyone wants to go somewhere else, to get out. We were trying to do something different."
Lucero performs at
The V Club
Tuesday night with Houston-based country rocker
Robert Ellis
, who was just nominated for Emerging Artist of the Year by the Americana Music Association.
"Women & Work," Lucero's eighth studio release, finds the band embracing its Memphis roots; a bigger, more soulful sound, with horns, steel guitar, and piano/organ. Lucero also recently played with the Memphis Symphony Orchestra's
Opus One
musician series, and in May, recorded some songs for the PBS-syndicated
Sun Studio Sessions
.
"Just being from Memphis, playing with the musicians and knowing the people and the history and recordings, you realize you're a Memphis musician, and there's a lot to be said about that," Venable said.
Released on ATO Records, (home to Drive-By Truckers and My Morning Jacket) a lot of positive things have been said about "Women & Work" since its March release. The record, a raucous soundtrack to a bar-based weekend, with some gospel nods (hear the female chorus on "Go Easy") thrown in, has received praise from Rolling Stone and The New York Times (among others) and that's cool, Venable said, if a little unreal.
"It's one of those things where it kind of doesn't seem real. But it doesn't affect our day-to-day touring. It's also something that your grandparents and people like that, you can go, 'Look, the New York Times likes us.' They all know what The New York Times is. It's like getting your records into a Best Buy or a Wal-Mart. Your relatives are like 'Oh, you're a big deal,'" Venable said with a laugh. "Sure."
But Lucero is a big deal to their fans. That the hard livin', hard lovin' songs singer-guitarist Ben Nichols and crew come up with means so much to the fans, means that much more to the band.
"That's the awesome thing," Venable said of the love Lucero is constantly shown by its fans. "Sometimes you can't see the forest for the trees. We're so busy making music and living day to day, and you get people who come up and are like 'Your music got me through a divorce,' or 'We're getting married to your music.'
"Music means a lot to a lot of people, but sometimes as a musician you miss out on the importance of it to people. I mean, I have favorite bands, but it never occurred to me that my band would be someone's favorite band until they came up and told me."
The long, winding musical path Lucero finds itself on? Venable said the journey is the destination.
"We've been really lucky being a band for 14 years, to be able to stretch our legs, so to speak, creatively, where a lot of bands if they break up after six or eight years, they might not get to try it like we have.
"It's just one of those things," he added. "None of us have real job-qualified educations. The joke is we're too dumb and too uneducated to do anything else. We're lucky enough to play music for a living, so we're going to run with it as long as we can."
IF YOU GO
Lucero
w/Robert Ellis
WHERE:
The V Club, 741 6th Ave.
WHEN:
9:30 p.m. Tuesday
COST:
$18
INFO:
www.vclublive.com
or (304) 781-0680
ONLINE:
www.luceromusic.com/