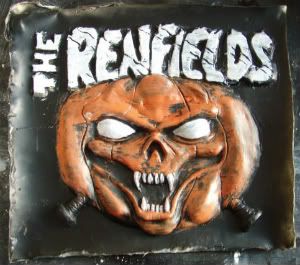 CD:
All the Stuff and Gore
ARTIST:
The Renfields
Fans of The Renfields have for years had the same problem: where to go to hear all their records. If these fans are at all like us, they may have been trolling the internet, looking first at MySpace, now at Facebook Renfields pages, wanting to hear more, screaming:
"There's got to be a better way!"
Yes, dear friends, Team Transylvania has released its two-disc box set
All the Stuff and Gore
just for you!
Only a few people really know our own "fiendish," bloodthirsty affection for The Renfields. Since first hearing "Prom Night" what, around 2006 or 2007 (?) there hasn't been any other band we've loved hearing more than the Transylvania pogo-punk stylings of these undead horror movie lovers, re-animated with the parts of dead Ramones.
Not only will Renfields fans finally get their favorite records,
The Night THEY Came Home
and
Bastard Sons of Ed Wood
, there are like a dozen or so unreleased songs, some old, some new, so even the most diehard Renfields fans will have new songs to fall in love with and sing along to.
"War of the Robots," "Transylvania Fight Song,"
and
"Renfields Go!"
are included on disc one, and disc two (
Stalk and Slash Splatterama I and II
) has the most awesome
"Ramones Zombie Massacre"
(just included on a
Ramones tribute comp
) and the very much still unreleased
"Porkchopp3D"
, dedicated to Eamon Hardiman's murderous pig-headed backwoods killer, is actually one of the most badass Renfields songs ever. Cool to see Hardiman team up with The Renfields.
The one thing that longtime fans of The Renfields will be able to agree on is the very clear progression the band has shown since those older records were released.
It seems like for so long, Vincent had a hard time putting, much less keeping a live Renfields act together. Now, with the current Fiend and Dick Ramses having been in the band a couple of years, Vincent and Team Transylvania have displayed not only with their very raucous energy and chemistry a step forward but also capture a bigger sound with better production. They just sound like a better band, not surprisingly.
But one thing that must be addressed in the live act: the samples. Having the movies that are so important to The Renfields (what the songs are about,
duhhh
) be a part of these songs pulls everything together. Hate to not see that live.
One last thing: the Ramones nods displayed so prominently in parts by The Renfields. Some readers will maybe get that the title of their own box set is a lift off the Ramones' vault-like two-cassette greatest hits comp.
While some things have changed (for the better) for The Renfields, some things haven't changed: the fun. Listening to The Renfields horror-themed version of plug-in-and-go punk rock, this reviewer really is reminded of those days of old, discovering those Ramones tapes, a wholly innocent punk rock love blooming. Except where the Ramones may have been more prone to sing about babysitting and locket love and needles and pins, The Renfields sing about slumber party massacres, but it is just as fun, and just as catchy.
But yeah, there's stuff for Renfields fans old and new on
All the Stuff and Gore
. As much as we'd been anxiously waiting to hear this very much treasured box set, it's even more awesome than anticipated, this coming from someone who considers himself a Renfields afficianado/expert.
All the Stuff and Gore
is
the perfect
Christmas-in-June gift for that hard to buy for Renfields fan, and a great way for new Renfields fans to love the band as much as we do.
Renfields GO!
All the Stuff and Gore
box set includes:
*every Renfields song ever recorded
*acoustic demos and rare tracks
*stickers
*first ever Renfields show flyer
*Transylvania Devil Bats team poster
*Textured CD cover art via Jason Kisner @ Killer Design