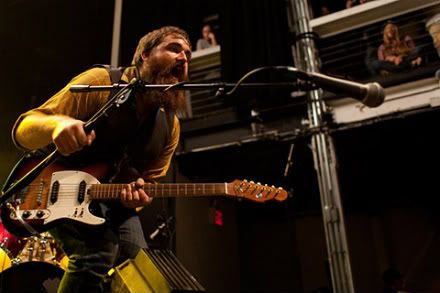 Known for chaotic, energetic live shows, David Mayfield (above) brings his "Parade" to the V Club Friday



Reposted from the Huntington Herald-Dispatch
Steeped in bluegrass and country music tradition, with a chaotic live energy and onstage presence that embodies rock and roll, David Mayfield's musical career has indeed been a long, strange trip.
The 29-year old Mayfield, talking over the phone from his childhood home near Kent, Ohio, said it's the little things that are most important for him as he's moved from being a backing musician into fronting his own band. The little things, like sitting at the DMV for four hours, registering your sister's van to go out on tour.
"I'll be pulling into Huntington in her old touring van, because mine broke down," Mayfield said with a laugh.
The David Mayfield Parade
plays The V Club in Huntington Friday with Sasha Colette and the Magnolias.
Mayfield said he and the Parade, Wes Langlois (guitar), Shelby Means (upright bass), Kristin Webber (fiddle) and Joe Giotta (drums) have finished recording their sophomore record and hope to have it out later this summer.
For Mayfield, though, who now calls Nashville home, it's now time to get back out on the road.
"It's been my whole life," Mayfield said fondly. "My parents met at a bluegrass festival, and have always played music together. When I was twelve years old, I decided there's no reason for them to go and leave and play music and me to have to stay home, so I learned how to play the bass. I went out on the road with them, and my sister joined up after that. I dropped out of school in the ninth grade to play music, and my parents sold our house, and we just traveled around in an old bus living that gypsy lifestyle I guess."
Mayfield, after graduating as a youth from bass to guitar and mandolin, said he learned firsthand the responsibilities of being a performing musician from his parents.
"What my parents really instilled in me, is we're providing a service, just like an electrician or a plumber. People spend their hard earned money to go out and be entertained. That's the biggest thing I got out of the family band experience, was learning that people are coming out to the V Club because they want to be entertained and put their problems and cares behind them for a few hours and kind of go on a journey. It's something more than just some people standing on stage singing a song. It goes to different places."
Mayfield and the Parade got their start going places thanks to immediate support from alt-country rockers The Avett Brothers.
"I had been playing with Cadillac Sky, and we decided that we were going to break up," Mayfield recalled. "I didn't know what I was going to do. I played some of my original songs for Seth Avett, and he was real encouraging. He said 'You're a good enough songwriter, these songs deserve to be heard. You're more at home on stage, you're more of a performer. You shouldn't count out going out on your own.' Then when I put the band together, I think I had the Parade together for about a month, and the Avetts invited us to open their big New Year's Eve show. And then, when it was time to make the record Scott and Seth both came and sang harmonies on like, half the album. So right out of the gate we had a great opportunity."
It's those opportunities, playing big festivals like Bonnaroo, or opening for Willie Nelson or The Avett Brothers, that, in just barely a year together with his Parade, blows Mayfield's mind.
"It's been nuts, you know? I've been doing this for so long, either as a side man, backing people up, or making records for other people. And just in one year to have been offered so many big opportunities, it's pretty surreal, and terrifying at the same time."
Describing the live show, Mayfield said it approaches something like controlled chaos, without much control, maybe terrifying, but definitely, a thrill.
"It gets pretty crazy from time to time. We played one festival, I climbed up on the scaffolding and threw an electric guitar into the ground like a lawn dart, and then, kind of fell down a little bit. But other than that, it's just normal bruises and scratches from an acrobatic, crazy, two-hour set of nonsense," Mayfield said with a laugh. "We like to keep the spontaneous energy in the air. At one of our shows you really feel like everything could all fall apart at any moment, and someone could die."
With equal parts humility and responsibility, Mayfield, asked about the Parade's budding fan base, said it's still all about the music for him.
"It's definitely exciting. One guy come to one of my shows and he had my face tattooed on his arm. I had people telling me "Breath of Love" was their wedding song. I still feel a little like 'Why me? Go listen to that guy, he's better than I am,'" Mayfield said laughing. "It's definitely flattering, but it also gives me this sense, of pressure really, of keeping up to those standards, and to not let people down."
The David Mayfield Parade w/Sasha Colette and the Magnolias
When:
Friday, February 10, 10 p.m.
Where:
The V Club, 741 6th Ave., (304) 781-0680
Cost:
$8 adv., $10 door
Online:
www.vclublive.com, http://thedavidmayfieldparade.com/, http://www.reverbnation.com/sashacolette